Coronavirus Resource Hub
---
HELP US PASS THE GYMS ACT!

The GYMS Act provides additional support to the indoor climbing industry in the United States through critical funding. The bill is currently working its way through Congress. The CWA has partnered with Access Fund to create an easy way to get your community engaged in supporting the indoor climbing industry during and after the pandemic.

Download the GYMS Act toolkit for easy-to-use social and email assets. The critical time for this campaign is between August 20 and September 15. The more letters we write as an industry and a climbing community, the closer this important stimulus package will be to getting passed. You can also watch a webinar below covering the importance of the GYMS Act or download the slides.
---
Reopening Dashboards
---
FAQ

Updated: January 14th, 2020
Almost one year into the pandemic, we've learned a lot. But there are still a lot of questions circulating around. Here are some of the common questions we still hear from gyms.
The best place to find up-to-date information about indoor climbing gym operations during the COVID-19 pandemic is at the CWA's roadmap to reopening. You can find that at: reopening.climbingwallindustry.org
Answers will vary depending on your local rules, but you can find our recommendations here.
Climbing gyms are often set up with excellent ventilation systems to handle the difficult enviromental challenges faced by stratification, large voluminous spaces, and chalk dust.
ASHRAE has made a set of actionable suggestions on how to optimize your HVAC system to minimize transmission risk in your facility. Their full set of mitigation suggestions contains a wealth of knowledge but the most immediate steps you can take are to:
Consult with your HVAC engineer or facilities team to review your control systems
Consider replacing your physical filters with at least MERV 13 or 14 filters.
Make sure that your system can handle the increased pressures of such filters. Make sure your system is using as much outside air as possible. This may involve resetting the dampers on your system, or if you have an automated system a reprogramming of your automation. In either case it is best to consult with an HVAC engineer to make sure that your system can accomodate these changes.
Reduce recirculation of air as much as possible. For simple systems this may be as adjusting your dampers to use mroe outside air, for more complex systems consult with an HVAC engineer.
There are a number of disinfection modules that can be added to HVAC systems. UVC filters have been demonstrated to be effective for coronaviruses other than SARS-COV-2 and may be a good option. Pay attention to the replacement costs and life span of the UV bulbs. Bipolar ionizers may be effective, but there is not as much documentation to support their effectiveness.
You can find a full set of posters covering common gym policies created by the CWA here.
---
Recent Community Calls and Webinars
---
ClimbSmart! Posters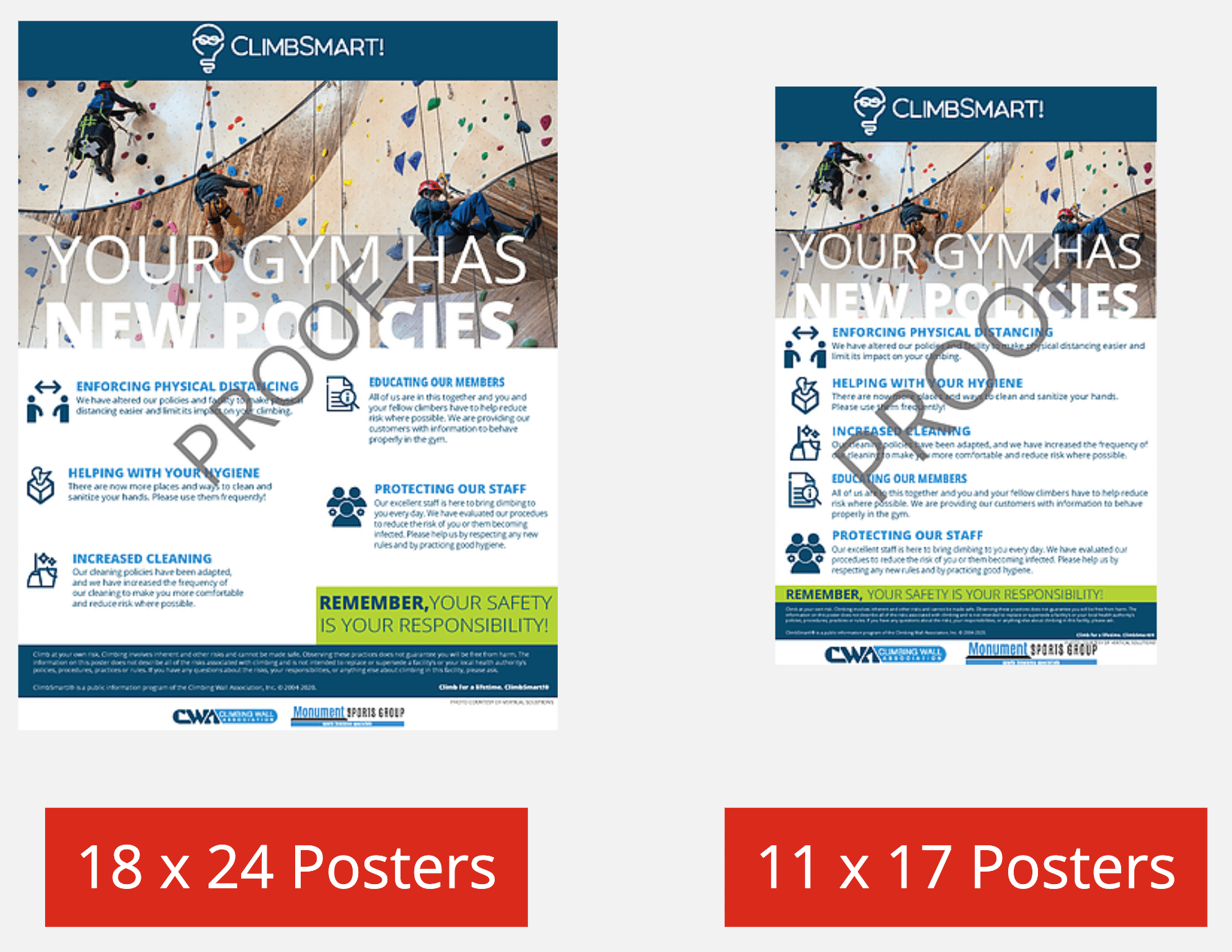 Download and print posters for your facility to help communicate your new policies to your customers. The posters cover:
Occupancy: Hang this poster in your front window or place it outside your entrance.
Hygiene Tips: This poster covers the basic hygiene tips that climbers should observe while in your gym.
Your Gym's Policies: Tell your members what you are doing for them. This poster covers the basic policies that all gyms will be likely to put into place.
Hand Washing Tips: A climbing themed hand washing guide for your restrooms and hand hygiene stations.
---
What You Can Do to Help
The CWA will be advocating on your behalf throughout this crisis. We know that many of you also want to help the industry and lessen the blow of this pandemic on all of our businesses.If you have previous professional experience in advocacy, you know a representative, or you just want to share your gym's story and data to help demonstrate our value please get in touch with us. You can share any of these efforts with your colleagues and members as well. Together we are stronger.
---
Other Resources
SBA Disaster Assistance Loans
Climbing is a massively important component in many people's lives, and we should feel confident that after this event we will continue to see our businesses and industry grow. With this in mind, we should make our plans forward-looking and focus on communicating what we are doing to help while reassuring our customers that we will be here for them now and in the future.