Member Benefits: Colleges, Universities, Rec Centers
From military bases to college campuses to small-town climbing walls, we've got you on belay.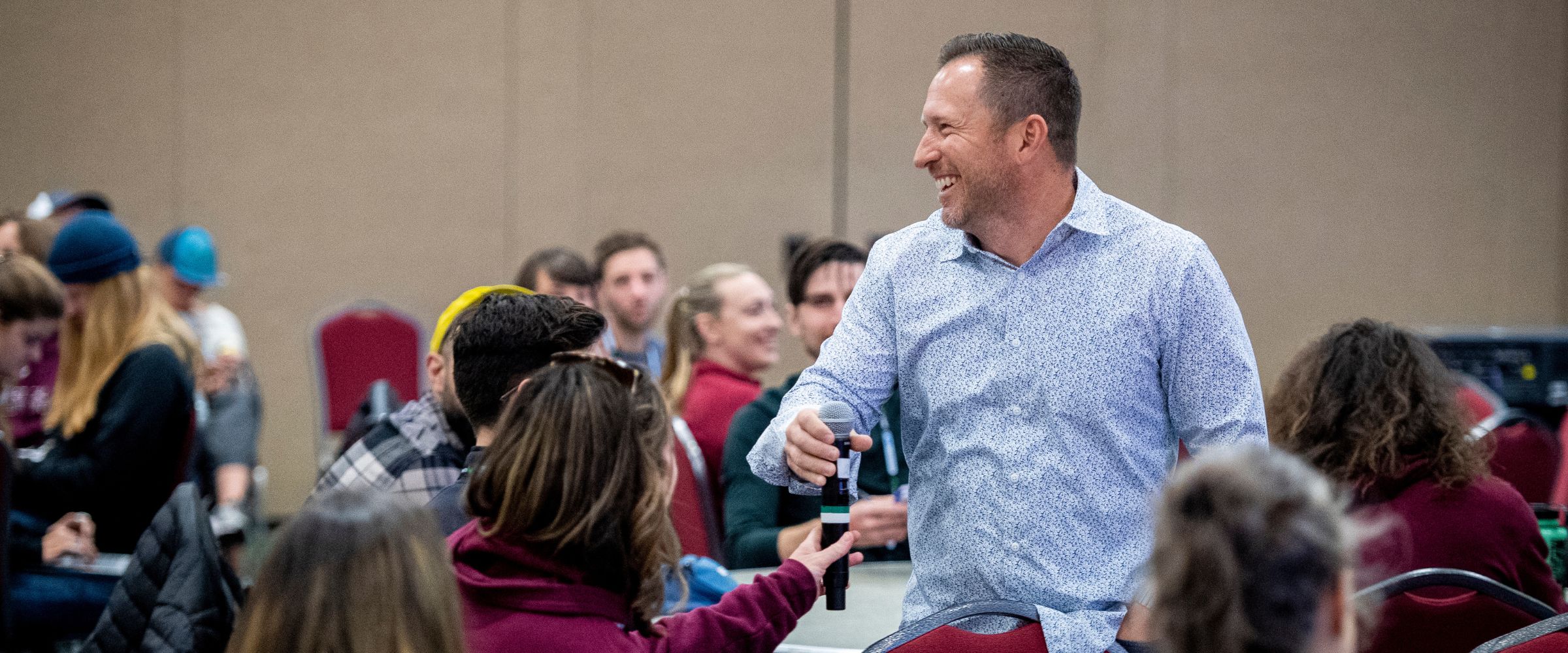 Learn from the Best in the Indoor Climbing Industry
You represent the purest form of our goal: to bring climbing far and wide to diverse audiences across the globe. Let us help you reach your goal of providing indoor climbing to your community.
---
Why You Belong
Below are a small selection of hand-picked resources and reasons that you belong in the Climbing Wall Association.
Staff Certifications – Climbing Wall Instructor and Work at Height Certifications

Our certifications are recognized around the world for safety standards and education. The Climbing Wall Association works with gyms across the globe to facilitate these important classes that educate climbing wall workers. Learn more about them.

ClimbSmart Education Campaign

The ClimbSmart Education Campaign is specifically designed for your members. From health standards to auto-belay safety, the CWA designed and produced high-quality posters educating your members.

Tools & Operational Support


The CWA has the necessary resources to help efficiently and effectively optimize your organization's operations. Through resources for teaching new climbers, running climbing programs, access to inspection criteria, or facility-specific questions, we'll ensure you're prepared to work with your organization when making and justifying operational decisions.

Industry Practices and Risk Management Resources

Various committees, brought together by the CWA, inform safety standards as well as operational best practices. Anything from auto belay guidance to one-on-one help with standards in your gym, the CWA has the knowledge pool and muscle to help you find your way.

Colleges, universities and rec centers are broken into the following 'Business Types' and 'Job Functions'. These are how we categorize different members of the climbing gym family.
Business Types
Camp
College or University
Government
K12 Education
Military
Climbing Wall in a Multipurpose Recreational Facility
Job Functions
Gym Owner
Programs (any level)
Routesetter (any level)
Gym Manager/Senior Manager
Coach/Trainer
Photo Credits: The Front Climbing Club, Momentum Indoor Climbing, Movement RiNo, and The Spot
---
Don't Miss Out: CWA Summit
The CWA Summit is the opportunity of a lifetime for anyone in the indoor climbing industry. From networking to education to vendor/supplier buying, you will leave inspired by the nature of service and collaboration the industry exudes. Being a member gives you access to even more resources ahead of and after the Summit. You get exclusive member pricing by being part of the CWA community.

The CWA Summit is attended by gyms big and small, across the globe. Learn from your peers, make new friends, and grow your professional network.
The CWA Summit is attended by vendors from all corners of the indoor climbing gym. Whether looking for unique holds, walls, or something entirely more unique, you can find a connection, and come home with the resources you need.
The CWA Summit has education sessions for every avenue of the indoor climbing industry. Routesetters, program managers, upper management; we have it all. Come with your ears open and eyes sharp, and leave with new tactics and inspiration for your community.
Benefits For All
Below is a list of the other range of benefits afforded to all members of the CWA. The CWA is a place for everyone to grow and sustain their benefits. We serve our members and work hard with the tools we have, and are always adding more reasons to be part of the community across the globe furthering the interests of indoor climbers.
All Your Benefits
Discounts
5% off Wholesale on Nicros resin Handholds & Training Tools
Wholesale on Entre Prises USA climbing holds
15% discount on Atomik climbing holds
5% discount on Bron route tape
12% discount on any direct boulder order from Rock Craft
2 months of free consulting from Merchant Advocate
Access to partner pricing with Dominion Payroll
Access to Outdoorprolink.com for all member's full-time employees
Discounted background checks through S2Verify
Member Pricing on CWA Events
CWA Summit
Paid webinars
Archive of paid webinars through the CWA Community Hub
Special member pricing on CWA Certifications like Climbing Wall Instructor and Provider, including emerging courses like the CWA Intro to Routesetting Course
Member Pricing on Industry Research
Industry Reports
Indoor Climber Survey Summary Report
Archival data on CWA's Road to Recovery reporting from 2020-2021
Member Pricing on CWA Publications
CWA Climbing Gym Business Plan Creation
Guide to Visitor Agreements
CWA Industry Practices
CWA Engineering Specifications
ClimbSmart! Posters
New members receive a publication of their choice. Upon each renewal, members can select one new publication of their choice.
Support
Gym startup advice
Access to cost-effective risk-management consulting and training services
Support, advocacy, and lobbying initiatives on regulatory issues that affect you. Explore the following articles to learn about how the CWA assisted in preventing a climbing gym in Washington from being shut down by runaway bureaucracy.