Why Building Your Network as a Routesetter Matters
Date posted
January 6, 2022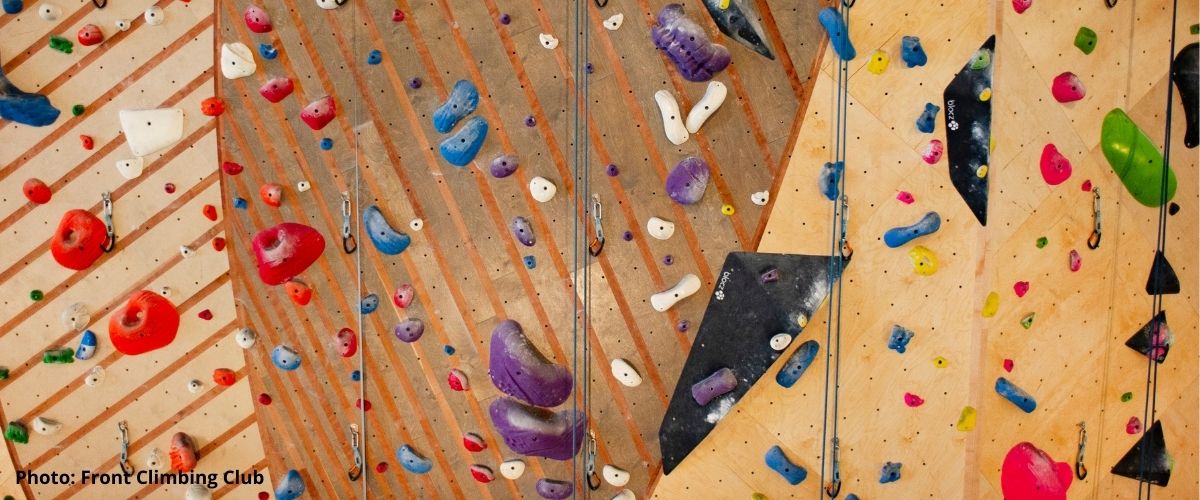 In most industries, even saying the word "networking" can warrant some eye-rolling. In commercial routesetting, it might seem odd to prioritize building a network when most of the year you are working with the same core crew in the same gym environment.
However, I've found that having a network of routesetters (in other gyms around the country) that I have quick access to has been critical in three specific ways.
Helping me push myself by borrowing new creative ideas
My success in USA Climbing by having setters I can go to for event questions
Making me aware of tough issues in climbing and how to use my power as a routesetter to be a better ally in the climbing community.
Below are five 'types' of routesetters to look for when building your network.
The Artist
This is the routesetter that is always coming up with new ideas on how to intermingle aesthetics and function. This person is good to have in your back pocket when you're out of creative ideas or when you want to explore what's possible. A great example from a few months back was the Simpl Volume Art contest.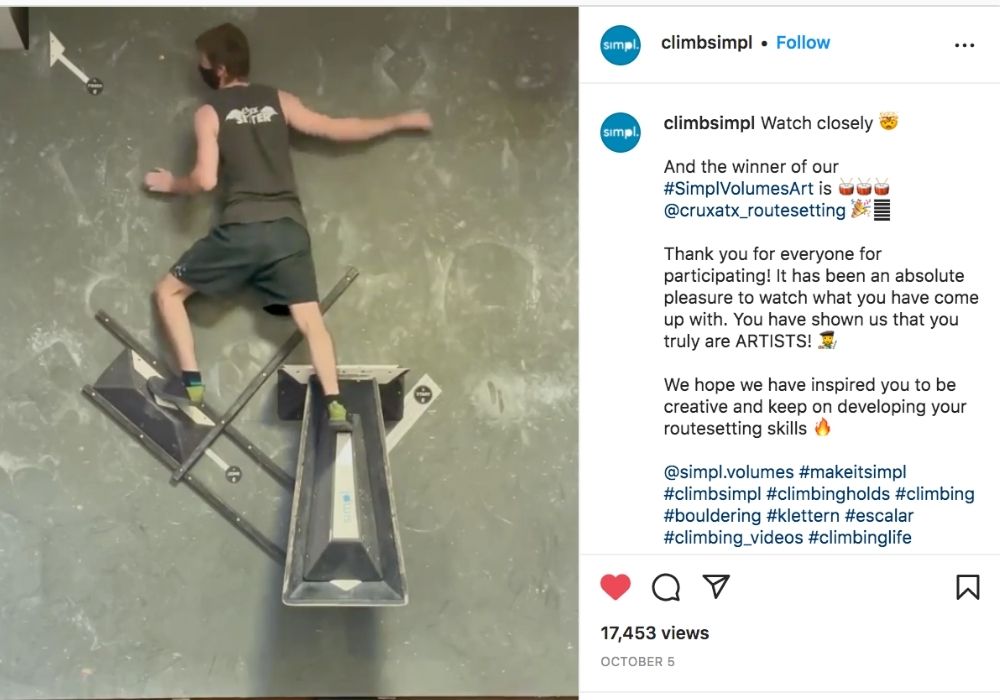 Simpl Volumes ran a "Volume Art" competition. Credit: Simpl Volumes .
This contest gave me a streamlined view into the routesetters who are pushing the boundaries and allowed me to follow the tactics of a few I haven't met yet. I've seen a big shift in the last two years (perhaps due to COVID) of routesetters being more open to sharing their ideas and explaining the technicalities of getting it on the wall, whereas before setters seemed more protective over their ideas. Take advantage of this by contacting a setter if there's an idea you'd like to try in your gym but need more info of how it went down.
The USAC Rule Master
It's no secret that USA Climbing's rules change frequently and we sometimes run into gray areas, especially in terms of setting. If you plan to host or set any USAC events, it is super important to have some more seasoned USAC routesetters that you can call when you find yourself in the weeds (and you will find yourself in the weeds at some point).
If you don't have a USAC point person, a good way to connect with one of those setters is to know where the qualifying or championship events have been held in your region/division and who was on that setting crew. Since the setting community is small, chances are you have someone you already know who can connect you with the chief or at least an L2 who is up to date on the rules if you have questions
The Community Builder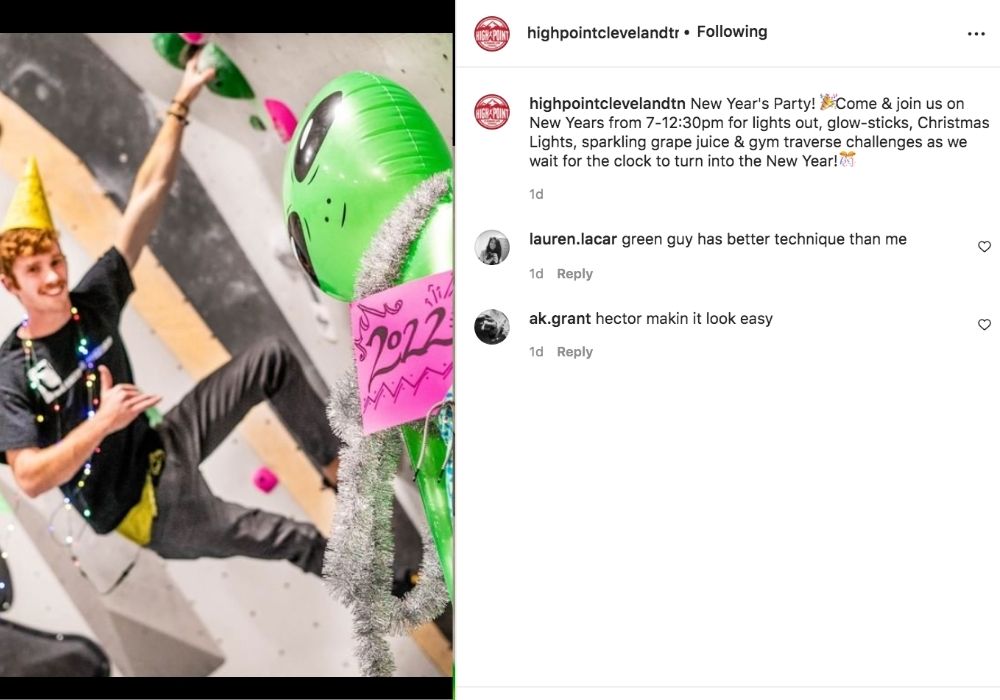 Community Nights at the climbing gym High Point Cleveland.
This is the routesetter that is crushing community events. While it is the entire gym's responsibility to come up with community engagement ideas, a lot of the execution comes down to interactive and wacky ideas routesetters play with on the wall.
Obstacle courses, partner climbs, auto belay races, etc. are all good starting points, but I try to pay attention to Instagram accounts of gyms to check what community events I haven't tried and what could be possible for my own gym. There are generally more of these circulating during the holidays when members are likely to be spending more time in the gym.
The Ally
Routesetters hold a lot of power in the climbing industry. We often act as a liaison between the professional world of gym operation and the recreational world of climbers. Knowing and sharing issues in diversity, sexism, and racism in our climbing community should be considered a responsibility for the role. Last summer, I remember several routesetters responding to the BLM Movement by incorporating images into their sets.
Following and connecting with routesetters who find ways to promote DEI initiatives into their routesetting program helps to create a better and safer climbing community at large. If you see an idea that inspires you, connect with that setter and share it!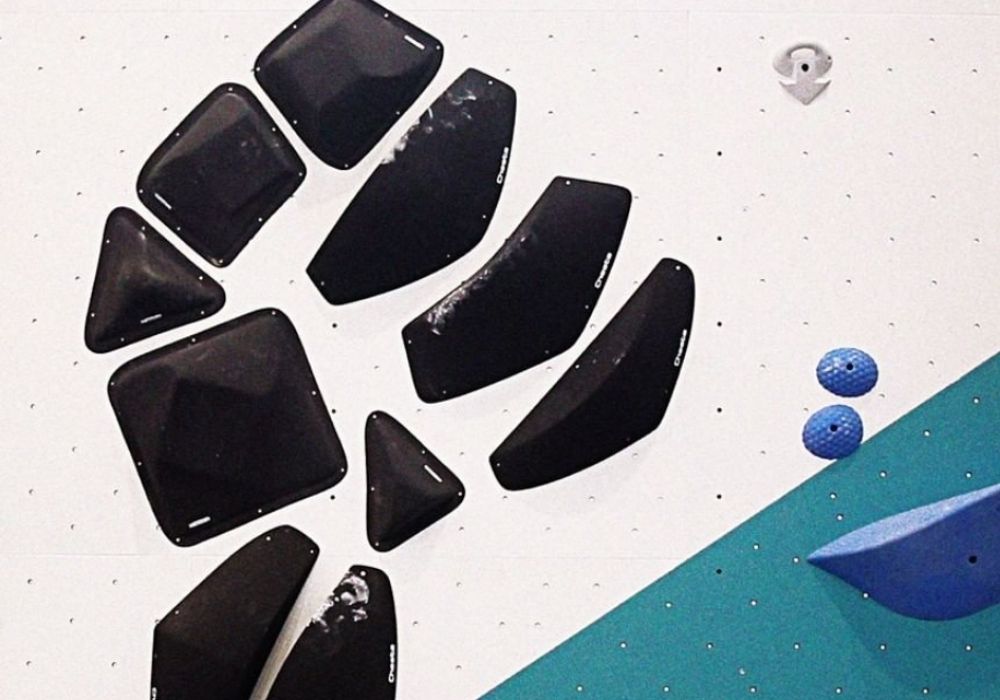 The 'Black Lives Matter' ode set by routesetter Andres Soro
The Seasoned Professional
When I became Head Setter, there were several new responsibilities that I had not yet been taught how to manage. I was working with a different wall manufacturer than I had learned to set on, I had never ordered new holds, and I was suddenly responsible for helping design a brand new gym.
Lucky for me, I had a long list of veteran routesetters to call for help with all of these new tasks. While it's advantageous to have more than one, even just having a single routesetter who has been in the industry for 5+ years can help when it comes to needing some professional advice or mentorship. Often, these setters can serve not only as The Seasoned Professional in your network but fill the role of your USAC Rule Master / Ally / Artist / Community Builder.
While still quite small, the routesetting industry is growing larger every day. As more gyms open around the country, we're seeing more and more new setters, more routesetting specific programming, and an evolving routesetting community.
While it's easy to say "hey find these five types of setters," not everyone is as extroverted in person or as comfortable networking online. If you feel that you are stuck in a routesetting bubble and are looking to connect with others, I highly suggest finding a routesetting clinic (Sportrock's Performance Institute is a good place to start!) or an event like The Setter Showdown to attend.
The CWA Summit is also a great option to connect with fellow routesetters and others working in the industry! These events give you an environment where networking can feel natural and less forced. After your clinic/event, exchanging contact information and social media handles is a good way to stay connected in the future.
While networking may seem less important than the technical aspects of your role, routesetting is just like any other industry where the more resources you have access to, the more successful you will likely be. And lucky for our generation, we have several methods (i.e. the Internet) of creating and sharing information to better support and promote growth for ourselves in the industry.
Are you interested in meeting more industry professionals? Come to the 2022 CWA Summit, the largest indoor climbing industry event ever. Register today!
---
About the Author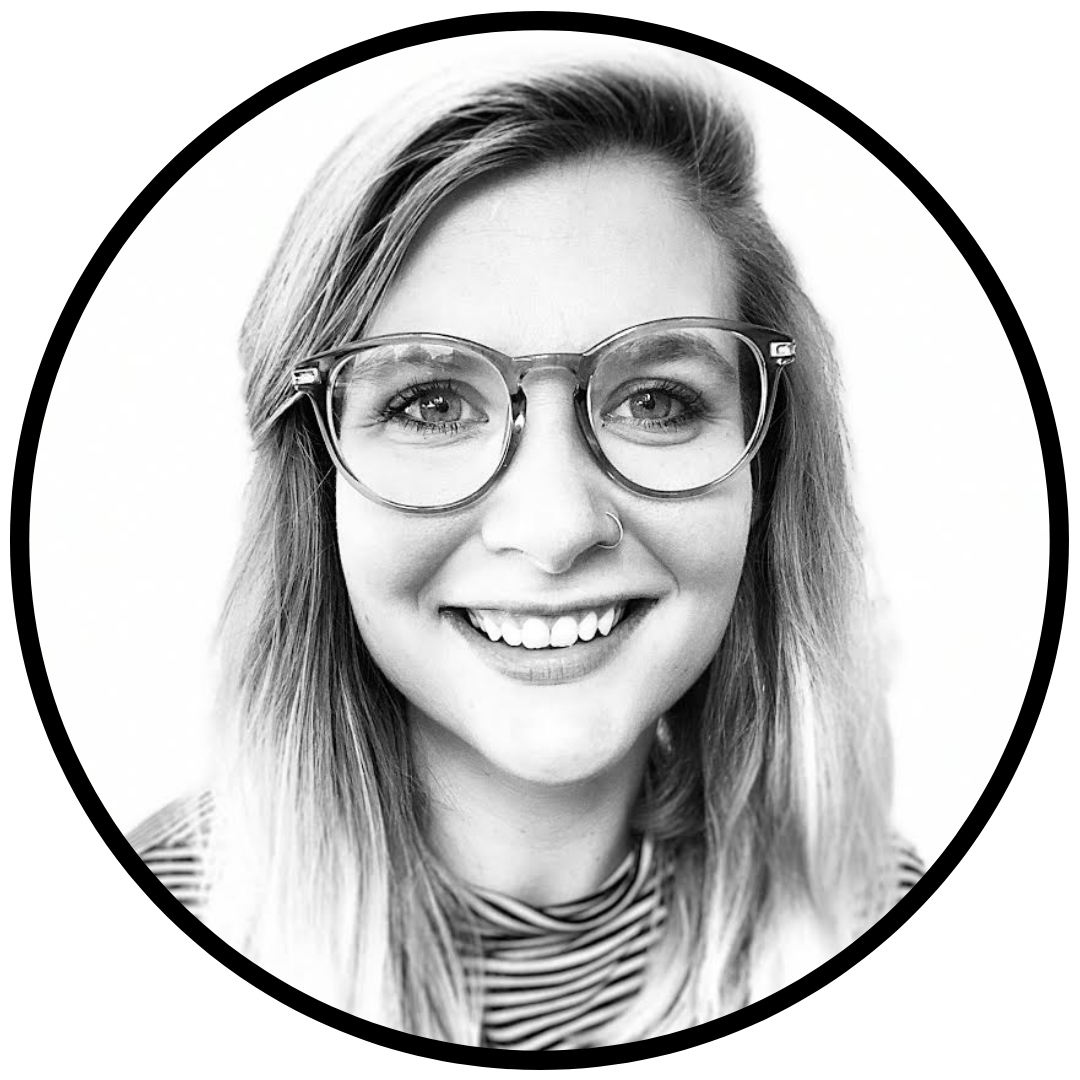 Hayley Moran is the Head Routesetter at The Crag in Nashville, Tennessee. She has a Master's Degree in Child and Family Studies and previously worked in the field of public health with a focus on health equity. She uses those experiences to help guide her work in the climbing industry by creating events and discussions that promote diversity, equity, and inclusion through the sport of rock climbing. When she is not on the wall, you can find Hayley baking in the kitchen, designing silly sweatshirts, or hanging out with her cat, Goblin.