CWA Meetings: Calgary Recap
Date posted
August 29, 2019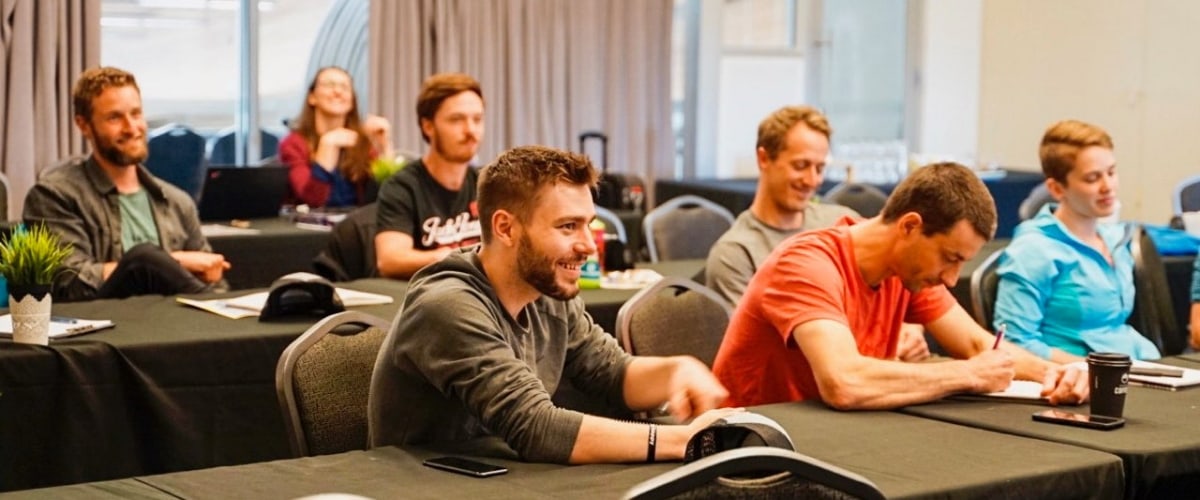 Photo by Matthew Huitma, commissioned by Calgary Climbing Centre
Last week, the Climbing Wall Association team launched the first-ever CWA Meetings event in partnership with Calgary Climbing Centre!
Over the summer, we have heard from many of you who have questions about this brand-new program: what are CWA Meetings all about, who are these events intended for, and where are you headed next?
Let's take a deeper look into CWA Meetings through the lens of our first event in Calgary.
Specialized Job Training
CWA Meetings are job training events by design. A ticket to a CWA Meetings event gives you access to:
One full day of workshops, for hands-on skills training
One full conference day, for discussion and lecture-based training
When you sign up for the event, you will select a content track that best aligns with your role in a climbing gym. This designation will determine the workshops, roundtables, and lectures you participate in for the duration of the event.
CWA Meetings content tracks include:
Routesetter, designed for routesetting staff, or head routesetters
Management/Operations Staff, designed for front desk managers, gym managers, and gym frontline staff
Adult/Youth Instruction, designed for program coordinators, trainers, and commercial coaching staff (competition coaching is not addressed)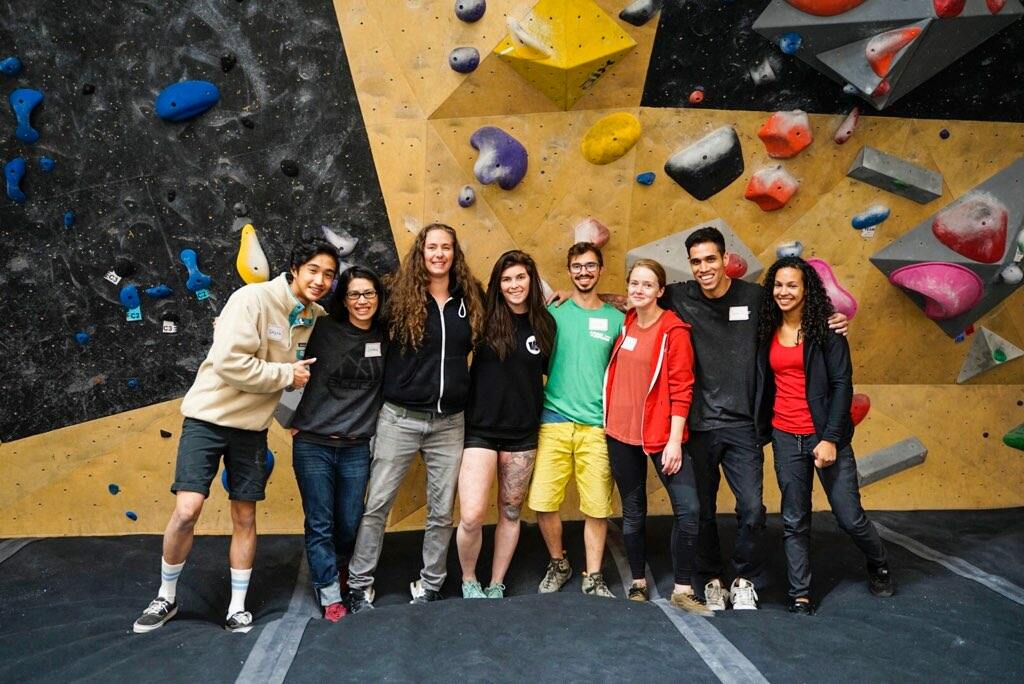 Photo by Matthew Huitma, commissioned by Calgary Climbing Centre
Community Building
Since CWA Meetings are regional events, the program calls in attendees from gyms in the surrounding area to connect with and learn from each other. Building these relationships is an opportunity to strengthen our industry, broaden professional networks, and keep dialogue open among different climbing facilities.
Aside from the conference curriculum, CWA Meetings offers a Member Meetup, which invites gym staff from the region (not just attendees) to socialize and make new connections.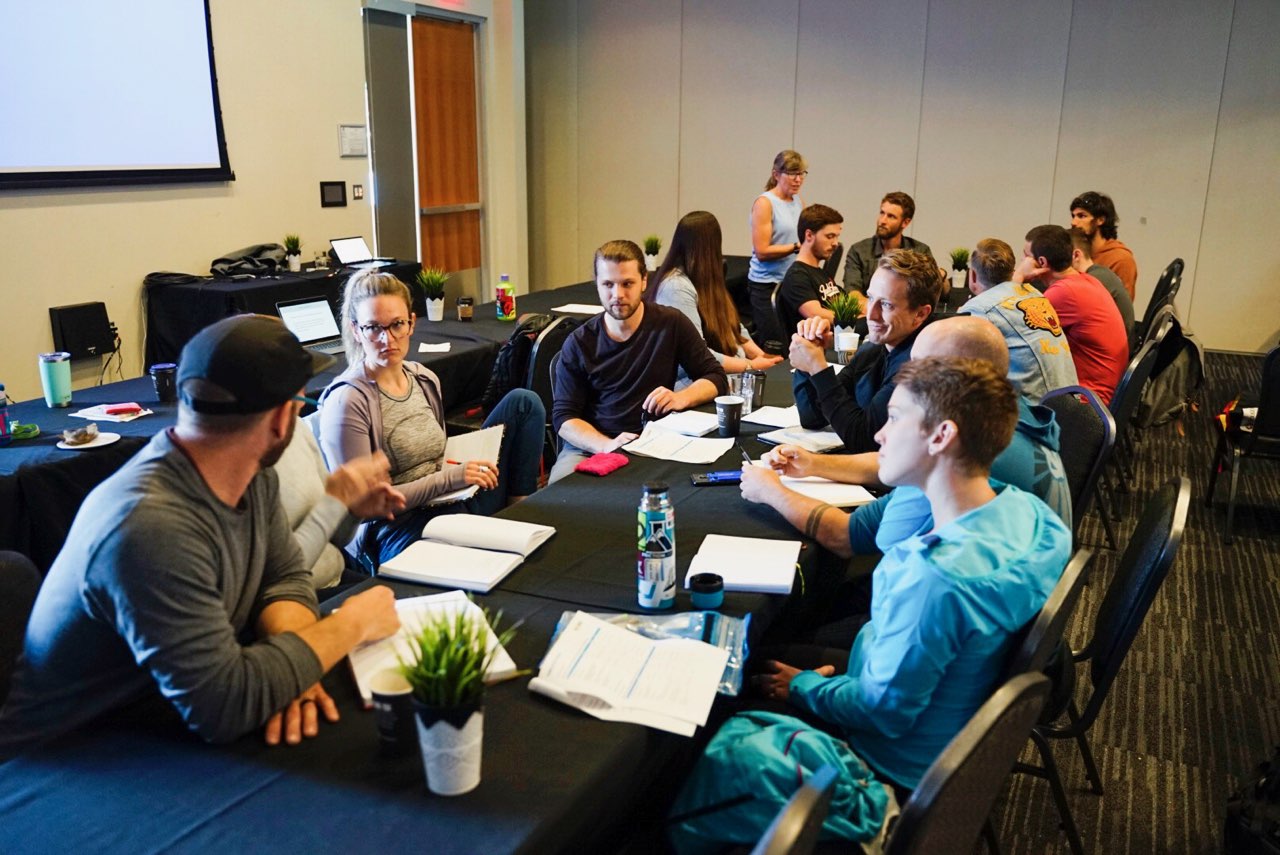 Photo by Matthew Huitma, commissioned by Calgary Climbing Centre
How Do CWA Meetings Differ from the CWA Summit?
CWA Meetings offer a unique opportunity to spend several days collaborating with folks in similar job functions. Unlike the CWA Summit, which offers a broad set of conference topics and a full-blown trade show, CWA Meetings are highly focused.
Upon registration for a Meeting, you select a track and then remain with that track from start-to-finish. The three tracks contain their own workshops, lectures, and roundtables in a highly engaged learning environment. The CWA selected top workshop facilitators and presenters who can offer a meaningful experience and help hone important skills for each attendee.
Additionally, the curriculum goals of CWA Meetings are largely suited towards early and mid-career professionals. While upper-level management are best-served by the Summit, CWA Meetings are built for growth-oriented professionals who are seeking to increase their professional responsibilities through training, discussion, and certification.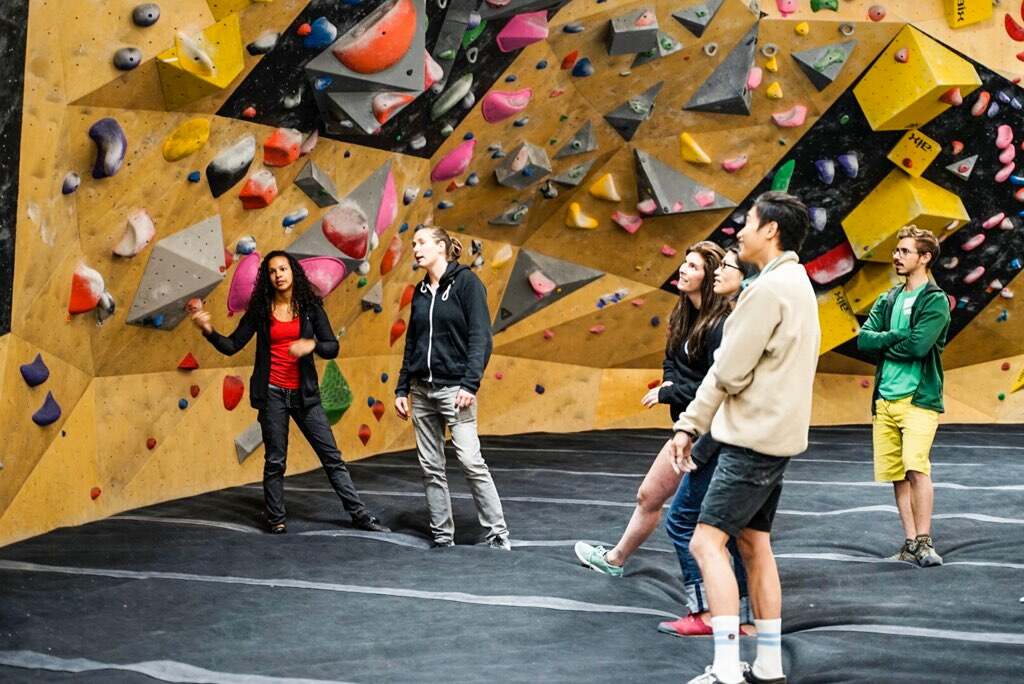 Photo by Matthew Huitma, commissioned by Calgary Climbing Centre
Tell Me About CWA Meetings in Calgary!
Not only was this the first CWA Meetings event, this was the first CWA event in Canada. Let's take a quick look at the event by the numbers:
1 outstanding host facility (Calgary Climbing Centre)
13 facilities in attendance across 3 Canadian provinces and 2 U.S. states
4 workshops
1 keynote
1 film
3 breakout presentations (1 per track)
6 roundtables (2 per track)
2 product presentations
Here's a look at the event from our attendees' viewpoint:
"CWA Meetings Calgary was a terrific event. I participated in the Youth & Adult Instruction track, and the information was fresh, well presented, informative and extremely applicable. CWI Provider course was also very well run and is such a great certification to have. Facilities, logistics and communication were also very good. Well worth the trip from Chicago!"
- Dave Hudson, Co-owner and Program Coordinator, First Ascent Climbing and Fitness
"I found the whole event to be great opportunity to meet other setters and see where standards are at the moment. We have a lot of work ahead. But this event created that energy to keep pushing leaning and standards in the right direction."
- Juan Henriquez, Head Setter, Calgary Climbing Centre Hanger
"CWA events are a necessity for newer gyms. It allows you to get all of your staff up to speed with the industry in a very short amount of time. Send them to it."
- Terry Paholek, BLOCS
Get Involved
The strength of CWA Meetings is found in a diverse representation of facilities and attendees who can contribute a variety of ideas and experience to the event. Don't miss out on taking part in year one of CWA Meetings!
Check out our CWA Meetings Hoboken and CWA Meetings San Francisco events coming up:
Hoboken: September 16-20
San Francisco: October 21-25
Register yourself or your staff today for CWA Meetings! If you have questions, you can email Emily Moore at emily@climbingwallindustry.org.
REGISTER