Projecting Anti-Racism: American Mountain Guides Association Affinity Programs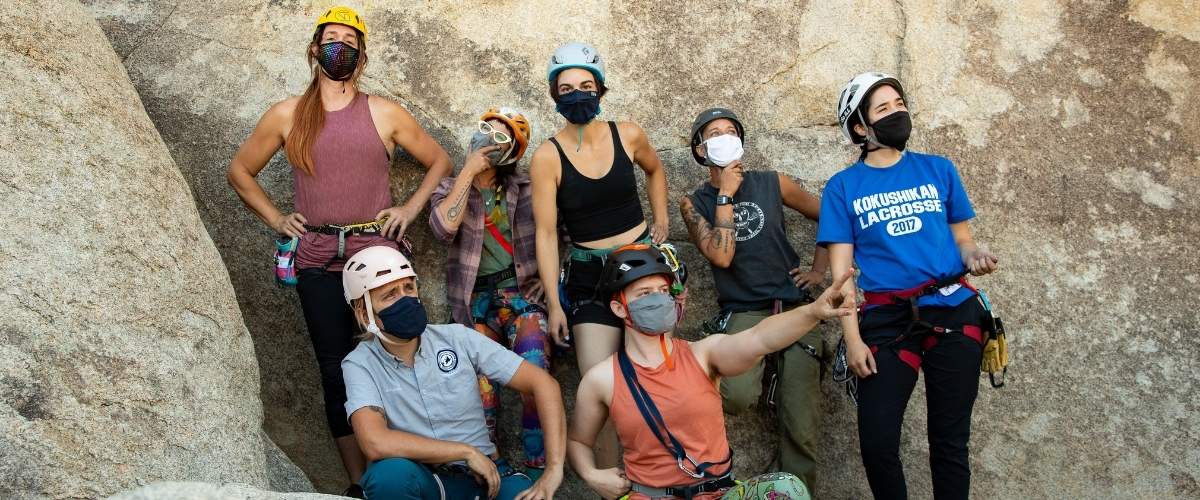 Photo by Irene Yee
This installation of Projecting Anti-Racism is a case study of the American Mountain Guides Association (AMGA) and its implementation of affinity programming.
As more folks challenge the outdoor industry to be intentionally anti-oppressive, the work goes beyond inclusion to afford real power to historically excluded groups, have them self-actualize, and gain access to jobs and certifications.
Affinity programming is any type of program offered to a group formed around a shared interest, identity, or goal. Organizations often form affinity groups for their customer and/or employee communities to promote justice, equity, diversity, and inclusion. In a learning environment, such as a certification or training program, affinity groups offer a supportive setting for participants to more comfortably and effectively engage with the course material.
I organize a group, BelayALL, as an anti-oppressive climbing collective and have taken countless folks climbing without being a certified guide. While climbing with about 20 participants at the crag on Lil'wat territories in the summer of 2019, I sat with a heavy internal conflict. I know that my understanding of outdoor safety and rescue is essential for me to help people learn. I also know that in order to pursue a certification, I must put myself through a series of white-run and male-dominated courses. The cost of those courses is high. Not just financially, but mentally and emotionally as well.
When I think about pursuing guiding certifications, I compare them to other white spaces that are gatekept— like academia— where the pipeline to a job is designed primarily for white men. This means that in order to access it, I must prepare myself for varying amounts of homophobia, sexual harassment, racism, and Islamophobia. I'll also need to do the coursework and be able to afford the time away from the job that actually pays me.
For those reasons, and so many more, I was excited to connect with Monserrat Alvarez, Membership and Inclusion Coordinator at the AMGA, and the first person of color to be hired at the national office since its inception in 1965. In speaking with her, I gained insight into the conversations that preceded the implementation of what are now six affinity programs running in 2021. We also discussed the structure of these courses, designed to empower new leaders in the outdoor industry.
If you're paying attention to the DEI initiatives sparking in the outdoor industry, you've likely heard of groups like Brown Girls Climb LLC, Flash Foxy, and Climbers of Color. These organizations work at local and national levels on gatekeeping issues in activities like rock and ice climbing, hiking, mountain biking, and others. Alvarez describes how she has been working closely at a grassroots level, on top of her job at the AMGA, in order to bridge the gap between the white male-dominated industry and the communities that are often left out.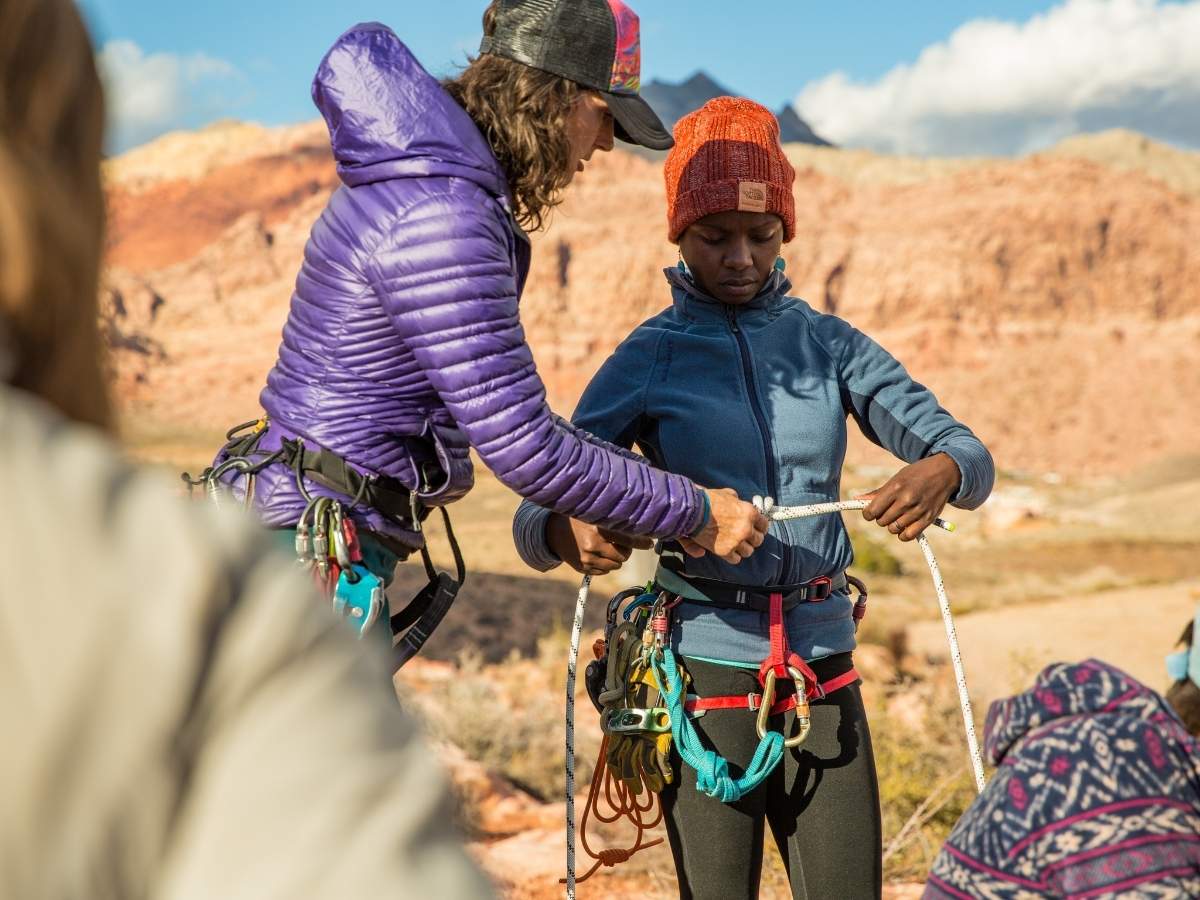 Photo by Irene Yee
Having been hired in May of 2018, she explains that the AMGA is big in terms of membership numbers but not in terms of funding and staffing. At the time she was hired, Alvarez told me that the DEI committee was a "very grassroots initiative" started by members and that she realized "there was a lot of work to be done."
"I advocated for myself to be in a more involved role doing inclusion work at the AMGA," she explained. Alvarez is responsible for DEI training of providers, instructor team members, and all membership. Alvarez participated in the first Women's Single Pitch Instructor Course, an initiative that she led through her work with Brown Girls Climb, which ran its inaugural session in 2019.
"That was in partnership with Flash Foxy, Brown Girls Climb, and the American Alpine Club at that time," Alvarez explained. "It was such an amazing course. That affinity course is what laid the foundation for us to collaborate with community organizations, to pay community organizations for their consulting, to build genuine and authentic relationships with them, and to listen to their feedback."
With strong connections to community organizations, the affinity courses were able to address further disparities in who has access to guiding certifications and jobs in the outdoor industry.
"In 2019, we also incorporated the Women's Rock Guide Course and the Ascent ASC, which is the Alpine Skills Course, for anyone who identifies outside of the dominant identity group." From there, she told me that "2020 was a really hard year for [the AMGA]. A lot of stuff was up in the air, but we ended up kicking off our first LGBTQ+ SPI Course, Ascent ASC, and the Women's Rock Guide Course. And then, this year we're offering six affinity programs which is the most we've ever offered."
The momentum Alvarez gained in this work is thanks to her commitment to conversation with community groups. She went on to explain, "A lot of times larger organizations like the AMGA or corporate entities can have really good intentions to have these programs or these ideas, but they are not, most of the time, connected directly to community. Having that community partner creates accountability, transparency, and it also builds authentic relationships. They are the ones who are on the ground."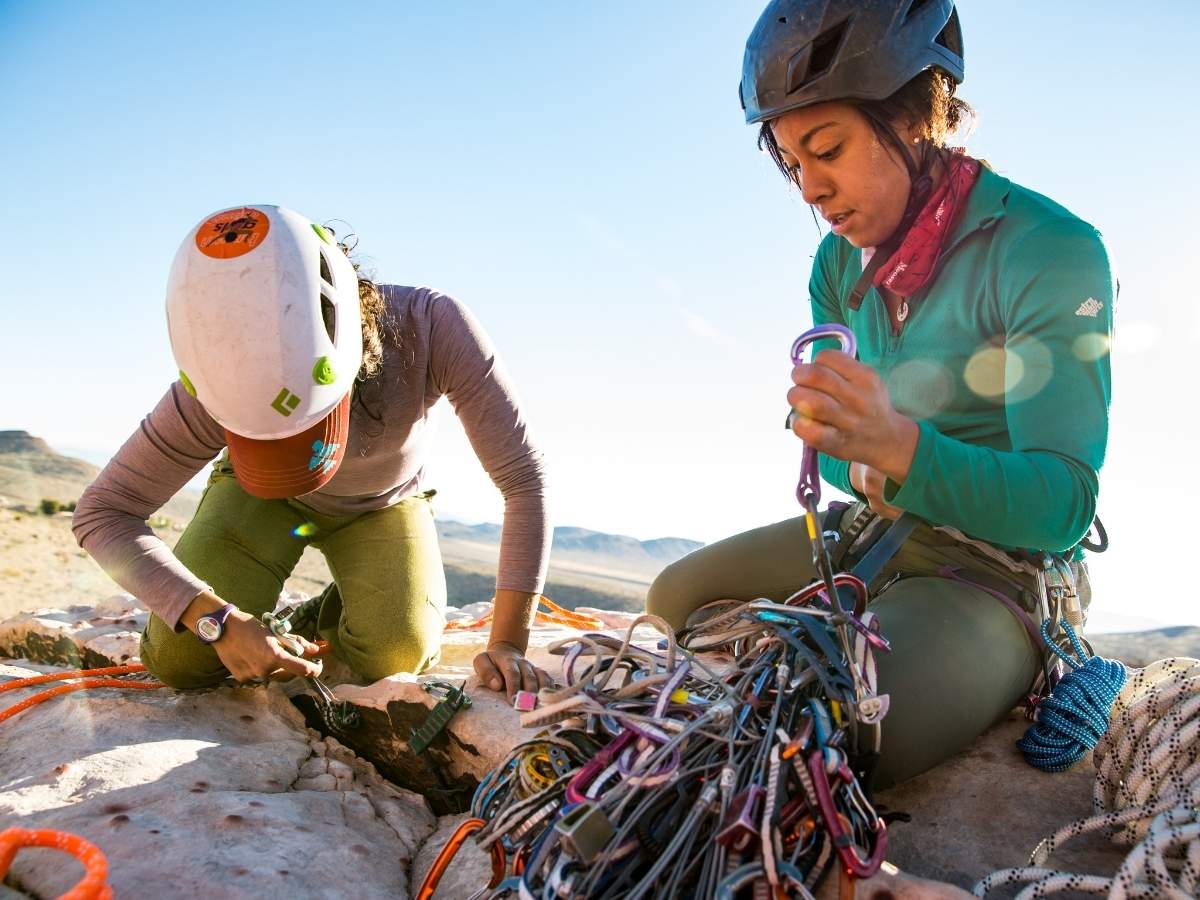 Photo by Irene Yee
The success of affinity groups hinges on knowing the needs of the community. "I think trying to do something without them is really disrespectful of their time and investment and energy they've put into building communities. It's been really important for us to identify community partners that we're going to work with. And we're also paying them to be involved in these conversations. Compensation can look like monetary compensation but also any other support that we can offer. That looks really different for every partner that we work with according to their needs."
A lot of times, organizations that don't know where to start want to build programming instead of building relationships. In speaking with Alvarez, I appreciated the clear orientation of a community-first approach.
As these programs continue to grow and provide more folks with opportunities, I asked Alvarez what she would like to see down the road.
"What I dream of for the future is having consistency and a guarantee for our communities that this is something that is going to be available year after year. Additionally, I think a big part is adapting to the needs of the community. When folks are ready to be supported through their exams, or when folks are ready to be supported through rock guide courses, or when folks are ready to be supported through more advanced courses that we're able to listen to the community and offer those as a response."
What Alvarez is doing is relationship-based and co-created. The assumption is not that everyone wants to be a Rock Guide ™ but that the way forward for the outdoor industry is to be in conversation with different groups and to be adaptive to each other's needs. That, to me, feels like an inviting dynamic, and I wouldn't think twice about entering a space built around the practices and principles Alvarez is working through with the AMGA.
Consider this article an invitation for other organizations to build the connections at a grassroots level in order to empower and uplift various communities.
Finding the community groups in your area might be the first step. From there, taking their needs seriously and adapting curriculums and programming to their needs will change the landscape of the outdoor industry so that no one feels othered by these spaces in the future.
---
About the Author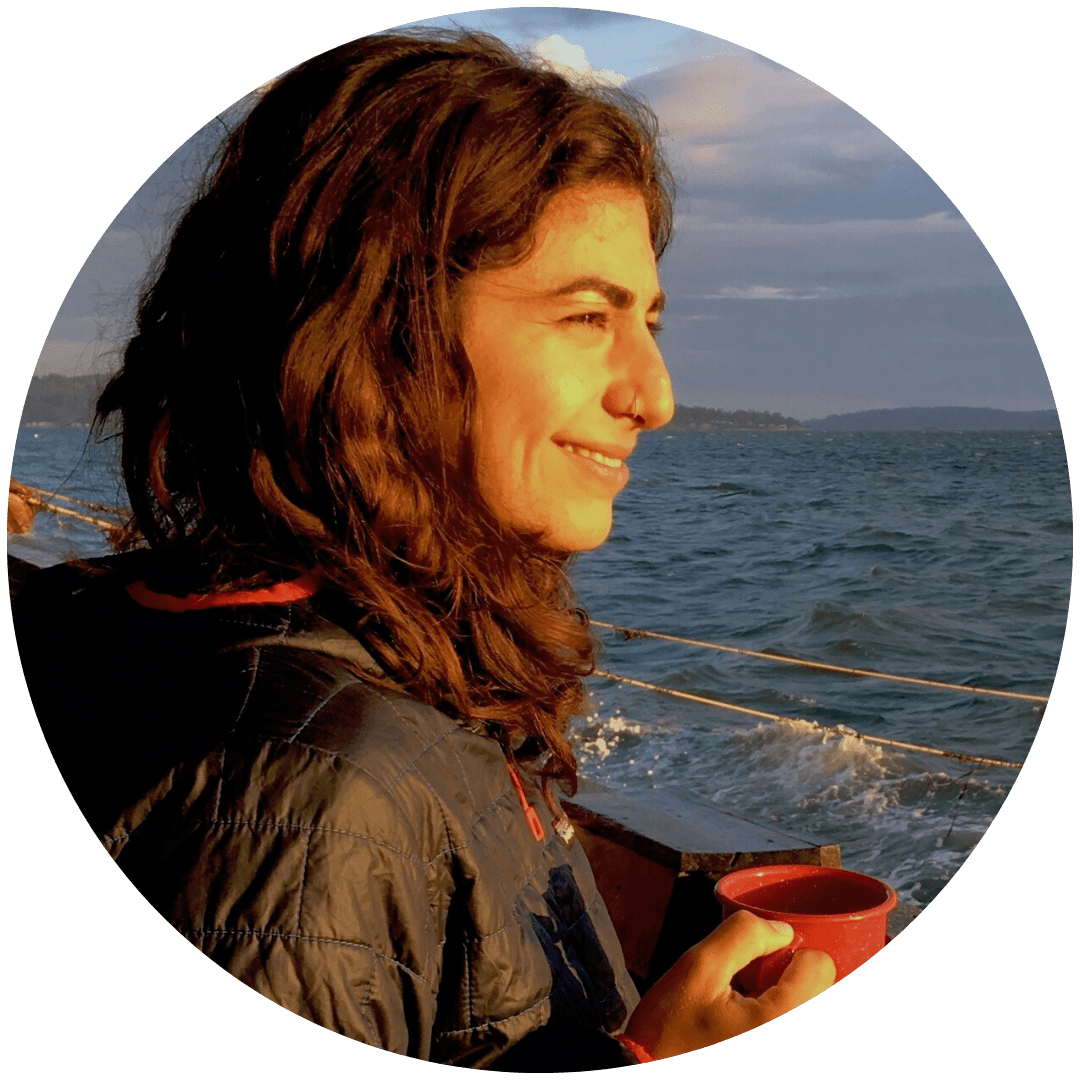 Anaheed Saatchi is a queer and non-binary writer and community organizer. They cover themes of social justice, diaspora, the outdoor industry, and identity politics. In 2018, they co-founded the rock climbing initiative BelayALL, based on the unceded territories of the səl̓ilwətaɁɬ təməxʷ (Tsleil-Waututh), Skwxwú7mesh-ulh Temíx̱w (Squamish), and šxʷməθkʷəy̓əmaɁɬ təməxʷ (Musqueam) nations. Examples of their work can be found in Alpinist Magazine and online at Melanin Base Camp.