Back to Products & Services
2019 Indoor Climber Survey Summary Report
Industry Research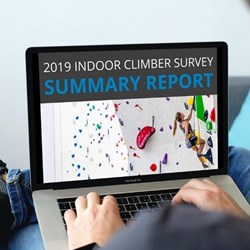 The CWA's 2019 Indoor Climber Survey Summary Report provides in-depth analysis on the indoor climbing community. We partnered with Dr. David Carter of the University of Utah to survey more than 12,000 climbing gym users across the US and Canada. The 54-page report provides a better understanding of the characteristics and climbing-related attributes of the growing indoor climbing community.
This report contains insights on the indoor climbing community's:
Demographics
Climbing Attributes
Training Practices
Outdoor Climbing Habits
Gym Preferences
Communication Preferences
Purchasing Habits
CWA Member Rate: $300 (log in to access member pricing)
Non-Member Rate: $800
Interested in the report, but not quite sure what to expect? Download a preview!
Please note: Upon completion of the purchasing process, you will receive a download link in your email. Please contact us at hello@cwapro.org with any questions.
---