Back to Products & Services
CWA Climbing Gym Business Plan Creation, First Edition
Publications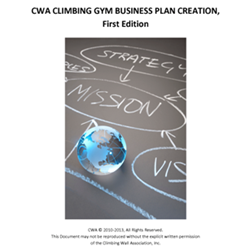 The Climbing Wall Association receives many requests each year for information regarding creating a business plan for a rock climbing facility. The following white paper will attempt to provide you with a general guide in this process.
The purpose of this paper is to assist interested persons in creating a business plan for a rock climbing facility. This paper is not a "how to" manual, rather it is a general guide. Persons writing a business plan are urged to seek the advice of qualified professionals when drafting a business plan.
There are thousands of business plans written each year with the general intention of guiding a business in its trajectory. The real reason for the creation of business plans varies widely. They might include: raising investment capital, obtaining bank financing, easing one's conscience that "we must have a business plan", creating a road map with which to manage the business, creating a resource to foster consistent effort within an organization. A plan may be created for any combination of these reasons. In the final analysis, the business plan will only be as useful as the efforts and intentions behind the plan. For the purpose of this white paper, we assume that the primary purpose of this plan is to obtain investment capital and/or bank financing for your climbing gym venture.
How does this differ from a plan created for strictly "internal" use? A plan created for potential investors must be more refined and clearly communicate the consumer need that is being fulfilled (the consumer pain that is being addressed), the qualifications of the team that is managing the business and the means by which the business will meet the investment return criteria of potential investors. A plan developed for internal use need not address these issues in the same detail, but a plan created for raising capital must!
In this publication we will provide a suggested template and guidance for creating a plan that achieves this purpose. This is a "suggested" template for a business operating in the for-profit climbing gym industry, it will not fit the circumstances of all climbing gym operations, nor is it so intended. In each section of the business plan outline we will discuss the objectives of the section and the information that should be included and in some cases an example. This is not intended to be a "copy" of a plan that you can alter slightly to create your own plan. Your plan must be specific to your business objectives and circumstances. This paper is intended as a guide to help you through the planning process.
CWA Climbing Gym Business Plan Creation
Chapter 1: Introduction
Chapter 2: Executive Summary
Company
Business Model
Product
Marketing & Sales
Financial
Current Status
Chapter 3: Body of Business Plan
History and Current Status
Company Objectives and Goals
Business Model
Management Team
Marketing Strategy
Industry/Marketplace
Market Penetration, Target Users/Markets
Products/Services
Pricing and Margins
Sales and Promotion
Competitive Products
Operations
Facility Design
Staffing and Daily Operation
Risk Management
Financial Summary
Sources and Uses of Funds
Financial Projections
APPENDIX I - SUMMARY OF SIGNIFICANT PROJECTION ASSUMPTIONS AND ACCOUNTING POLICIES
NOTE A: NATURE AND LIMITATION OF PROJECTIONS (example)
NOTE B: NATURE OF OPERATIONS
NOTE C: ACCOUNTING PRACTICES AND BALANCE SHEET ASSUMPTIONS
NOTE D: INITIAL CAPITALIZATION
NOTE E: ACQUISITION OF FIXED ASSETS
NOTE F: TRANSACTION FEES
NOTE G: DEBT
NOTE H: LEASING ARRANGEMENTS
NOTE I: SHAREHOLDER'S EQUITY
NOTE J: INCOME TAXES
NOTE K: NET REVENUE SOURCES
NOTE L: EFFECT OF VARIANCES IN SALES
NOTE M: COMPENSATION AND STAFFING
NOTE N: MARKETING & PROMOTION
NOTE O: GENERAL & ADMINISTRATIVE EXPENSES
NOTE P: INSURANCE EXPENSE
NOTE Q: OTHER EXPENSES
APPENDIX II - CLIMBING GYM DEMOGRAPHIC PROFILES
---