Back to Products & Services
Specification for the Structural Inspection of Artificial Climbing Structures
Standards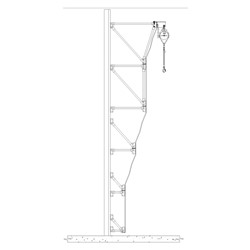 CWA structural inspection standards are intended to assist inspectors, engineers, and builders in the periodic structural inspection of manufactured climbing walls. The CWA structural inspection specification addresses: terminology, inspector qualifications, inspection frequency, inspection procedures, and the written inspection report.
This specification does not address requirements for inspection of personal protective equipment such as ropes, carabiners, belay devices, or harnesses. Personal Protective Equipment inspection is addressed in CWA's Industry Practices and manufacturers' instructions.
The structural inspection standards do not purport to address the safety concerns associated with the operation or use of a manufactured climbing wall. It is the responsibility of the user of this standard to consult our operational standards, establish appropriate safety and health practices, and to determine the applicability of any regulatory requirements for work at height prior to use.
This specification is intended for use by experienced professionals.
Specification for the Structural Inspection of Artificial Climbing Structures, First Edition
1.0 Scope
2.0 Referenced Documents
2.1 ASTM Standards
2.2 CWA Standards
3.0 Terminlology
4.0 Inspector Qualifications
5.0 Inspection Frequency
6.0 Structural Inspection Procedure
7.0 Inspection Report
---