2019 Indoor Climbing Industry Report Now Available!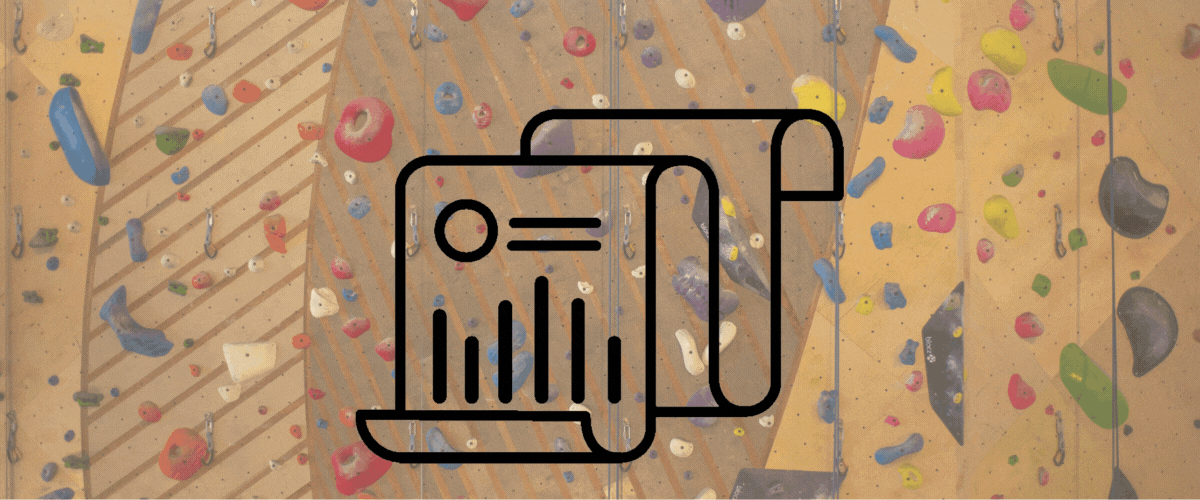 Starting in 2017, the CWA began establishing an industry research program to develop information that aides climbing gym owners, industry vendors, and prospective gym owners in their decision-making processes. Our goal is to provide reliable data and business metrics for industry stakeholders that dig into the realities of operating a climbing facility.
The CWA's 2019 Indoor Climbing Industry Report, released last week, provides an in-depth look at commercial climbing gym businesses in the US and Canada. The 74-page report contains a detailed analysis of the industry's market dynamics, facility characteristics, financial metrics, operations, and trends.
We partnered with Dr. Bob Brookover of Clemson University to study commercial climbing gyms, which are defined as facilities where the primary offering is indoor climbing. Some health clubs, recreation centers, and other facility types offer indoor climbing along with many other offerings; these were not included in this study.
142 LOCATIONS COMPLETED SURVEY

96 unique operators

73 SINGLE-GYM OPERATORS

represent 73 locations

23 MULTI-GYM OPERATORS

represent 69 locations
IMPROVEMENTS TO THE 2019 REPORT
In working toward our goal of providing actionable data for the industry, we improved the 2019 report in a couple key areas:
Research Advisory Committee
First, we created a Research Advisory Committee to act as an advisory body for the CWA's industry research projects, aligning those projects with the needs of the industry. The committee has provided advice and input on key project milestones, especially the development of survey questions and improvement of reporting.
The group was selected based on their deep working knowledge of our industry's research and data needs, their backgrounds in research, and their extensive experience working in the industry. The members of the committee provide a fair and balanced representation of CWA members and industry sectors. The committee includes climbing gym owners, gym managers, senior staff, academic researchers, wall builders, gear manufacturers, and industry experts.
If you're interested in joining the committee, sign up to be notified when applications open!
New and Improved Reporting Categories
Second, we refined our approach to reporting by dividing the results into more useful categories so that business owners can see their businesses more accurately reflected in the results. The categories are based on number of locations and facility type.
The category of full-service locations is defined as facilities that offer both bouldering and some form of roped climbing, including top rope, lead climbing, and auto-belays. Bouldering-only locations do not offer any type of roped climbing. Within these two main categories, we have further categorized the results by number of locations in order to reveal differences between smaller and larger operations.
SNEAK PEEK OF THE 2019 REPORT
The full report digs into many areas of climbing gym operations. Here are a few top-line numbers from the results:
Industry Overview
For this study, CWA identified a universe of 577 distinct commercial climbing facilities in the US and Canada, an increase of 8.7% from 2018. California had the most operations (65), and none were found to operate in Mississippi, North Dakota, or South Dakota. Climbing gyms have since opened in Mississippi and South Dakota.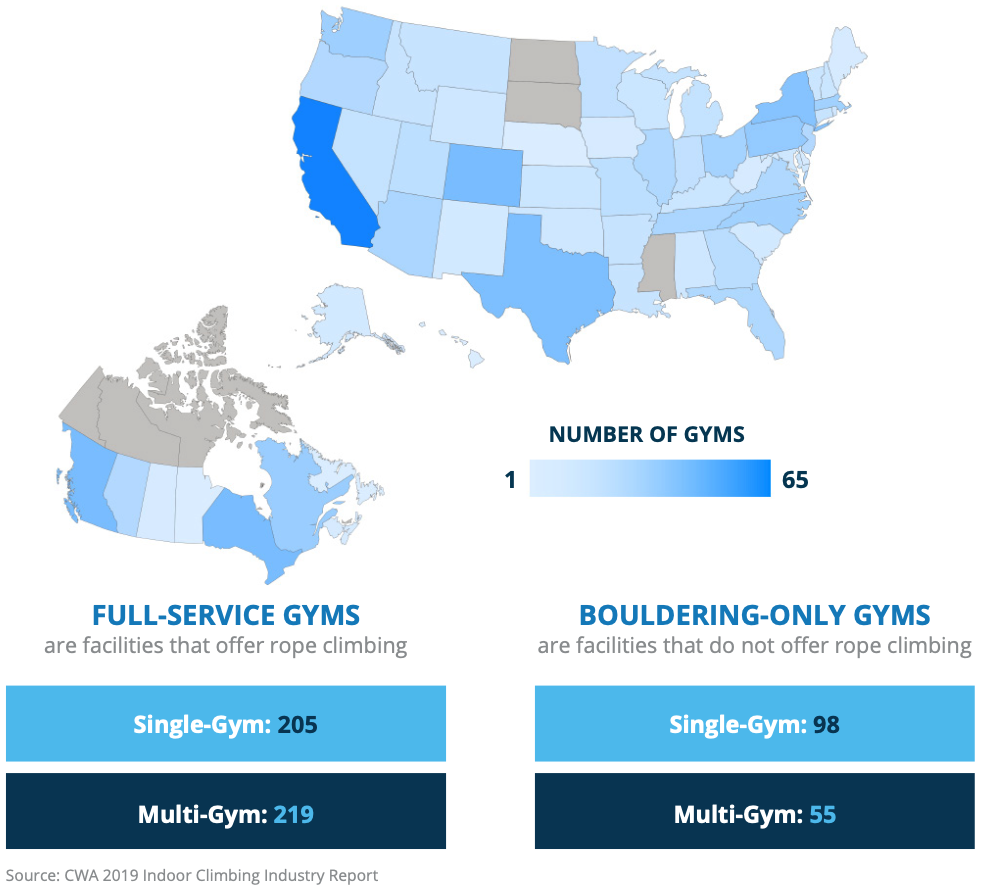 Industry Revenue at a Glance
Overall industry revenue has been extrapolated based on the reported revenue data provided by survey respondents.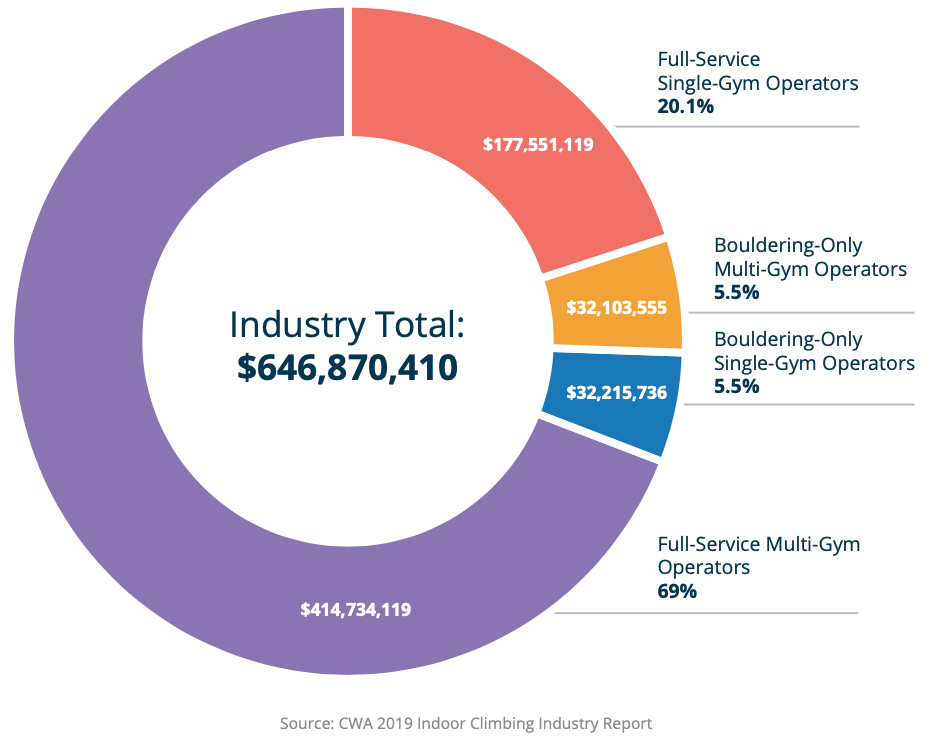 Perception of Market Saturation
Participants indicated their perceptions of how saturated their market is with other gyms. Most respondents felt the market saturation in their area was about right.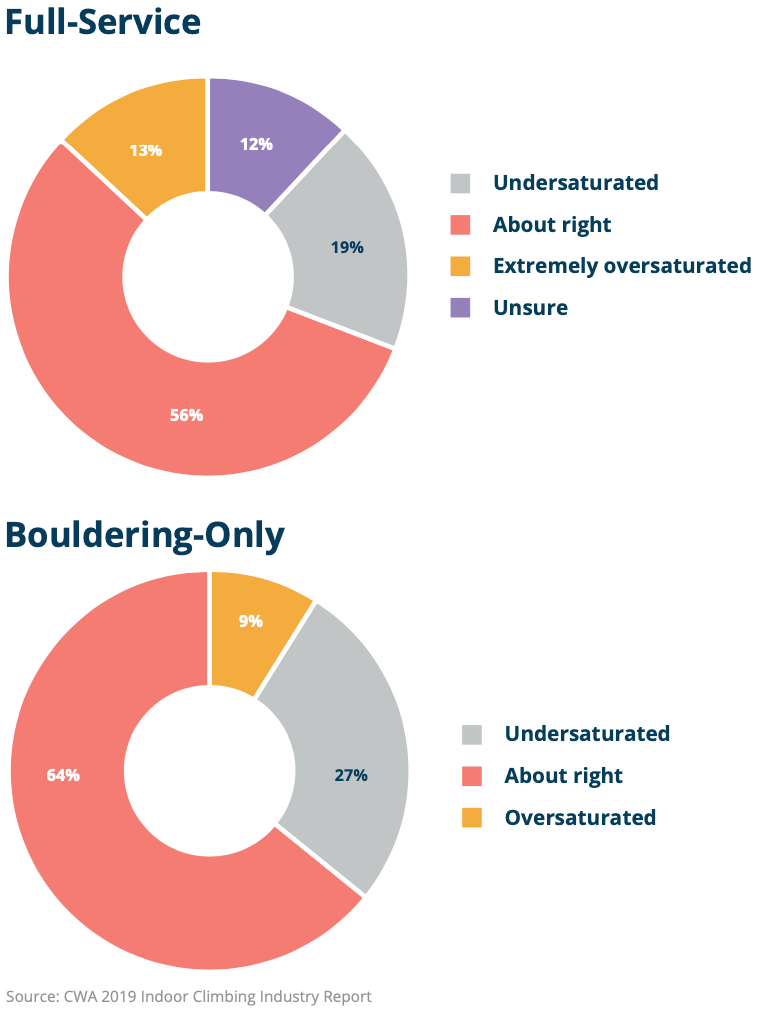 GET INVOLVED!
While we've made many improvements to this year's industry report, there is still room to grow! Get involved as we continue to refine the CWA's Industry Research Program.

The best way to make our industry reports more useful is by increasing participation. By adding your information to our annual surveys, you help yourself and the industry as a whole. Participants receive free access to a copy of the report and bolster the overall accuracy of the information contained within the report.

If you're interested in helping guide the future of the CWA's industry research, consider applying to join the Research Advisory Committee. Applications will be open soon. Sign up for the waitlist to be notified.
---
PURCHASE THE FULL REPORT
The 74-page report contains a detailed analysis of the industry's market dynamics, facility characteristics, financial metrics, operations, and trends. Purchase the report for insight into many questions, including:
How long does it take to open a climbing gym?
What do market dynamics look like for climbing gym operators?
What types of services do climbing gyms offer, and how do they impact business performance?
How do Full-Service and Bouldering-Only operations differ?
What are the top growth areas and challenges anticipated for the next few years?
And more!
---
About the Author
Laura Allured is the Sr. Manager of Membership & Marketing at the Climbing Wall Association. She oversees the CWA's membership and marketing programs, including the CWA's blog, Thrive, and the Industry Research Program. Originally from the Chicagoland area, she got her start climbing in 2012 at Vertical Endeavors and has been hooked ever since.