5 Indoor Climbing Holds You Probably Want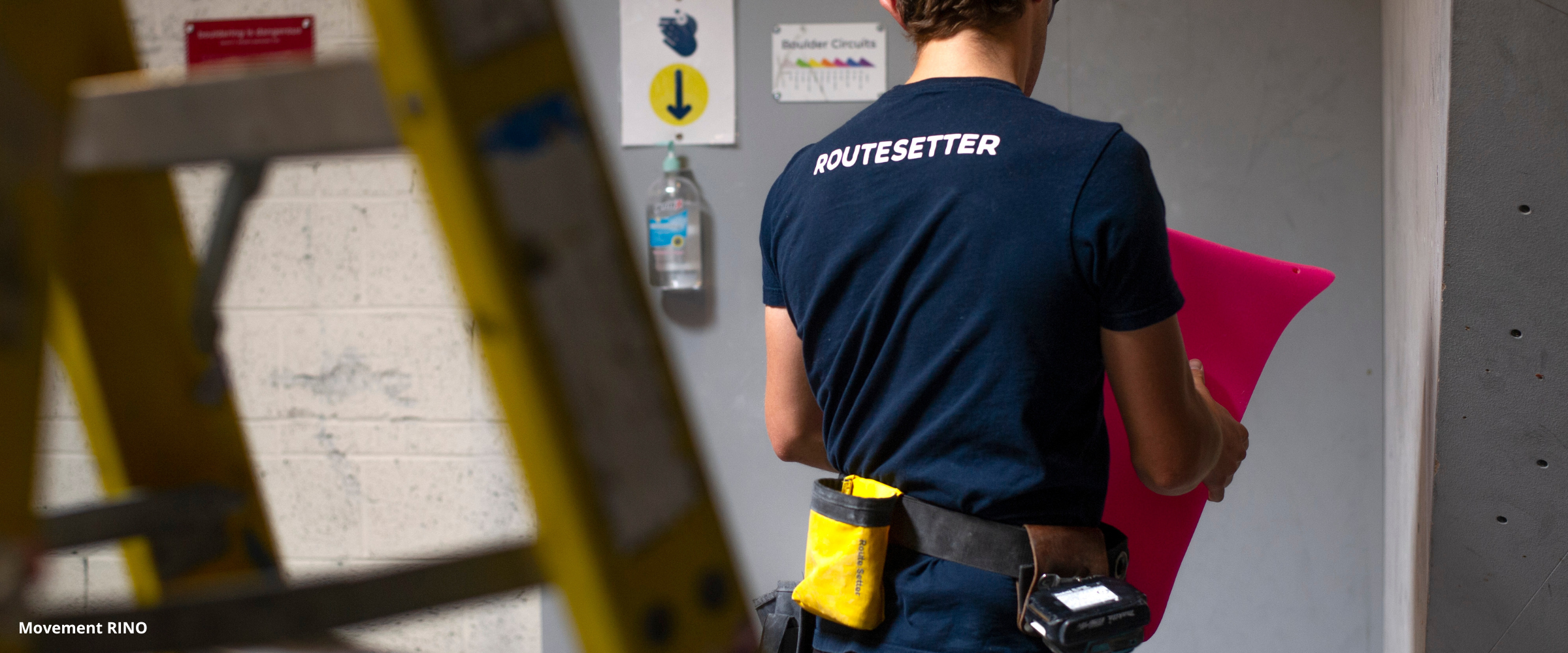 I hate slopers.
They make my wrists feel like they are going to explode both inward and outward simultaneously. Coincidentally, one of my favorite hold lines is also predominately slopers.
Unsurprisingly, it is not so much because of the holds themselves, but because of the memories I associate with them. Specifically, my first pink circuit route (V6-V8) at my first climbing gym.
If you're like me, when you are walking up to the wall, sussing out the new set, you are subconsciously rating the routes based on complexity, difficulty, aesthetics, and on the holds themselves.
In no particular order, here are five hold sets that spark joy – or bittersweet fury – when I see them on the wall, as well as why you may want them for your indoor climbing gym.
---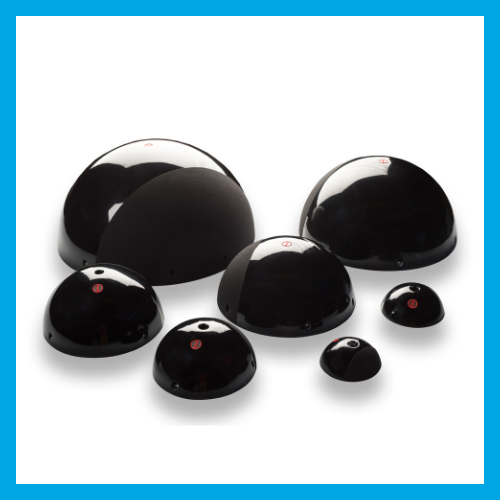 360 - Balls – Dual Tex
(€762.99 for 7x holds) by Simon Margon
From the 360 Holds website, "Set of seven balls from S (small) to L (large). A selection of slopers with dual texture. An absolute 360 holds CLASSIC!" Shaped by Simon Margon, these holds are iconic. When you think of fiberglass, you think of 360 Balls.
As a new climber, these holds were the pinnacle of untouchable, namely because they were on the pink (V6-V8) circuit and I was a vBeginner climber.
With the gym I climbed at being hyper-monochromatic (if you don't know what I mean, check out this article on setting styles), 360 Balls would always be set at V6-V8, and I was a long way from being there. Fast forward some time and I was projecting a slabby, reachy boulder with a mantle on the 360 Balls to send my first V6+ in an indoor climbing gym setting.
My love for these goes beyond the emotional attachment to them cast in pink. The simplicity and clean aesthetics of the perfectly spherical holds and the way they adjust in difficulty, quite drastically, with degrees of overhang make them an eye-catching addition to any routesetter's tool kit. The 360-line commands a premium price tag, but if you've witnessed them on the wall and had a chance to climb on them, you know they are a work of art.
---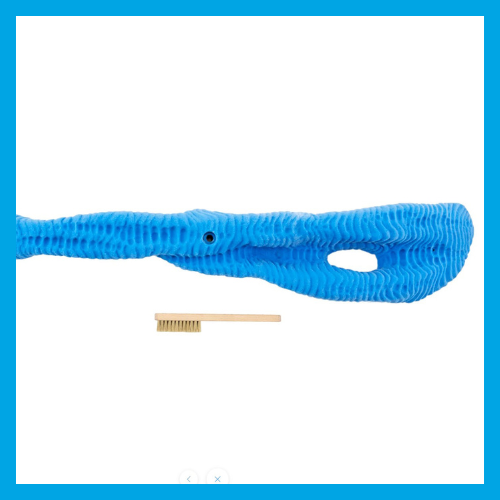 eGrips (Trango) – Myorcan Double Tufapinch
($164 USD) by Ty Foose
Another master class in classic holds, Ty Foose's Myorcan line was my introduction to grips that imitated real rock. As a rock climber raised in Dallas, indoor climbing came first, and that is where I was introduced to these holds. Come 2020, I would buy a set of these beauts in a non-traditional turquoise to be the centerpiece for my home wall, "#Studiowoody," aptly named for the location of the ~220sqft of climbing wall in a ~800sqft studio apartment.
If your climbing started inside like mine, there came a moment when you realized that climbing was not just about upper body strength. As you progress to needing grip and core strength, and then actually requiring technique, the game changed. The holds changed too. Where initially jugs were just fancy handfuls of plastic, holds like the Double Tufapinch were not just one, but a plethora of holds, some better than others. In order to break into the grade, I suddenly had to learn specific beta for the hold and really pay attention to the location of each finger. It was painfully frustrating until the "ah-ha" moment where it clicked, and I sent!
The Myorcan line is a robust offering with everything from small crimps to XL holds that range from comfortable jugs to painful crimps when placed on an overhang. Aesthetically pleasing and based in nature, these holds are a step toward bringing the outside to the indoors. If you are looking for classic styling and a great combination of directional and multi-directional holds in one line, the Myorcan line is a great option for your hold budget.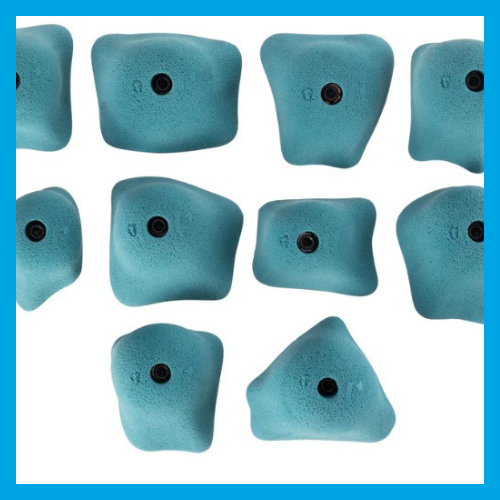 ---
So iLL - Bubbies Medium
($179 USD for 10x holds) by Jason Kehl
When discussing my list of favorites with a few of my friends more involved in the art of routesetting, this selection ruffled feathers. From SoiLL, "All 10 holds vary in difficulty from super slopey mounds to squishy pillows. They are quite a handful for their size and deceivingly hard on steeper angles."
When it comes to spending your routesetting budget wisely, holds with more than one orientation can stretch each dollar further and I believe these are some of the bests at doing that. Each hold has roughly three to five different clear orientations that each offer a varying degree of positivity with corresponding thumb catch options or lack thereof. Like the Tufapinch, these holds held secrets that were hard to know until you touched them. The flipside is that with so many options, sometimes the beta gets broken more easily than a pure, directional hold.
To this day I love these holds, and a set of the medium and large both adorned StudioWoody in seafoam.
---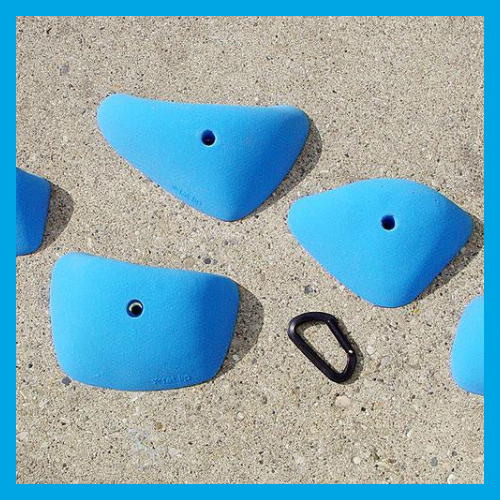 Teknik – Fat Lips
($154 USD for 5x holds) by Zoe & Seth Johnston
If your routesetting allows hold colors to be used between grades/circuits, the Fat Lips are a utilitarian hold line that plays well across a huge variety of difficulties and angles. Fat Lips, in conjunction with the complementary Fat Grips and Fatty Fatty Fat Lips, are one of my favorite lines for simple, directional climbing, and multi-functionality.
I was introduced to the Fat Lips + Grips lineup by Luke Skinner, Director of Routesetting for Movement Climbing's Dallas locations, when I was looking to add depth to a home wall. Once I knew what I was looking for, I realized how often these were being used to great effect in the local climbing gyms and I knew I needed a set.
Compared to the other holds on this list, I would say that the Teknik grips are the least "sexy" on the list, but their comfort and performance on the wall are exceptional. With many modern hold lines you will see unnecessary complexity which actually compromises the function of the hold. Sometimes simple is best, and the Fat Lips nail this.
---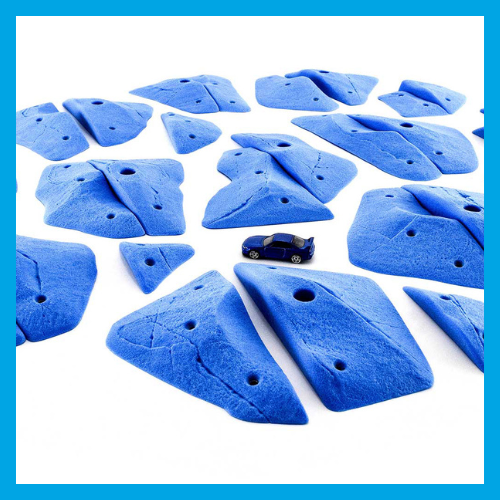 Kilter - Granite Complex - Medium Crisper Crimps
($440 for 31 holds) by Ian Powell
Ian Powell is among the best-known shapers in the indoor climbing industry and the Complex lines are my number one justification for that. For anyone unfamiliar, the Complex lines utilize complementary angles to allow the holds to fit together like puzzle pieces. Think of Russian Nesting Dolls but for holds, resulting in blocking combinations that can be subtly changed to infinitely vary the degree of difficulty on each and every hold.
One of the blessings and curses of being a predominately plastic puller (aka indoor climber) is that when you climb in a specific gym long enough, you grow to know every inch of every hold in the facility. With hold lines like the Granite Complex, this is a thing of the past, because each combination of holds on the wall yields another outcome with a unique sweet spot and difficulty that is hard to know until you get your hands on it.
Released in 2019, this holds line immediately blew me away with the versatility achieved while also mimicking real rock. With a current offering of over 125 different individual hold sets, combinations, and competition problem sets, the line has grown to a monstrosity of options. These holds take a level of understanding to truly appreciate, but when setters dial it in and climbers grow to understand what they are seeing, the kind words for the line just do not stop coming on the mats.
Tell Us About Your Favorite Holds!
We're doing an anonymous survey that goes along with this article. Tell us about some of your favorite holds, and if we get enough responses, we'll share the results!
The beauty and beast of holds budgets is that the beauty is in the eye of the grip-holder. With that in mind, how you diversify your hold budget matters. The five lines represented above come from five different brands and shapers that have stood out to me over the last ~5 years in particular because they offer great combinations of form and function, which is really what it boils down to. Each brand offers a unique style and history that blends to make the ultimate offering on a wall.
Editor's Note: This is not sponsored content. These products are the opinion of the author and should be interpreted as such. If you are interested in sponsored content with the Climbing Wall Association, please reach out.
---
About the Author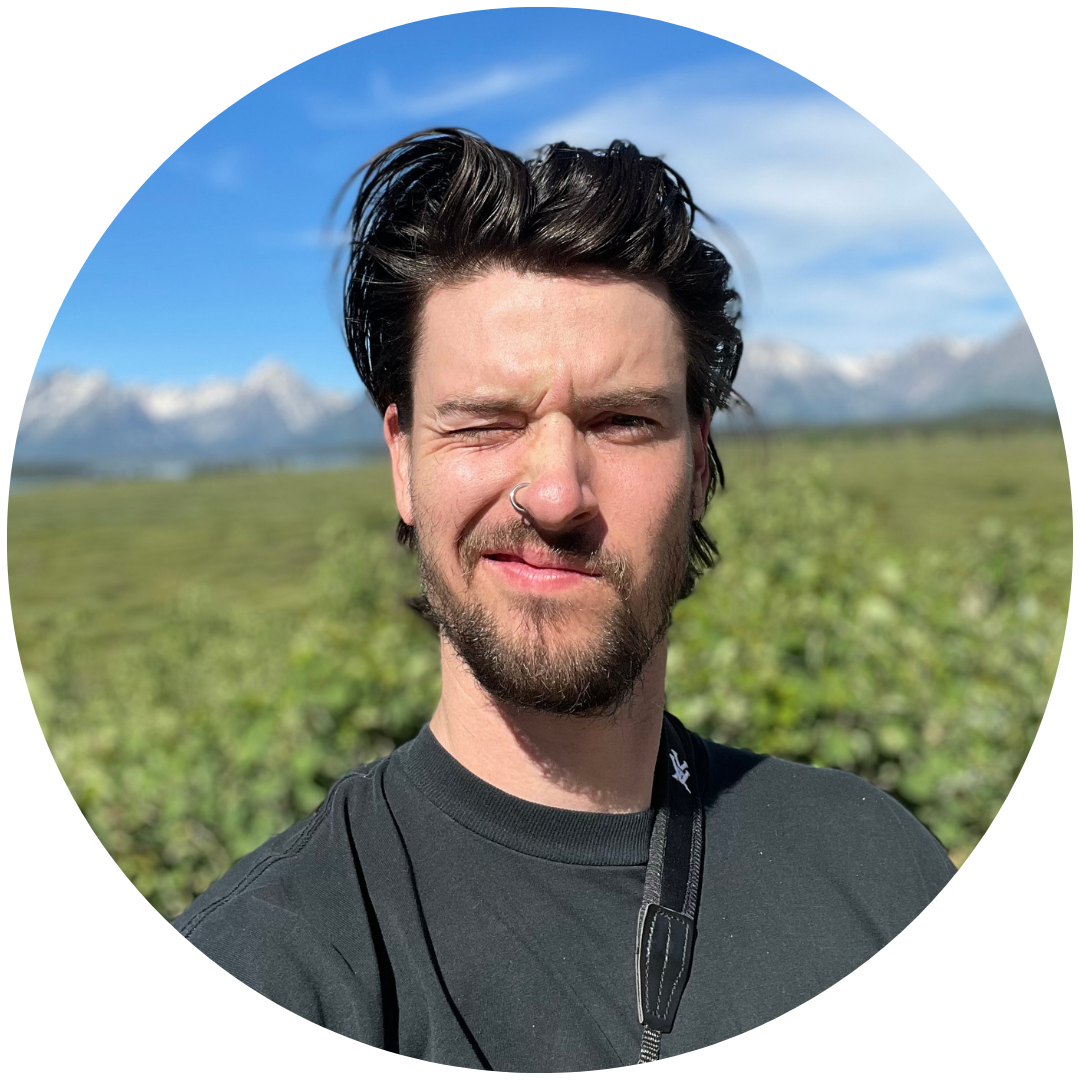 Paul Terbrueggen, aka Tall Paul, is an operations leader with 10+ years of experience. He offers small business consulting for gyms looking to streamline operations, increase retail revenue or otherwise grow their business. Previously he worked at Summit Climbing, Yoga & Fitness as the Retail Director and then Chief Operating Officer for their eight locations in Texas and Oklahoma. Prior to Summit, he led teams of up to 4,500 for Amazon Fulfillment Operations
An avid boulderer, he can often be heard claiming to be "more tall than talented" at 6'6". Paul enjoys all manner of activities, indoor or outdoor, especially when shared with his fiancée Becky and two puppies Penny Lane and Lil McGill (but everyone knows her as Nancy). In addition to consulting and writing for the CWA, Paul is an analyst for End 2 End Outdoor, representing La Sportiva, Petzl, and Big Agnes.