A Review of Climbing Gym Reopening Policies – May 2020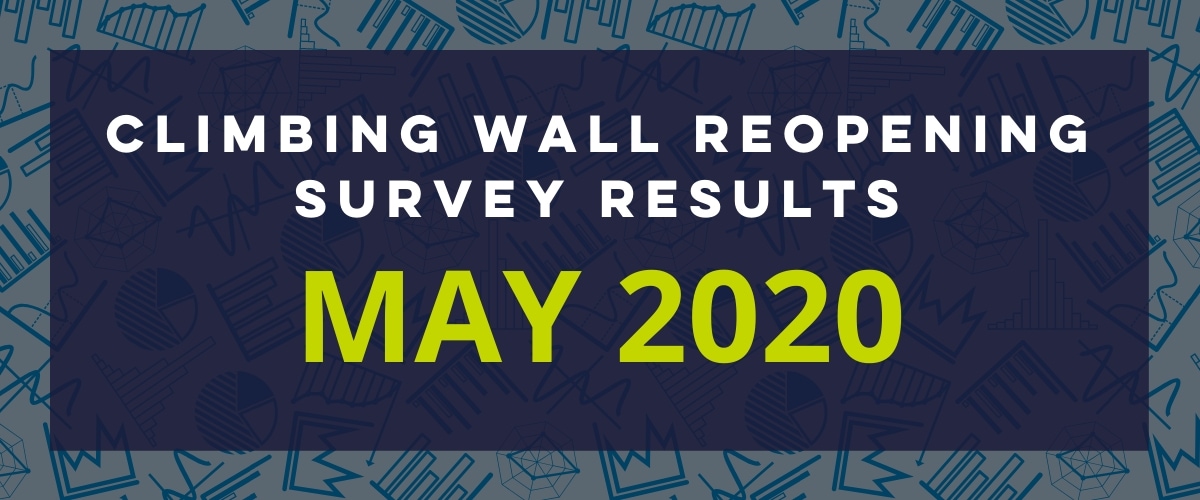 While shaping the CWA's Roadmap to Reopening, we've been monitoring the various guidance that has come from many states, counties, provinces, and countries in response to COVID-19. We've also been speaking to a lot of gym owners and operators and surveying the industry to gain insight into trends and individual choices. This article will cover some of the hot areas of discussion and some surprising results from our research.
Opening Dates
In our first round of official surveying at the end of May, 25% of respondents had already opened their gyms or climbing walls. The remainder of facilities were expecting to open by the end of July with a few outliers looking at September and November openings. Currently, it looks like a little over half of the gyms in North America are open, but our next round of surveying in late June should give us a more solid picture – keep an eye out for the survey invitation next week!
Reopening Guidance
As gyms created their individual reopening plans, they relied on a number of different resources. The hyper-local nature of laws and regulations are reflected by the fact that more than three quarters of gyms were guided by local county, state, and provincial authorities.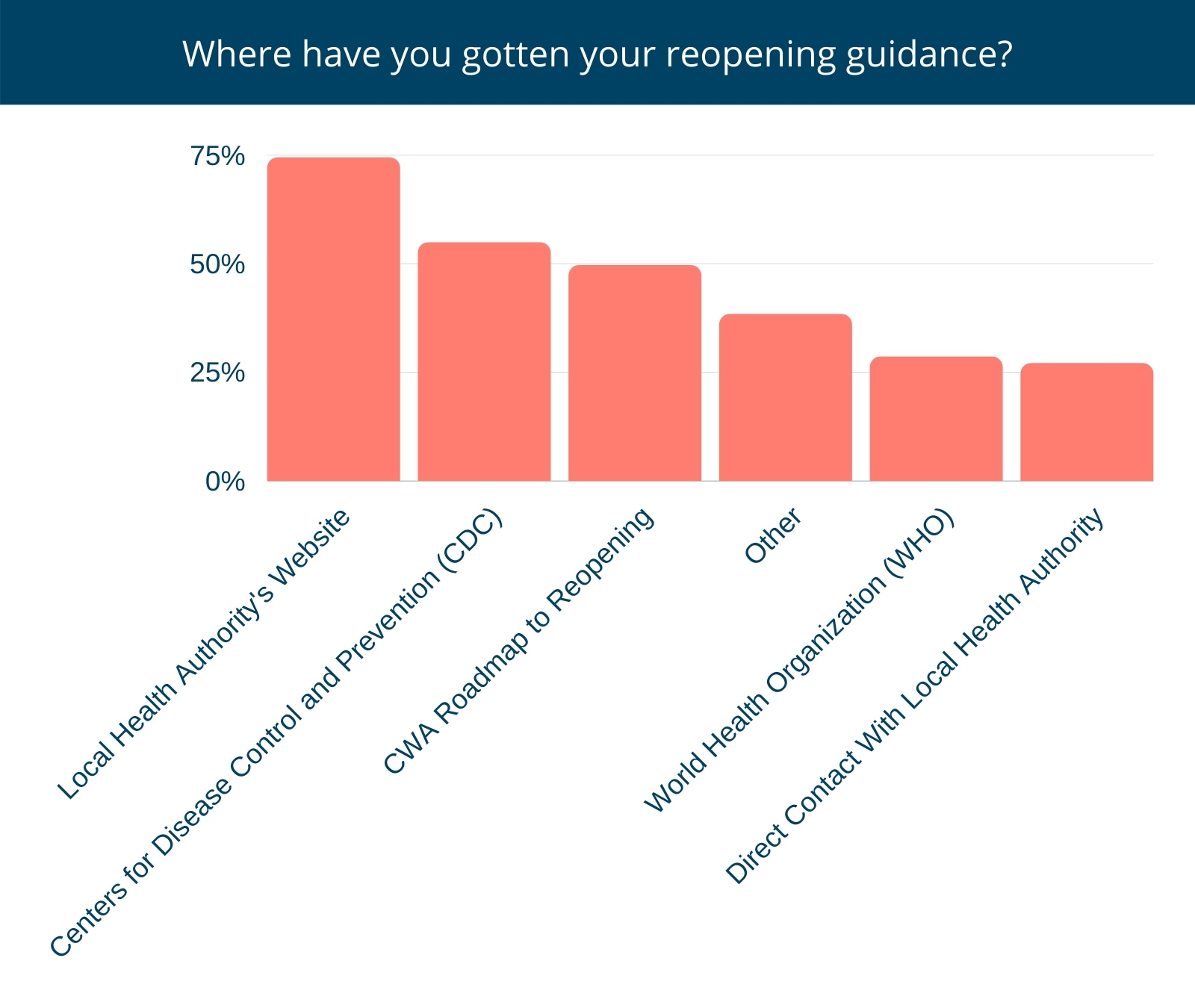 Visitor Agreements
By the end of May many gyms had not added COVID-19 specific language to their visitor agreements and had not sought any legal advice as to whether or not they should. About 25% of gyms had added specific clauses to their agreements with only 15% of total respondents consulting a lawyer. It is the CWA's advice to consult a local attorney to help answer the question of whether or not you should add any specific COVID-19 related clauses. There are a number of states where this may not be an appropriate addition.
Occupancy Limits and Controls
On average, gyms are setting an occupancy cap at 35% of their normal occupancy limits. The maximum occupancy reported was 50% and the minimum 10%. As expected, a plurality of gyms are self-limiting to a more conservative number for their initial reopening capacities.
The majority of respondents are using reservation systems and time blocks to manage occupancy. For the most part these time blocks are 2 hours long and most often only available to members and punch pass holders. Only 30% of gyms are allowing day pass sales during their initial reopening phase.
Our current feedback on these policies is that customers are enjoying reservation systems, but that most gyms are not reaching capacity during most time blocks. We are seeing some gyms shift away from this extra service. We will continue to survey and monitor these policies.
Rental Gear Policies
About 25% of gyms have chosen not to offer rental gear as they reopen, but most gyms have chosen to continue offering a large assortment of rentals. The notable exception is the small number of gyms renting chalk bags and a presumable increase in gyms offering liquid chalk as a rental.
Chalk Policies
About 20% of gyms have made no change in their chalk policies and 20% have taken the stronger measure of only allowing liquid chalk. More than a third of gyms are recommending liquid chalk over regular chalk but not making any stronger requirements.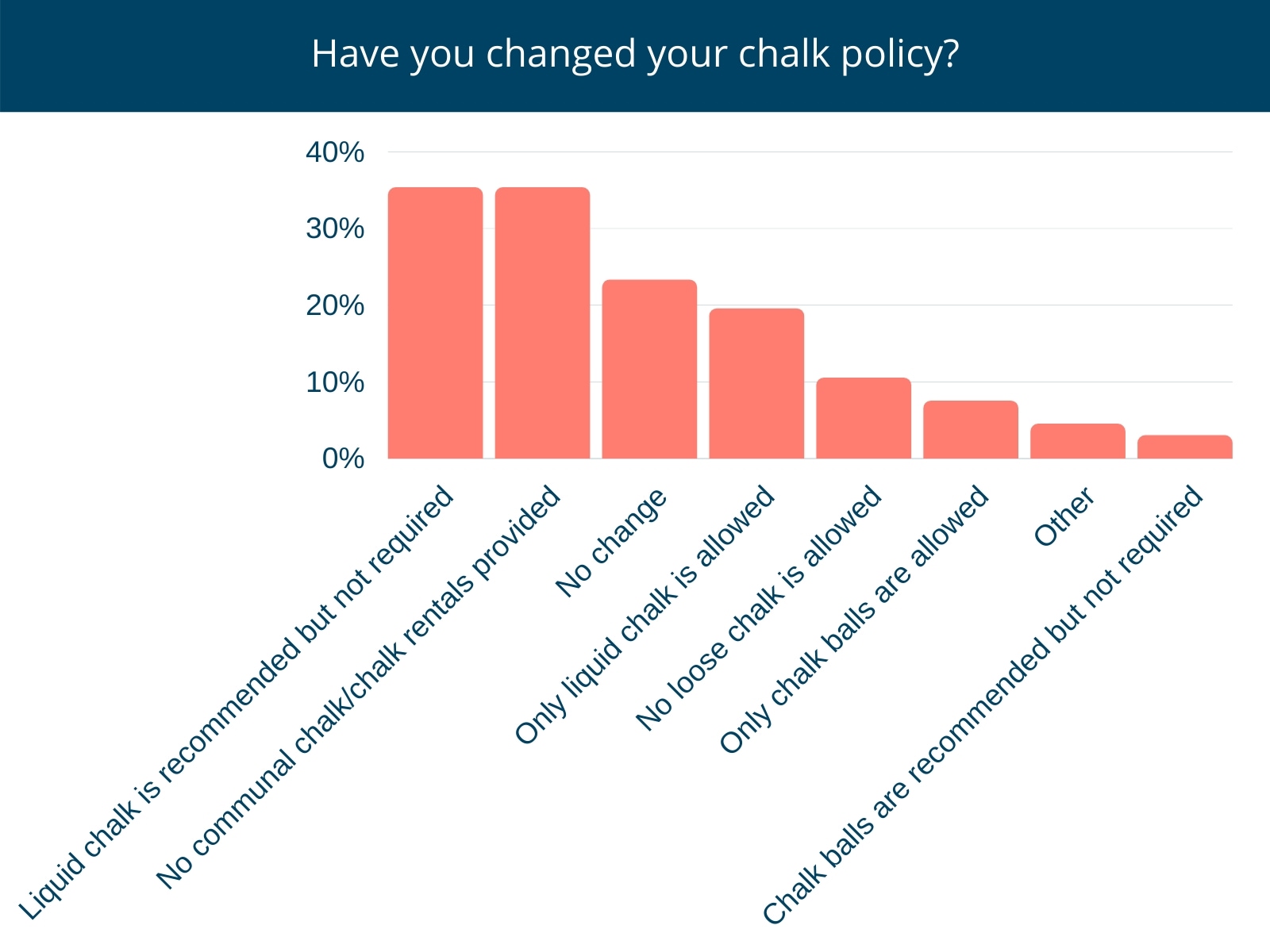 Mask Policies
Surprisingly, not every gym is requiring staff to wear masks. Only 85% of gyms make this a requirement. Of those that don't require employees to wear masks, half do encourage this extra measure of PPE.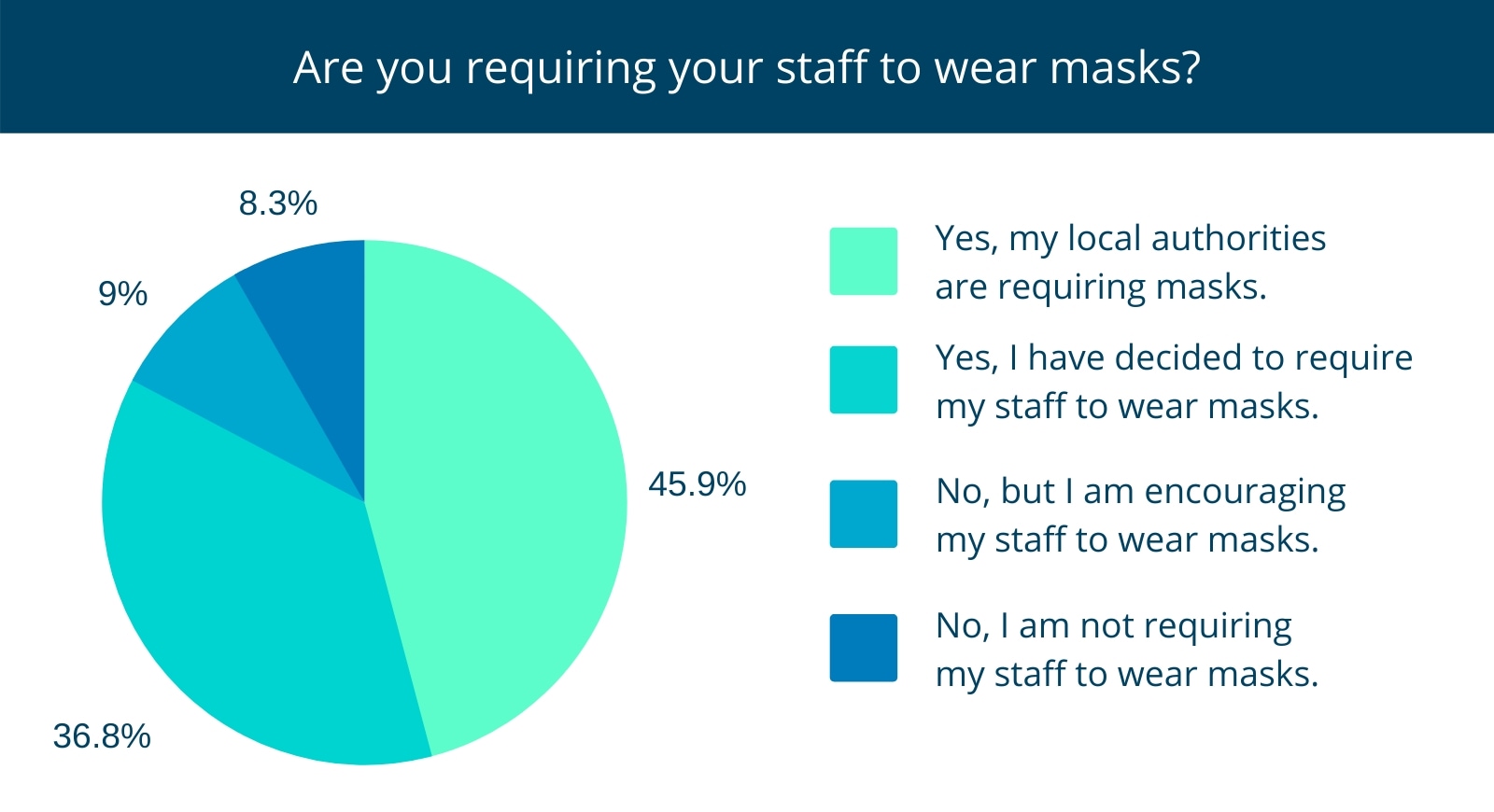 It is slightly less common for gyms to require customers to wear masks with over 60% of gyms requiring some form of mask wearing, 85% requiring or recommending masks, and only 14% not requiring or recommending masks. Many of these mask policies are self-imposed with only 20% of respondents reporting that they are mandated by local authorities to require masks.
Physical Distancing Policies
When it comes to encouraging physical distancing, gyms have employed a variety of different strategies. The most common tactics involved signage, floor markings, and traffic control. Additionally, many gyms have closed or limited access to locker rooms and showers. Very few gyms have made no changes at all. Only 20% of gyms have limited the number of belay tests and new climber orientations. This is inline with the fact that the majority of gyms are accepting new memberships and attempting to move towards restarting adult and youth programs.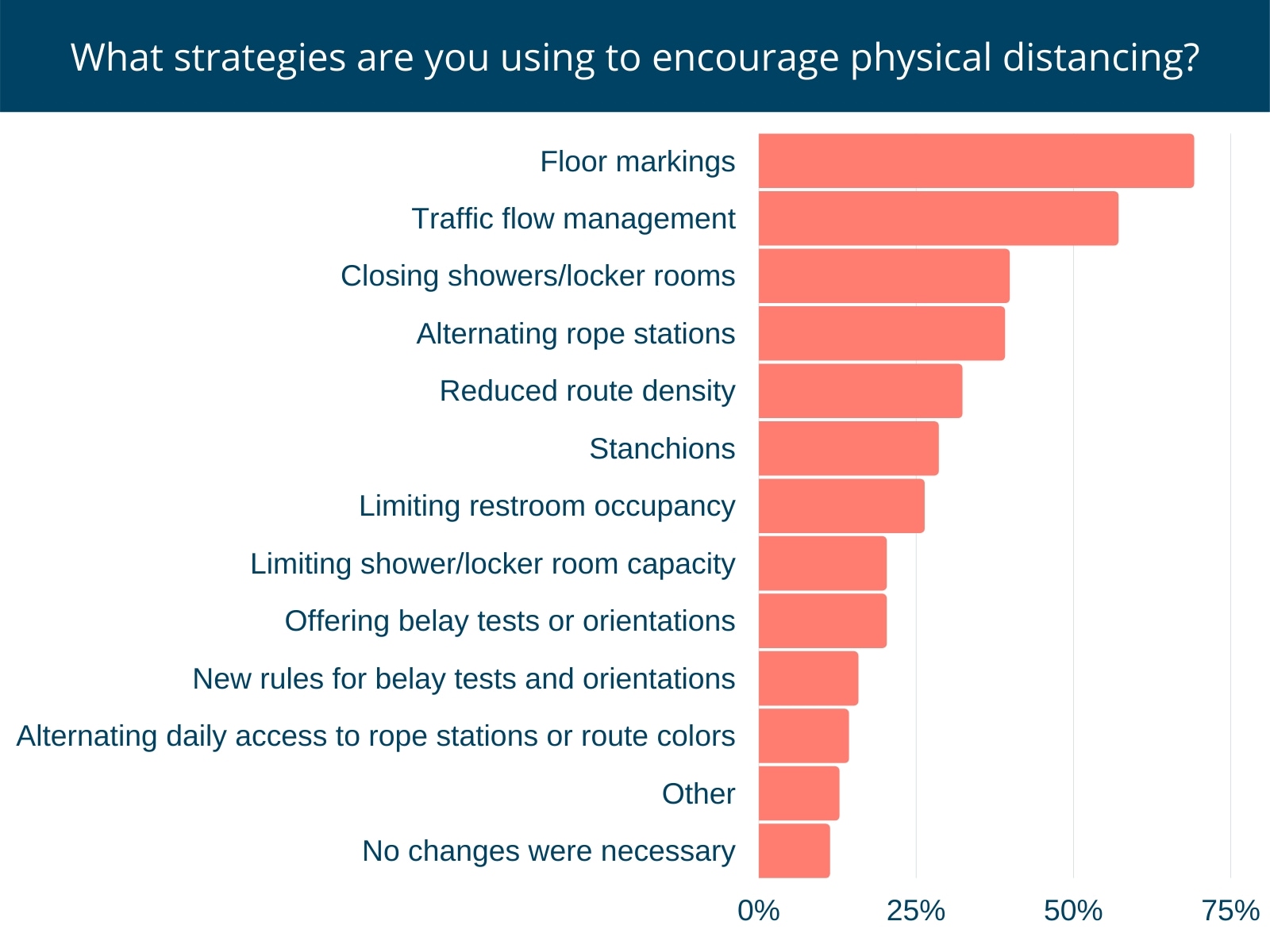 Ongoing Development of Reopening Policies and Best Practices
We will continue to monitor and report gym and climbing wall policies as more and more facilities reopen. To help us gather industry-wide information, please continue to participate in our monthly reopening surveys.
When it comes to deciding on the individual protocols for your own facility, use all available resources, survey your members, and monitor all rules and guidance, as many localities are evolving rapidly. You will need to remain flexible as new attitudes and mandates emerge.
To end on a bright note, the overall economic impact to our industry is severe, but the majority of organizations reported that they would be able to weather closures as long as 6 months to 1 year or more. As we begin to reopen, the outlook will hopefully be brighter as we learn to operate under new assumptions and rules.
---
About the Author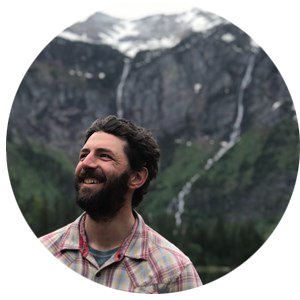 Garnet Moore is the Interim Executive Director at the Climbing Wall Association. Garnet brings more than a decade of experience in the climbing industry, serving gyms, manufacturers, and many climbing friends and partners.