Benefit of Affinity Groups to Indoor Climbing Gym
Date posted
October 6, 2023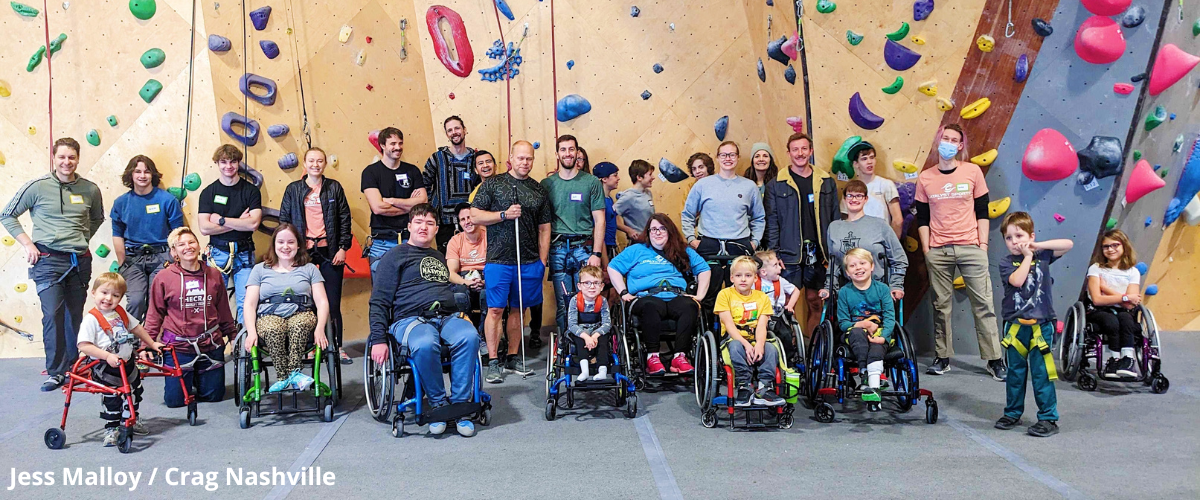 When it comes to adding diversity to your indoor climbing gym membership base, affinity groups or events seem to be the quickest way to open an invitation to a demographic and say "We want you here!"
While it may be a way for climbing gyms to open their doors to a broader community, some might be doing it to check a box or there are others that dive in without a full understanding of why affinity groups are essential to the climbing community.
While attending the annual Access Fund Summit in the fall, I recently listened to a panel discussing diversity and affinity groups in outdoor spaces. At one point the question was asked to the panelists, what was it like to collaborate with local climbing organizations (LCO's)?
The CWA has partnered with Access Fund for a Dual Membership Program. Find out if it is right for your gym.
All the panelists expressed enthusiasm for collaborating with these primarily non-profit-run and grassroots organizations. When the follow-up question was asked about indoor climbing gyms, there was a pause, and a few exchanged glances between panelists. The short answer was that it was necessary to collaborate sometimes, but not always a great experience. Ultimately, most indoor climbing gyms are for-profit organizations, and while there is nothing wrong with being a business, it seems there is a disconnect between these influential and important affinity groups and the indoor climbing industry.
The panelist's response stuck with me; I wished that there had been more gym owners, managers, and event organizers in the room that day. Since there wasn't, I decided to reach out to two of the people on the panel, Brittany Leavitt, CEO of Brown Girls Climb, and Briana Mazzolini-Blanchard, co-founder of Indigenous Field Guide and Red River Gorge Climber's Coalition (RRGCC) Board Member.
Is There a Financial Benefit?
Hosting these events can be a great opportunity for a climbing gym to provide an act of service to the community, but it's not without benefit to the climbing gym's wallet. Briana clarifies that offering events like this, even at a discounted rate or for free, has a long-term financial benefit for climbing gyms.
"From a monetary perspective," Briana explains, "hosting affinity groups, bringing new people into the gym is only going to cultivate new memberships that's going to bring in new money."
Briana elaborated how one of her passion projects, Climb L8, has extended its reach and brought in new members who may have otherwise never stepped foot into a climbing gym. Climb L8 is a collaborative, regular event through the RRGCC with sponsorship from Ale 8, a local soda company and Red River Gorge staple.
The Climb L8 events are hosted in multiple gym locations throughout Kentucky, Ohio, and Indiana, and the events are catered to LGBTQIA+, BIPOC, and adaptive climbers.
While the events are always free for those who attend, Briana goes on to point out how those events lead to returning climbers who bring monetary value to the gym.
"Just from Climb L8, I see all the community members that have come out and are constantly coming out and have now bought harnesses and shoes and now have gym memberships."
Briana has seen first-hand how the community has expanded and benefited from events like Climb L8. "It's the easiest way for the community to get plugged into climbing… and that's money in the gym's pocket."
Briana is right about the long-term financial investment of offering something for free, this is actually a good business strategy. While you might be missing money on the front end, you will add value and likely see that ROI later through returning members, gear purchases, or getting involved in regular programs.
However, the point of hosting affinity groups is not about making money, nor should that be the primary motivator. While from a business perspective, it can be easy to get caught up on the bottom line, it's hopefully not the only thing the gym is offering to the surrounding community and it's hopefully not the motivator for hosting an affinity group.
It was because of the Climb L8 programs that the RRGCC was able to bring out a group of eight individuals outdoors to the Red River Gorge last spring who would have otherwise had many financial barriers that would have prevented them from climbing outdoors for the first time — that's what rock climbing and hosting these events is about, growing our community with intention and removing barriers.
The Real Value in Hosting Affinity Groups
Unless your indoor gym has been proactive about creating an equitable space, it's likely that your main clientele all look the same and come from very similar backgrounds. "When the first ascensionists in Yosemite were climbing big walls, we're talking the same time as the Civil Rights movement when Black and Brown individuals were fighting for their lives," Briana points out. "… it's a bit imbalanced… We're talking about creating equity in a space that's been inequitable for its entire existence because a group of people have always had a head start."
Often, climbing gyms are on the outer limits of the city in industrial spaces or in lower-income areas where warehouses are more accessible. This puts indoor climbing gyms in an ideal location for community outreach and expanding into the neighborhood that's right outside their front door.
The problem is the neighborhood might not even know that the climbing gym is there or that the space is welcoming to them. While climbing itself is just a sport that is in theory for everyone, not everyone who walks into a new facility will see people who look like them.
Briana says it simply, "Climbing doesn't discriminate, it's available to everybody— that's not exactly true unless you make an effort to make an inclusive space."
Another person who was a part of the Access Fund panel that Fall was the CEO of Brown Girls Climb (BGC), Brittany Leavitt. Brittany has collaborated with climbing gyms across the country.
"When it comes to being official partners with climbing gyms… we're very mindful about how we interact. We've worked on relationships for a really long time."
Brown Girls Climb, which is celebrating its seventh anniversary as an organization in October 2023, recently reached its goal of becoming an official non-profit. While working toward their goal of becoming a non-profit, Brown Girls Climb continued to support its mission of representation, access, leadership, and mentorship of the outdoors and of climbing for the People of the Global Majority.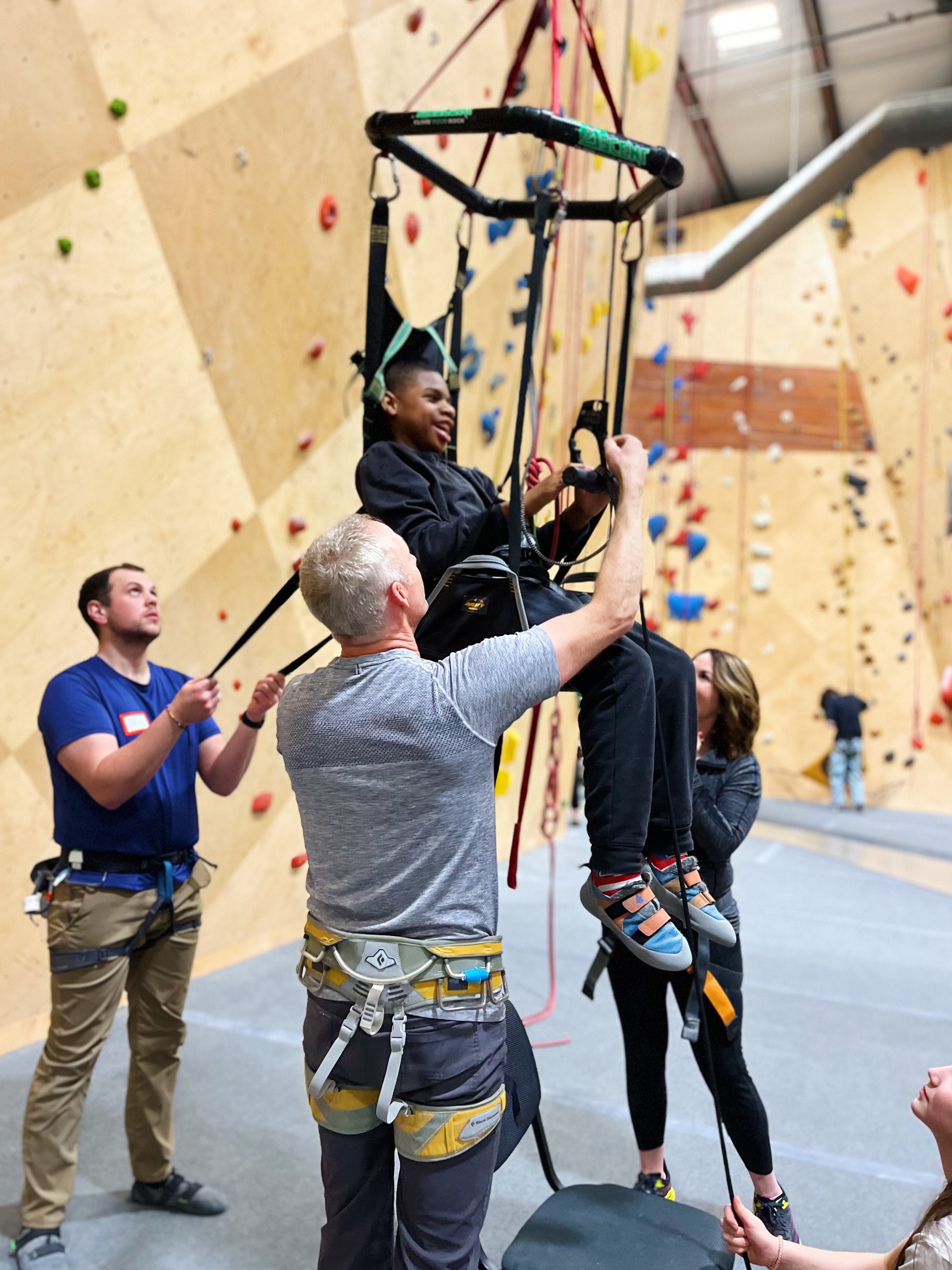 Adaptive Event at The Crag Gym, Nashville. Photo: Jess Malloy.
Brittany is looking at the full picture when collaborating with climbing gyms.
Something she encounters is facilities that are trying to check a box by saying they've collaborated with BGC without doing any of the work internally or thinking of other ways to invite underrepresented groups.
Brittany points out how Black and Brown climbers can also be adaptive climbers or queer climbers. "Often gyms are thinking of one thing and not the intersectional part."
Essentially, the work shouldn't end with reaching out to an established affinity group or organization but instead should be a continuation of it. Brittany is looking for signs that the work has already started before partnering with them.
Ignoring the necessary internal work is not only putting the labor on the grassroots organizers who have fought to develop their businesses or nonprofits, but it also has potential issues that could backfire on a host facility.
Find Your LCO
Local climbing organizations span the entire United States. No matter where you're reading this from, there are opportunities to get involved and partner. The CWA's partner, Access Fund, has a handy tool for finding your local LCO. Use it to find contact information, and start the conversation.
Don't forget to prep for it any outcome. Continue reading below to learn more on that.
What to Do if There's Push-Back?
Both Briana and Brittany agreed that gyms need to be prepared for some push-back when hosting an affinity-related event or organization.
Not all climbing gyms are prepared to offer up a space that might not be fully understood by their staff or members; another reason why it's so important to start this work from within the community first.
Practical Steps
Before reaching out to affinity group organizers, come up with a plan on how to address or approach any push-back when collaborating with a new host, Brittany will ask new collaborators, "What are some of the protocols you have instilled when situations arise, whether it's between staff members or a gym member."
Part of that plan should be explaining how these are efforts to open invitations, not to be exclusive. These types of events are community-focused and driven, not business-focused.
Briana says it best, "Climb L8 is for the community, not the gyms. The gyms are amazing partners who host these events. If the gym is focused on themselves, it's not going to work."
While a lack of understanding and push-back is possible when putting on these events, it's not a reason to back down from hosting.
Climbing gyms can both be businesses, and offer spaces to people who may benefit from affinity groups.
This is a rapidly developing sport that is gaining traction fast. While it's understandable for any business to take a moment to look at its budget and ROI, it's important to remember that climbing was meant to be something bigger than revenue.
Climbers have historically prided themselves in being the misfits, the outcasts, the dirtbag weirdos, but if we don't make intentional efforts to reach out to each and everyone, then we lose the heart of the sport.
That's what affinity groups are really about — creating equitable opportunities for everyone to be handed an invitation and say; we want you here, come climb with us.
The Access Fund x CWA
Dual Membership Program
Ensure your gym is a member of both organizations at the link below.
Learn More
---
About the Author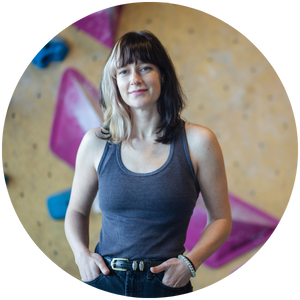 Jess Malloy is the Head Coach at at The Crag Climbing Gym in Nashville where she also dabbles in routesetting. She has worked in five climbing gyms in the past sixteen years, is a certified Wilderness First Responder, and has accumulated years of experience as a climber, coach, setter, yoga teacher, and as a published writer. She is the owner of @yoga.for.climbers a small business where she can combine all her passions into one. She loves runout slab and trying to static dynos. She gets nervous on pumpy overhanging sport but can always commit to the last move on tall boulders. When she isn't climbing, she skateboards, reads books and comics, and does yoga. She also hangs out with her eight-pound rescue pup, Beta, who despite her name is not a crag dog but is an excellent cuddler.