How To Make Your Gym A Community Partner
Date posted
February 3, 2022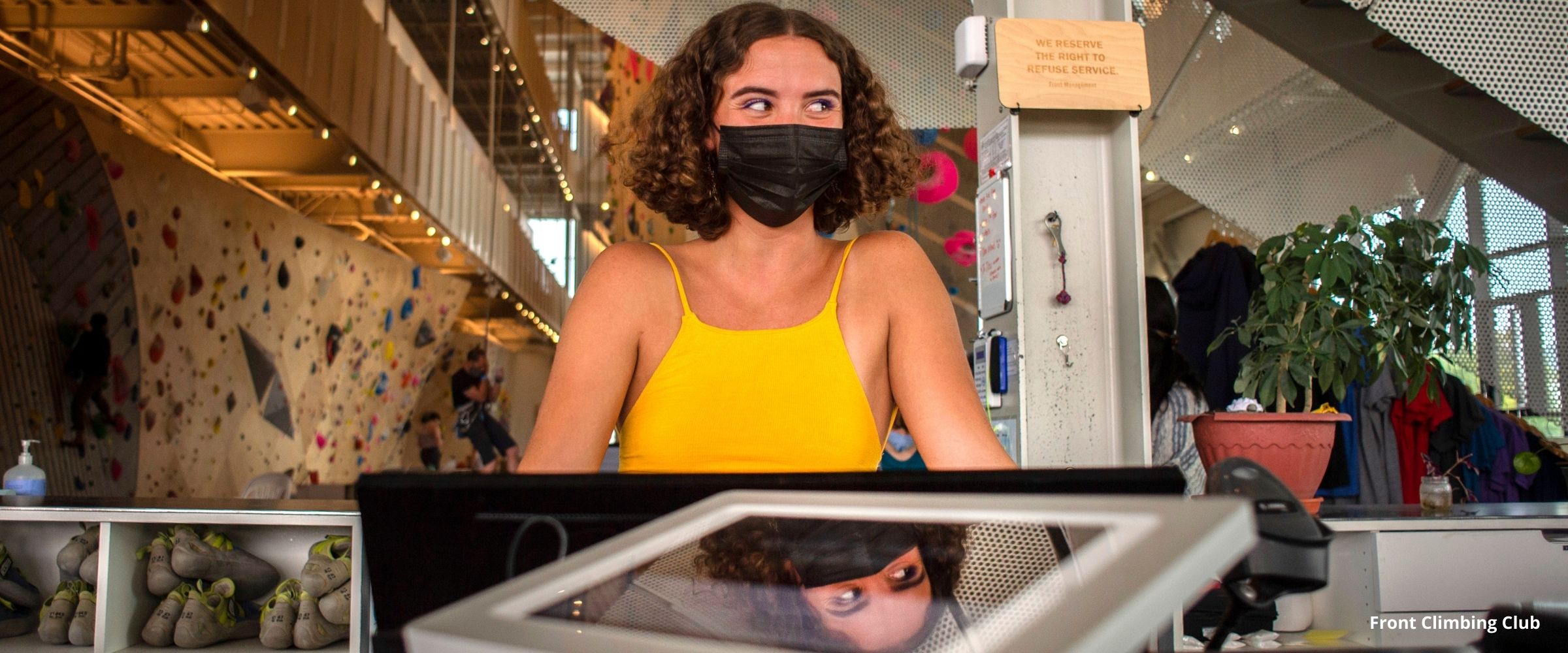 We've all done it: spoken airily about things that we would like to see or that ought to be. But when it comes to action, we seem to lack the conviction or the earnest desire to implement all that we can imagine.
Since the events of spring and summer of 2020—I'm referring to the wave of Black Lives Matter protests and activities across the U.S.,—there has been much harrumphing about how inclusive and accessible our sport is. There's been a lot of rhetoric referencing efforts toward diversity, equity, and inclusion (DEI) without much to support the claims. Beyond adjusting our hiring practices and other measures recommended by human resources, I believe there are myriad ways we can improve.
Community Outreach
First, it helps to understand "who" our community comprises. I think there is a tendency to parochially imagine our member base; that is, those that can afford an expensive hobby. Regardless of where we are situated, the onus is on us to grow where we're planted, and to take active efforts in expanding our coteries into crowds.
By networking within our member base, reaching out to schools and organizations in our surrounding areas, and utilizing the resources of our local and national governments, we can begin to crack open the doors of inclusion and give folks who may have never even considered indoor climbing an opportunity to discover the thrills of our sport for themselves.
Even if we fall short of generating a wealth of new climbers, we can transform, and reform, ourselves from "local businesses" to "engaged members of a community." It's high time we expanded our understanding of "community" beyond those paying us for the privilege.
Supporting Local Business
Based in Maryland, This Fridge Gives is a "cause-driven beverage distribution" organization, broadening access for locally-owned and conscientious consumer products, and "donating 1% to different organizations for each drink [they] carry."
Sergio Malarin, the co-founder of This Fridge Gives and beverage company Mobtown Fermentation, reached out to Sportrock Climbing Centers for a partnership. "I think rock climbing gyms, in general, attract a clientele that is more conscious about what they are ingesting, when compared to traditional gyms," said Sergio. He previously partnered with Movement (FKA El Cap).
Our community writ large tends to be seen as more open-minded or conscientious, generally, which grants us an advantageous position when it comes to networking and partnering with diverse individuals and organizations across the spectrum. This specific example was made possible because one climbing facility said "yes" to a partnership, engendering an opportunity for others to follow.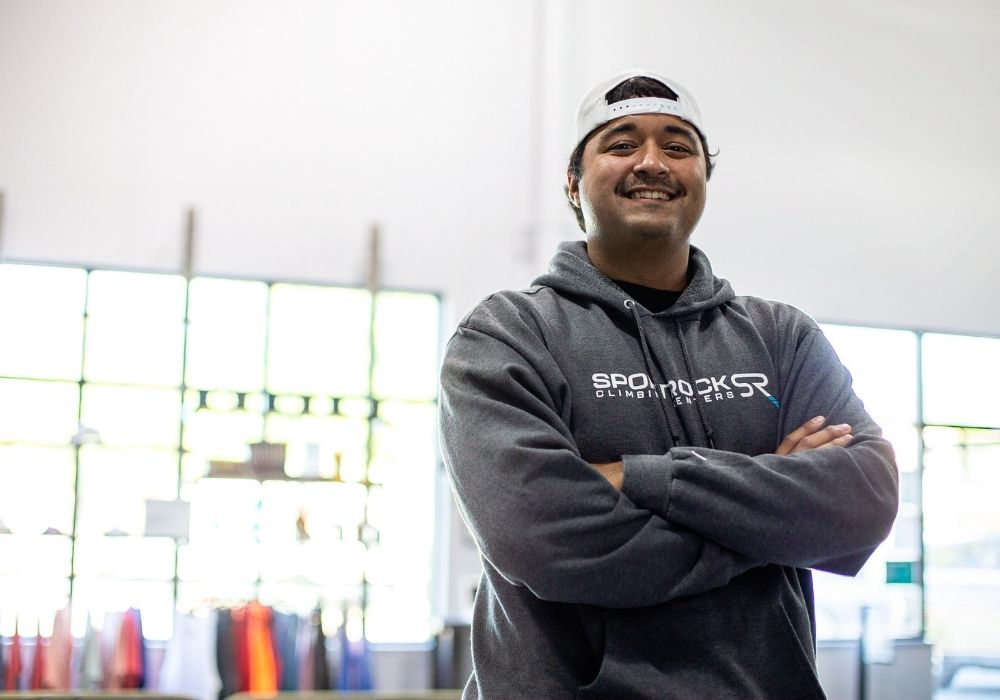 Adam Camacho, of Sportrock Climbing Centers. Credit: Jeff Shor
"This Fridge Gives provides us with high-quality products with a percentage of the profits going back into the community. Seeing as we are a smaller business that is heavily reliant on our community, it only made sense to support smaller, local businesses that give back to their communities," Adam Camacho, Sportrock's Retail Manager, shared.
Chris Ryan, Assistant Director for Movement's Baltimore and Chicago regions, elucidated on the shared values between This Fridge Gives and Movement.
"Specifically, one of our core values is to inspire philanthropy. This Fridge Gives is committed to carrying only cause-based products that produce some guaranteed benefit with profits."
"The products we carry from them are successful categories, so it just makes sense for us to give our members and guests the opportunity to buy items that provide an impact to allow them to do more good with their dollars," Chris added.
When asked how to further engage with underprivileged communities directly, Sergio believes "choosing to work with organizations that are active in the community is a great way for [climbing gyms] to engage folks who are in marginalized communities, and I would add that hosting an event or having members of your team volunteer for organizations…is a fun way to overcome this socio-economic divide in our communities."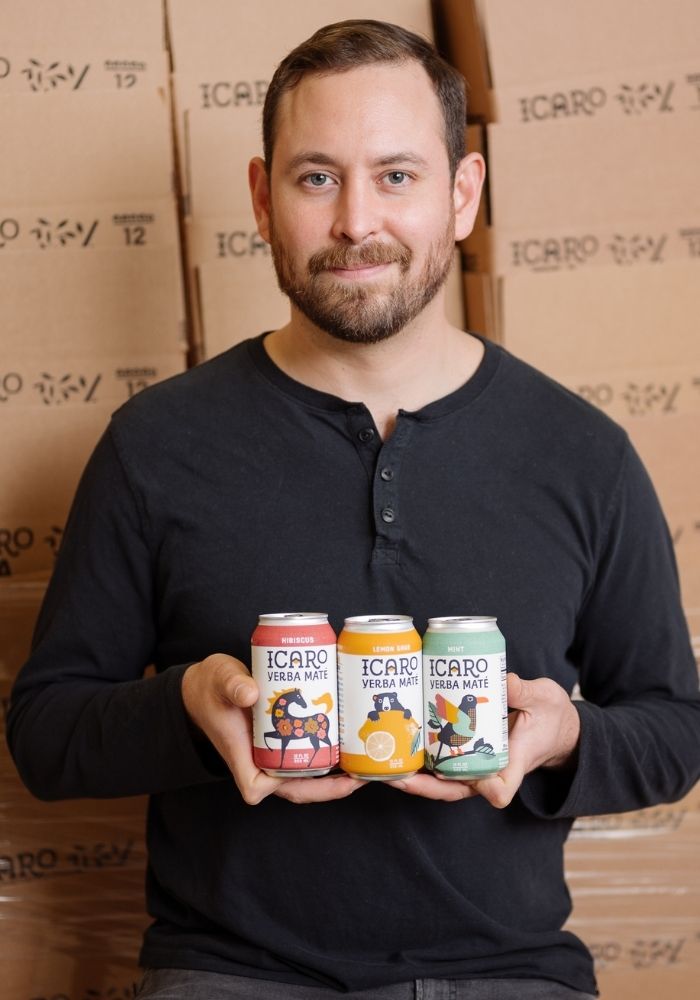 Sergio Malarin, Credit: Pete Hoblitzell
Such an endeavor would necessitate the expansion of our climbing community from the narrowly-defined member-base to a more local or regional scope. Hosting events for organizations in our community is a great way to bridge this gap; I speak from experience.
Title 1 Schools
I'm curious how many of us know what a Title 1 school is; I know I didn't, at least not until a local teacher—and gym member—approached me about helping to open accessibility to her students.
Essentially, a Title 1 school receives federal funding for educational services because a high percentage of the school's students are from low-income families (I feel confident, sadly, that most every climbing gym in the U.S. is going to have a Title 1 school within their region or locale).
Such families are unlikely to spend a day recreationally climbing at mean day rates, let alone the price for typically more expensive programming and instruction. I'm going to pre-empt the bubbling "if only there was something we could do" rationalization by declaring: good news! There is something we can do.
I understand that most gyms are going to be for-profit enterprises, and it's easy to justify our inability to act due to our financial needs and "bottom line." The reality is that the intangible benefits of running free events or discounted programs or sundry other offers far outstrip the strain and potential losses on our facilities.
---
See a list of Title 1 funding by school district from the U.S. Department of Education. To find individual schools in your community, visit your state's education department website for the most recent year. An example of Colorado's can be found here.
---
I'd wager that we all know (and hopefully are) staff that would gladly volunteer their time belaying, instructing, and ultimately fostering a love and enthusiasm for climbing. In this instance, our gym, Sportrock, and their school have taken action together, and the reward is no farther than the smiles beaming from their student's faces.
Inclusive Memberships
Raising the bar on efforts to increase inclusion is The Pads' various membership opportunities, from a sliding scale to partnership organizations.
From a sliding scale to partnership organizations, The Pad continues to raise the bar in efforts to increase inclusion. Not to mention, these chances to climb at their gym are always available.
While chatting with Amy Gillham, their Community Director, I was navigated through these options in a little more detail. To implement the sliding-scale pay structure, folks entirely below the federal poverty line receive a free membership, while those just over receive reduced fees, allowing for both an increase in revenue for the gym as well as increasing accessibility for those who would otherwise be financially barred. These membership rates are renewed each year simply by sharing your tax information and could be coupled nicely with special programs such as Title 1 school outreach and other forms of community engagement.
Learn about The Pad's nonprofits roots, and community partnerships the gym offers.
Furthering the gym's commitment to its community, The Pad leadership has partnered with numerous local and regional charitable and mentoring organizations, granting free memberships to those with volunteer service dedicated to any of the partnering organizations. Not only does this educate their base on local initiatives they can support, it also incentivizes those who contribute with free access to The Pad's facilities.
This two-pronged approach checks a lot of boxes and inspires some relatively easy approaches to engagement with minimal extra work created for the gym itself.
Share the Love
There are numerous other options we can elect to pursue, from finding new homes for our Lost and Found items, sustainable options for reusing or repurposing discarded, non-recyclable water bottles, or getting your members out to clean up a local crag. The possibilities stop with our imagination.
We're all passionate about climbing—why else would we be here? Our sport attracts many who struggle to feel accepted elsewhere. I'm confident we can all readily recall our own first experiences and the unstoppable high of finishing our first project. We have an opportunity as unique as climbing to engender the self-confidence, solidarity, stewardship, problem-solving, and hard work that makes up the bread and butter of our sport—we just have to stop "wishing" and start "doing."
As someone who is vigorously pursuing various options at their own gym, I hope that we can brainstorm and share our projects together. After all, what strengthens one of us strengthens us all. That's community.
Ready to learn, grow, and share ideas for the future of indoor climbing? The 2022 CWA Summit is the biggest opportunity of the year to connect with others working in the industry.
Register by February 28 for the best rates!
---
About the Author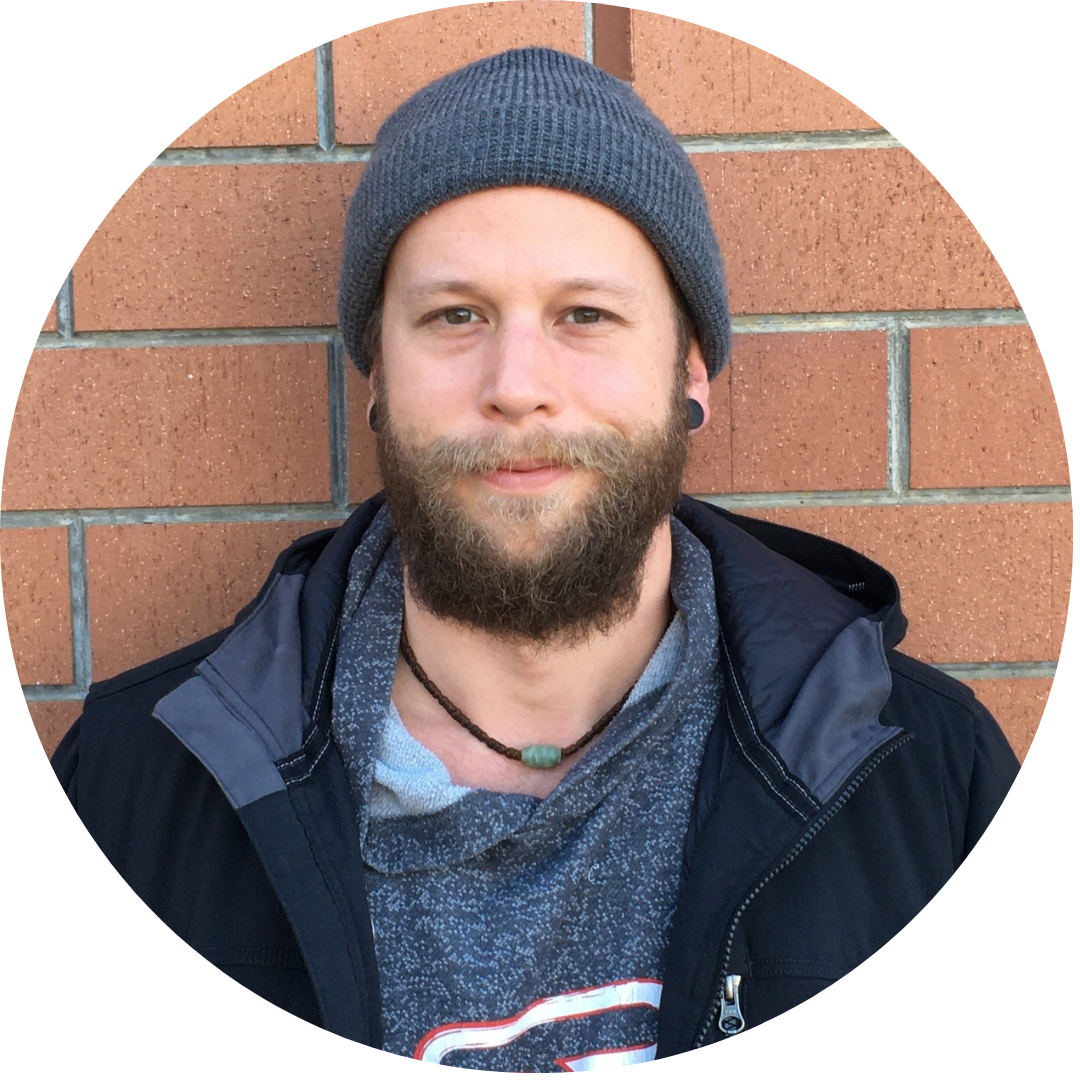 Chris Oshinski is a Head Coach and Supervisor for Sportrock Climbing Centers, passionate for teaching youth and addressing inequalities. Having obtained an MA in Public Sociology in 2018, Chris loves to explore the myriad forms of agency vis-a-vis individual and collective efforts at fostering social justice and human rights.