Lessons for Climbing Coaches from Olympian Kyra Condie
Date posted
January 21, 2022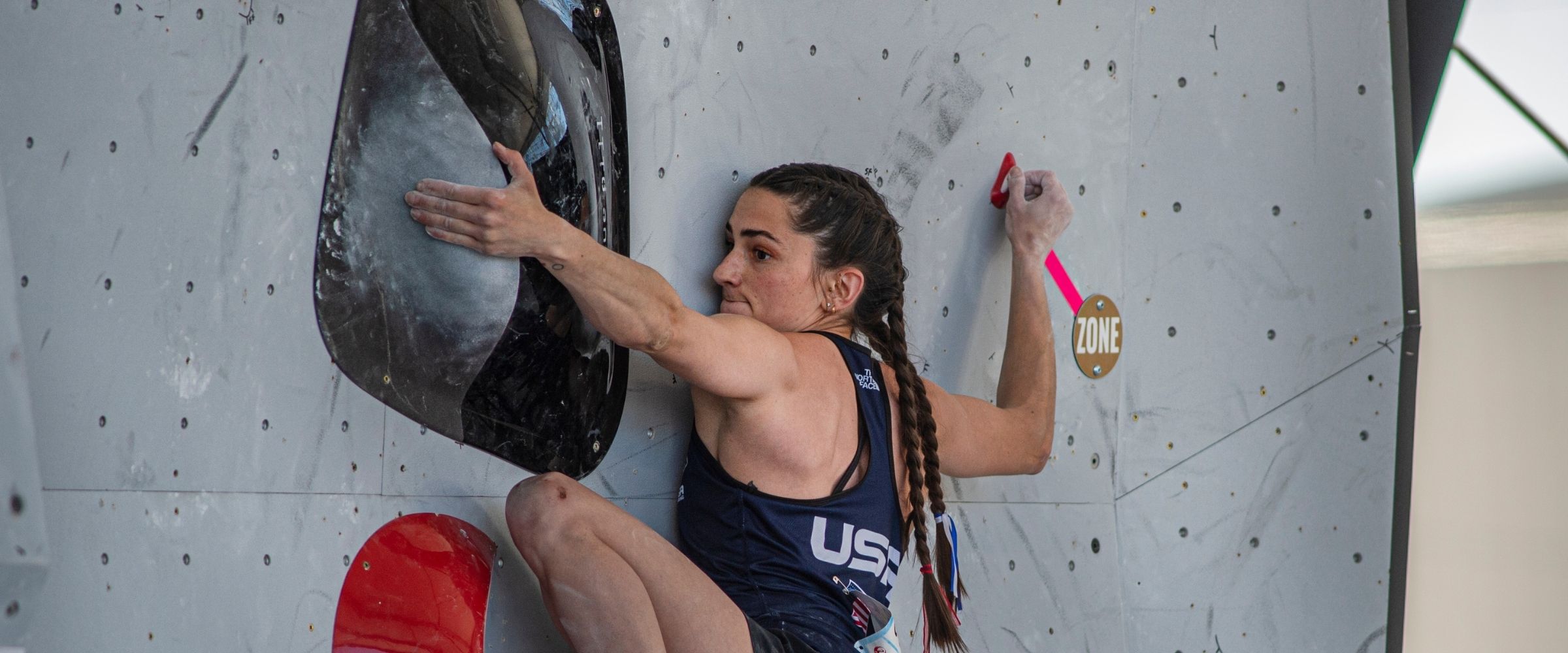 USA Climbing Olympic athlete Kyra Condie competing at the IFSC World Cup semi-final bouldering event in Salt Lake City, Utah in May 2022. Photos: Jake Byk/CWA
Only a handful of years ago, competing in the Olympics seemed like an unrealistic dream for young climbers. Yet, last year in Tokyo, U.S. climbing Olympian and USA Climbing board member Kyra Condie paved the way for future generations of female Olympians. As coaches, we can look to her story as a guide through the competitive path so we can better educate, communicate, and inspire our young climbers to become a new generation of climbing Olympians!
Like many kids who begin on the youth climbing team, Kyra's spark was ignited at a birthday party at Vertical Endeavors in St. Paul, Minnesota when she was 11 years old. As she began to train in the climbing club at the gym, she noticed the phrase "You Suck Try Harder" written on the wall in sharpie. It became a constant reminder to stay humble and work hard – there's always room for improvement in climbing.
Kyra was on fire, competing at USAC regional and divisional competitions. Soon, she was on her way to the Atlanta Youth National Training Camp, to prepare for Nationals and soak up everything coach Claudiu Vidulescu had to offer. Her hard work paid off. In a July 2021 interview with GQ, Kyra recalls, "Winning youth nationals was this huge goal of mine that I had since I was 11 years old."
"When it came through, I was like, oh, I should set bigger goals. Maybe I can do something at youth worlds. Maybe I can podium at the open nationals. Maybe I can make the Olympics."
Coaches, we can plant the seed of this dream within our climbers, too. "After USAC Nationals is the IFSC Youth World Cup & Open Nationals, making the open team and World Cup," Kyra explains.
Even though Kyra did not make the cut at the first qualifying event for the 2020 Olympics, her tenacity gave her the strength to double down. She tattooed, "you suck try harder" on her leg and continued to focus on her goal. The second time around, she qualified and began her journey to Tokyo.
She hired Dr. Lindsay Shaw, a sports psychologist to coach her competitive mindset and and moved to Salt Lake City, Utah to train with USA Climbing coach Josh Larson. Josh also went on to train Olympian Nathaniel Coleman. She made sure her mantra, "you suck try harder" was included on the wall there too. With her teammates and coaches at her side, Kyra began to see the value in having a coach.
"Coaches provide external motivations…to push you to do the things that you don't want to do. They take the energy and responsibility for coming up with workouts and motivation so athletes can focus just on the training," says Kyra.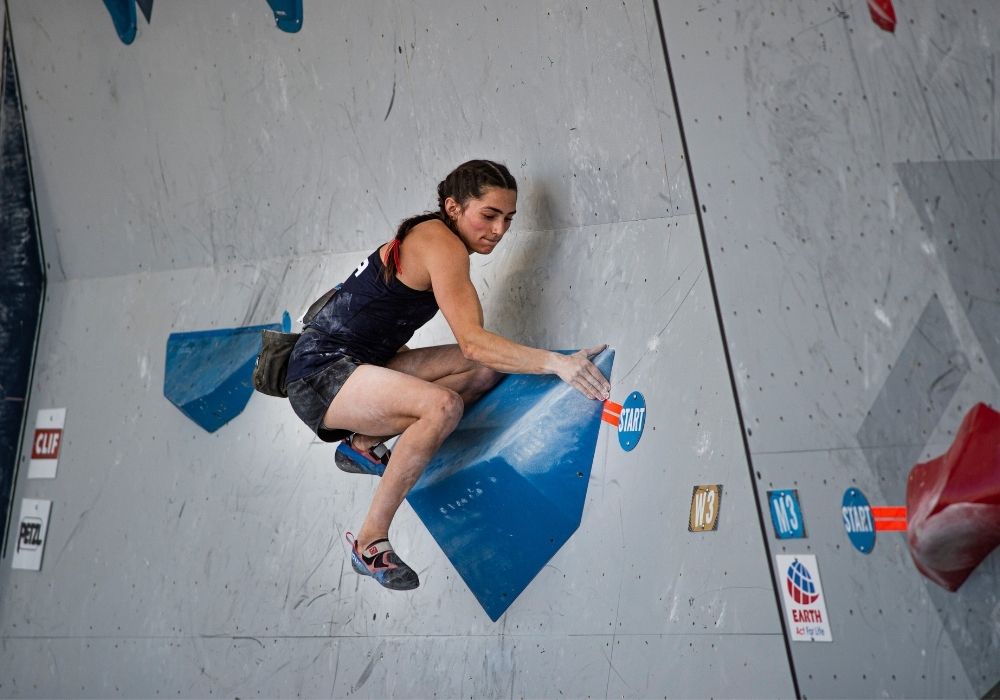 Kyra Condie competes at the IFSC World Cup in Salt Lake City, Utah in May 2021.
The balance of training physical and mental stress is something that we must teach and balance as coaches. Even at an Olympic level, having fun and taking rest days is part of a well-balanced regimen. Kyra recalls, "I spend 5-6 days a week training. When I rest, I take a full rest day…or go to the park and play soccer."
Mental "drills" are as simple as integrating more fun into practice, like playing "limbo" on the wall. Limbo is played by a coach holding a pole against the wall at a traverse, and climbers climb lower and lower each round. The climber who can climb the lowest without touching the pole or falling wins.
Giving mental challenges that reinforce a healthy mindset like visualizing yourself at the top of your project or refocusing the mind to the breath when it begins to wander towards fear can be game-changers.
Nutrition is also fundamentally important and can be foundationally stressful for athletes. As coaches, we can help navigate performance and recovery nutrition as well as any unhealthy preconceptions. Many of us have heard, 'Climbers should be as strong and light as possible.' Let's shift the spotlight to healthy habits that lead to healthy results.
Kyra shares, "Something that I'm pretty passionate about is showing that you don't have to be unhealthy to be successful. You hear so much about those who are successful, and went through [eating disorders] and overcame it, but not so much about those who didn't...I think not a lot of people talked about it when I was a kid."
Coaches, let's be the guide in our athletes' lives who approach the topic of nutrition. We can invite dieticians to talk about pre-competition and recovery meals with our team, the role food plays in climbing, building muscle, and energy. We can reinforce healthy habits we see as time passes. This is what will help build up younger climbers as well as our culture's mindset around food.
While Kyra takes the time to rest and enjoy her downtime after Tokyo and Nationals, the World Cups are fast approaching. "I'm excited to do the World Cups this year and kind of see where I'm at, and what I'm feeling for competitions."
As coaches, we train young people to become stronger in mind and body, and competitions help bring out the best in our climbers. Although it can be intimidating to think about climbing toward the Olympic podium, the more we talk about it, the more approachable we make it feel. Let's inspire our climbers to dream big and prepare them for the journey!
---
About the Author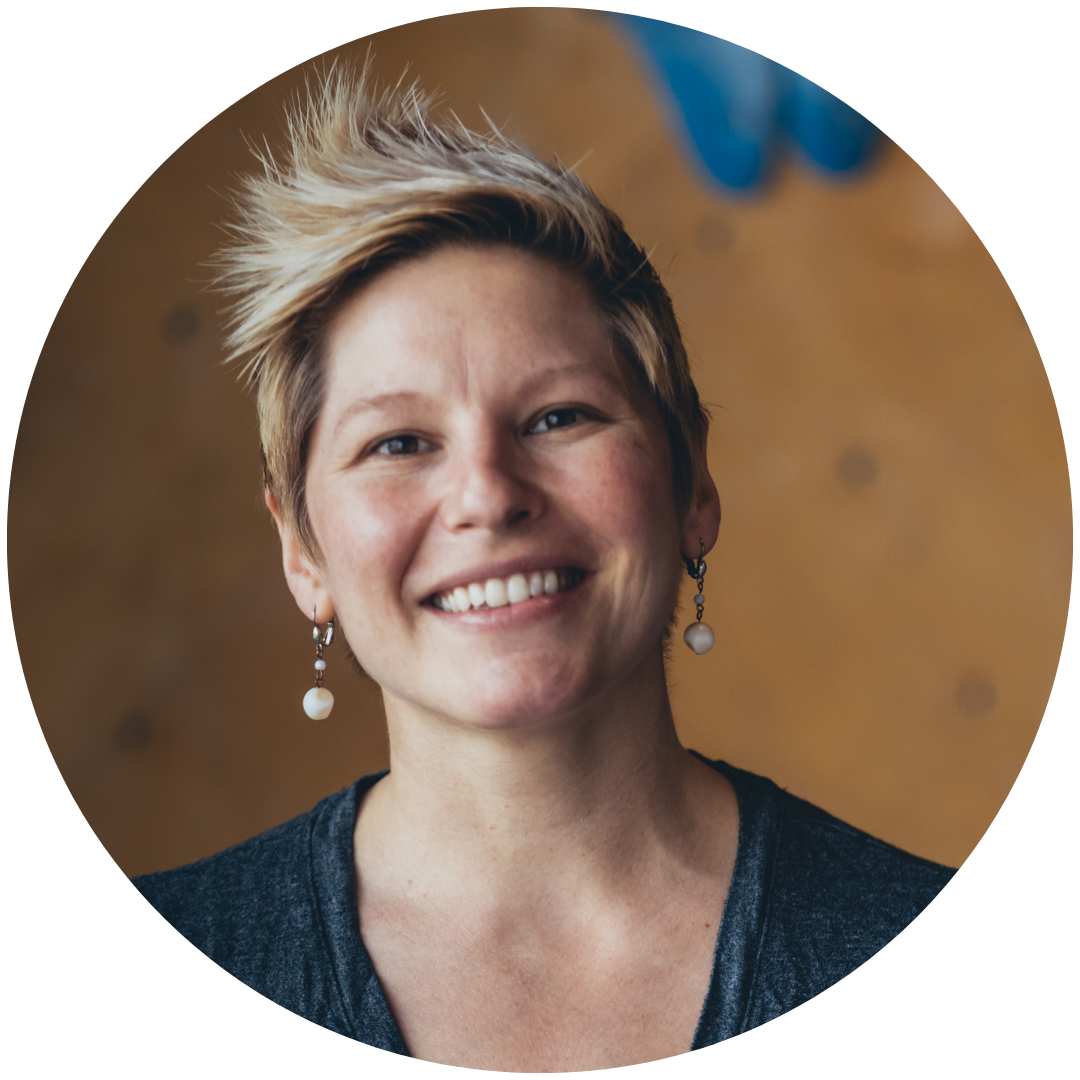 Hailey Caissie is the Programs Manager at The Crag Climbing Gym in Nashville, Tennessee. Hailey has been a climbing instructor since 2006 and loves seeing new climbers discover their abilities. She finds it especially fulfilling to coach young athletes toward discovering their potential. She works to inspire generations of climbers to become more intentional, influential, and inclusive.