Indoor Climbing Programs for Boomers, Part II - Tips for Boomer Instruction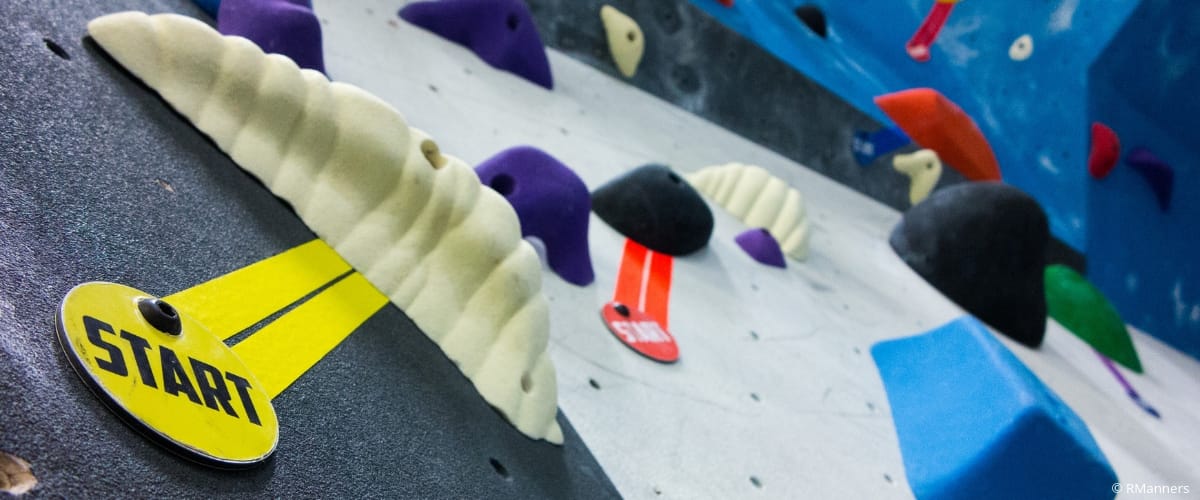 Part I of this series explained the business case for adding programming for Boomers to your climbing gym, and once you've decided to take that step, how to market and message that program. Now, it's time to think through the considerations unique to working with this age group.
Boomer Instruction Overview
I start each class in Climb Iowa's auto-belay and traverse wall area with a warm-up consisting of stretching and traversing. Stretching is very important, as well as some easy shoulder, forearm, and leg warm-ups. During this time, I talk about hold orientation and some basic climbing techniques.
Then I move on to a climbing-specific warm-up of traversing. I start by emphasizing center-of-gravity awareness, the importance of footwork (moving their base), and the fact that climbing isn't about doing pull-ups. I spot Boomers with care, especially during their first class. Sometimes I'll place one or both hands lightly on their backs as they traverse after first asking their permission. We discuss (and I demonstrate) how to fall if they come off the traverse wall or stumble on a padded floor mat.
Questions are encouraged at all times. After warming up and traversing, we then move to Climb Iowa's easiest 5.5 top-rope climb on a slab. I explain why I'm wearing belay gloves, what belaying entails, and why I always use an assisted-braking belay device. I explain why the retrace figure-8 knot is used. We look up at the route's anchor to ensure we're tying into the correct rope for the route we're planning to climb, and what could happen if we didn't do that (a big swing).
I explain that we're going to practice coming down from just a few feet up before they climb farther up the route. We introduce climber/belayer communications and risk management partner checks. This is all pretty standard stuff in your facility, I'm sure.
I pay close attention to energy levels in the Boomer class to ensure everyone has fun while learning, and that soreness following the first day's class is minimized. If this means that a student climbs only one 5.5 slab route during the first two-hour class, that's fine. Having fun and learning climbing movements and techniques while not pushing anyone too fast or too far past their comfort level is important with this age group.
A Summary of What Boomers are Taught: (Risk management best practices are emphasized at nearly every step)
We recommend top-rope climbing only for Boomers, although some graduate to boulder & lead
Having fun during each class, and to climb with fellow students between each week's class
Climb Iowa's Belay Certification class is included at no additional cost
Importance of Climber/Belayer communications (On Belay?/Belay On, Climbing/Climb On)
Risk Management partner checks – every time on every climb (Explain what could go wrong)
We practice traversing at the beginning of each class as a warm-up and to gain movement skills
Footwork is emphasized (quiet feet, precise placement; a glue-feet climbing game)
Straight Arm climbing (a Franken-Arm climbing game)
Reminders to remember to breathe!
Climb relaxed, conserve power with grace; use momentum to your advantage - make it look easy
Opportunistic resting, watch feet onto footholds before looking away
Hold types and directionality, Matching, Flagging, Weight-shifting, Balance and Foot-switching
Mantling and Stemming Day is a big hit and proves that climbing isn't all about pull-ups!
The puzzle-solving, cognitive part of climbing: Route Reading, Rainbow Routes and Projecting
An interesting statistic: Women in the Boomer Climbers Movement Class have outnumbered men nearly two-to-one since the beginning of Climb Iowa's Boomer initiative. At the time of this writing, one week before the first Friday in April, the sign-up sheet is showing that it will be another all-female Boomer class.
Teaching the Importance of Risk Management Partner Checks
At the beginning of the third week's class I surreptitiously undo one of my double-backed harness buckles and leave it routed through the buckle but not double-backed. I then keep refusing to belay the first climber until one of the students' notices what's wrong, or until they give up. I usually get to claim a successful 'Aha – gotcha!' and proceed to show them the problem. Only three or four students in nearly four years have discovered the problem, and at least one of those was warned by a former student.
This tactic has proven to be memorable to our students and emphasizes that you don't just casually glance at a climber's or belayer's harness as you conduct those critical risk management partner checks (every time on every climb). We must look directly at harness buckles to know for sure they are double-backed and secure. Based on feedback, students have enjoyed and appreciated this lesson in particular.
Understanding and anticipating what can go wrong and conducting thorough and specific risk management partner checks every time on every climb is mandatory in the Boomer Climbers Movement Class and throughout Climb Iowa.
Auto-Belays vs. Boomers
Kids love auto-belays, but most Boomers new to climbing are just the opposite. Older Boomers are especially leery of auto-belays and find them very scary. Making Boomers go up an auto-belay route and let go as their very first rock climbing experience is a tough introduction. My experience has taught me the older the Boomer, the scarier auto-belays are.
Boomers do better when introduced to auto-belays toward the end of the first day's class. They have made their first climbs and descents on top-rope routes with a gentle belay. This gives them a better feel for standing away from the wall and coming down with their feet wide apart during descents. They get a feel for what it's like to be suspended from a rope by their harness. We then explain auto-belay descents are the same but a bit faster coming down, and that it's not necessary to 'stick' the landing on their feet. We also caution them about getting a foot hung up on a hold as the auto-belay is lowering them.
A Fun Graduation Ceremony
At the end of the final Boomer Climbers Movement Class, I hand out a graduation certificate we've created and laminated. This single-page certificate is two-sided and covers the climbing skills learned during the class and the reasons why indoor climbing is a great path to lifetime fitness and health.
I point out their remarkable progress since their first climb and congratulate each student on the courage they've shown and on the climbing skills they've acquired during their month-long indoor climbing adventure. All agree that they have come a long way, and most are delighted with their achievements.
Most Boomer students go on to purchase annual memberships and continue to climb with a new circle of interesting friends. All seem to enjoy the under-appreciated inter-generational aspects of indoor climbing.
The Best Health and Wellness Activity for Retirement Years
At first glance, climbing appears to be a highly unlikely activity for Boomers. The fear of falling and injury is common, however once the remarkable benefits of indoor climbing are explained, a significant number of Boomers begin to realize that indoor climbing's fall prevention system, emphasis on center-of-gravity awareness, strength and agility improvements, intense balancing practice, and attention to precise movement and footwork actually make it an ideal fitness activity for many Boomers.
In addition to the programs being run through indoor climbing facilities, we are now seeing small businesses being created to engage with this audience, like Stay.stoked Adventures. This business will be the first (that I know of) to offer Introduction to Rock Climbing schools for the 50+ demographic, located in Squamish, British Columbia. There is so much potential for the future of rock climbing that involves the Baby Boomer generation.
I use my experience as further proof that indoor climbing can be a great path to lifetime fitness and health for Boomers. Simply put, I'm a greatly improved new version of myself since discovering indoor climbing. I have fun, I meet new friends, it keeps me fit, and it's the greatest reason to keep my weight under control I've ever found. Climbing is fun and, even better, is a perfect way to focus on health and wellness! I can't imagine an exercise activity better suited for retirement years than indoor rock climbing.
---
About The Author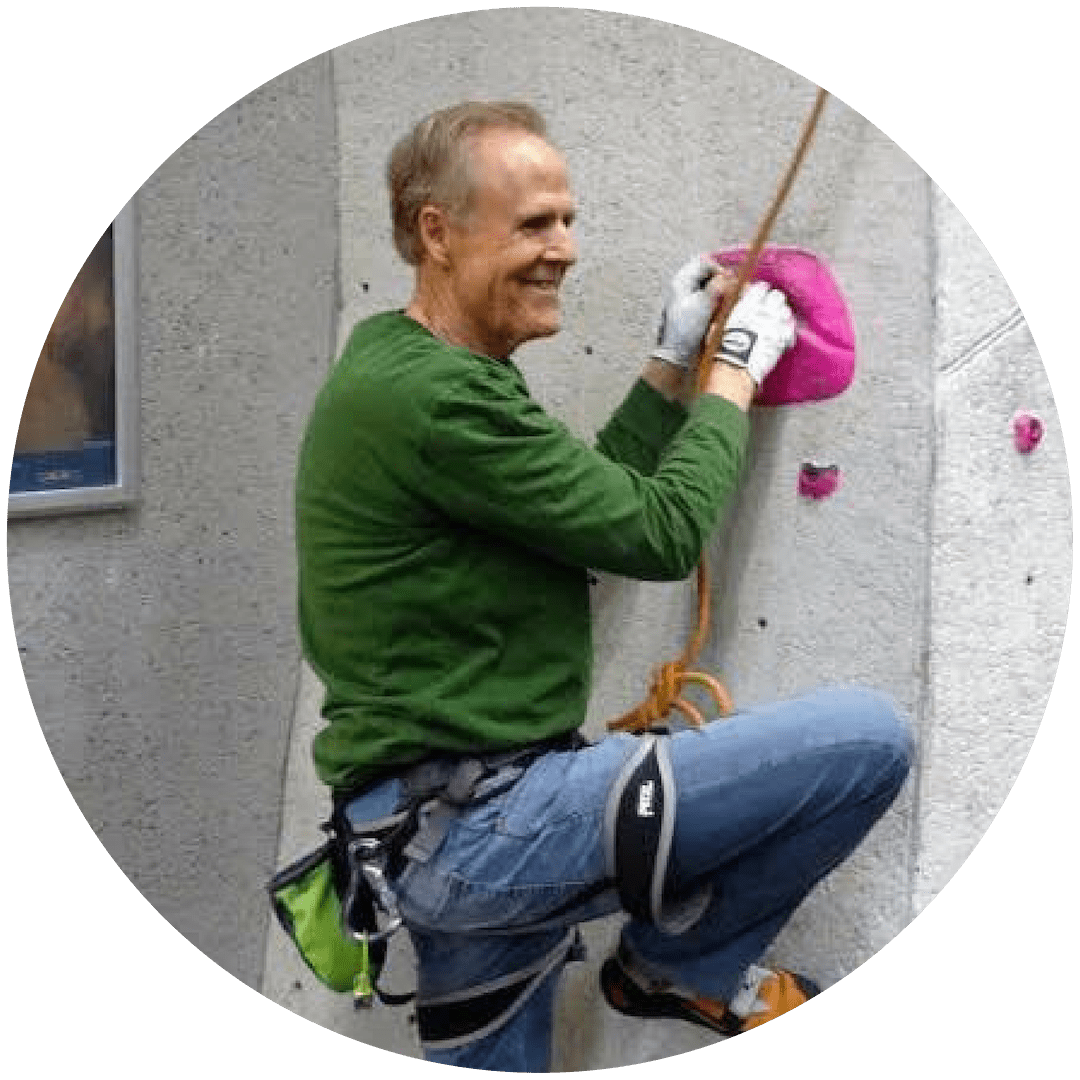 Tom (age 72) started climbing ten years ago following a dare to his granddaughters as they walked into an REI store. Fifty-five pounds lighter now, indoor top-rope rock climbing transformed his life. Tom is the instructor for the Boomer Climbers Movement Class at Climb Iowa and loves helping students from 50 to 75 years old improve their balance, flexibility, strength, and agility while learning to climb with skill and grace. "Aging successfully is a major priority for us. What other activity is exhilarating, never gets old, is social, inter-generational, low impact, cognitive, as well as physical, and features a world-class fall prevention system?".