What the Supply Chain Crunch Means for Your Gym's Retail Shop
Date posted
August 10, 2021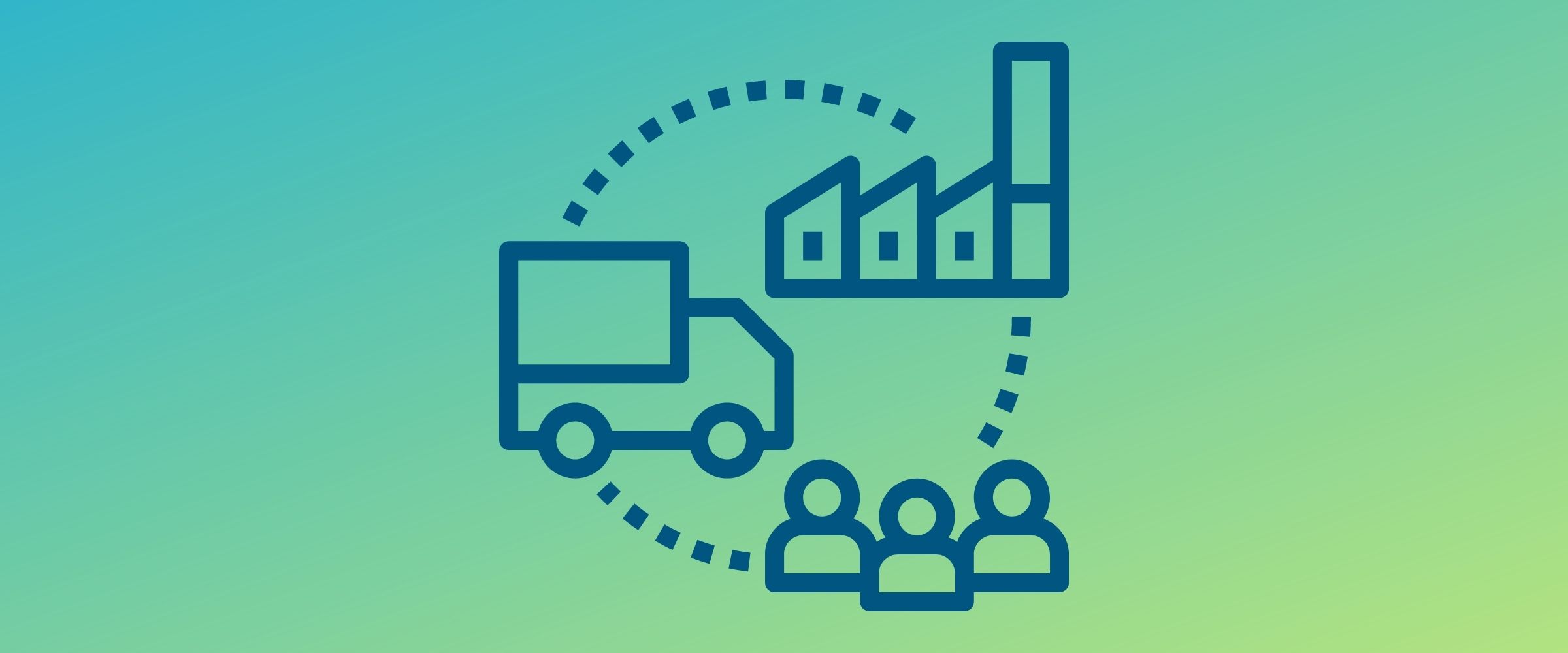 Running a successful retail shop in typical times takes some planning, foresight, and organization. A year and a half into a pandemic, that job has gotten a bit trickier. Here's why...
When gyms shut down (and restrictions were placed on brick-and-mortar stores) for several weeks, or in some places even months, companies that manufacture climbing gear were faced with a difficult decision. Keep manufacturing goods and keep warehouses fully stocked or sell through the inventory that was left in warehouses?
Many companies chose to at least slow things down to account for gym sales slowing to a trickle and people quarantining around the world. As gyms and retail shops remained closed, warehouses in the U.S. that were holding climbing gear slowly started to empty due to online sales.
When gyms started reopening, tighter budgets led to purchasing being trimmed, and the focus for many retail shops was on selling through inventory that was already on hand. As that inventory dwindled, gyms slowly started loosening the reins on purchasing restrictions and soon orders were flowing back to companies with steady regularity. But now gyms and retail shops had lower than usual inventory, as did the warehouses from the manufacturing companies.
There was also increased demand for certain types of gear (like harnesses, ropes, and belay devices), as interest in outdoor climbing has surged with many wanting to spend more time outdoors to slow the spread of COVID. These factors set the stage for a supply chain crunch that has continued to leave many retailers scrambling to keep their shelves stocked.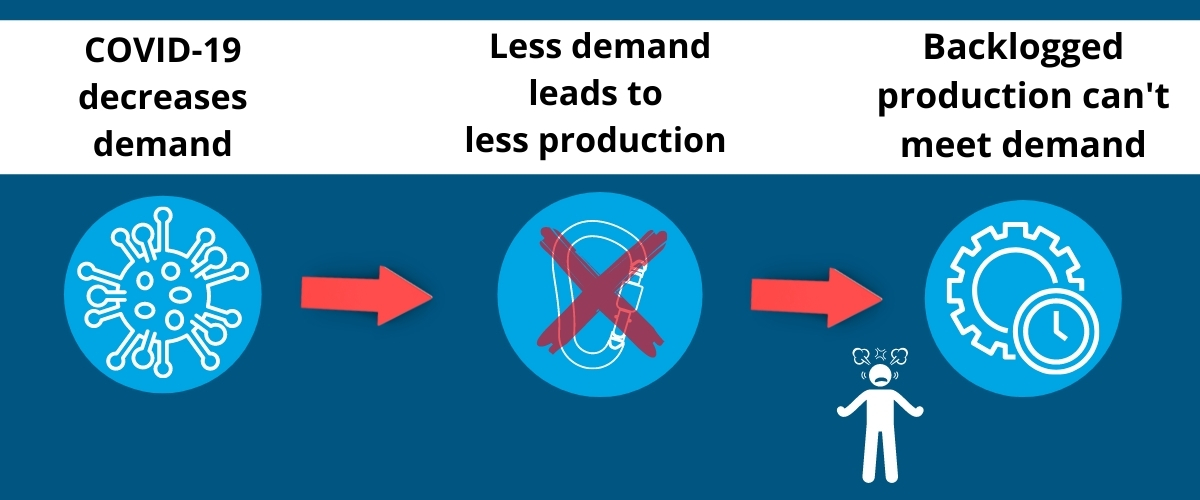 Many gyms were relying heavily on placing ASAP orders (orders that are fulfilled at the moment and shipped to the gym with a relatively quick turnaround) as a big part of their purchasing plan, and this became a huge problem. This only works if warehouses are fully stocked with products, but they weren't, so now products needed to be manufactured (and in many cases shipped) to the U.S. which obviously takes time.
So, orders continued to flow in and build a queue, and even though manufacturing started to pick up, the deficit was large enough that a year later we're still playing catch up. As orders are continuing to be placed, large quantities of back-ordered items is the new norm.
Handling the backlog likely means one of two things:
Either being OK with waiting for back ordered items to arrive and likely dealing with a shop that's less stocked than usual.
Or shifting your buying strategy away from ASAP orders and toward pre-season orders. Pre-seasons are placed 6 months in advance for the following season.
For example, a lot of companies had due dates this past July for the best terms and dating for pre-season orders that will ship out in Spring 2022. Don't fret if you haven't placed Spring 2022 pre-season orders already. You can still place orders now and lock in some inventory for early next year, but you won't get the best dating and discounts that companies were giving away a month ago.
If you want the best deals, then be prepared to hit those early order deadlines (likely early in 2022) to get the most out of your Fall 2022 pre-season orders. These orders are typically adjustable within certain limits (but check with your vendors to be sure of exact terms and conditions).
The benefit to the gym is guaranteeing inventory as well as getting better dating on invoices and/or a discount on those orders. Sometimes there are even further discounts for ASAP orders placed in that season. And the two main benefits to manufacturers is that it helps them plan out production for the coming season and guarantees some orders from their retail partners.
Pre-seasons are generally put together by a gym's buyer using sales data from the past year or two. Due to the pandemic, you may need to do some data manipulation to exclude certain months from 2020 where there were little or no sales and estimate sales for those months based on a more normal month of sales, taking into account seasonality for certain products. This process may be a bit more difficult for newer gyms with little or no sales data, but if you work with your company reps, they can guide you in the right direction.
It's hard to say exactly when we'll be fully rebounded from this pileup of supply chain delays, but I'm placing bigger pre-season orders for 2022 than I've ever placed before. I'm expecting my ASAP orders to be dialed way back as a result. And whereas it's nice to think that in a year or so I'll be back to ordering how I was in 2019, I'm fully prepared to continue relying more heavily on pre-season orders for the indefinite future.
P.S: For more tips on optimizing your retail program, view our Retail Webinar Series and listen to industry professionals give tips on how to start, maintain, or expand your retail program.
---
About the Author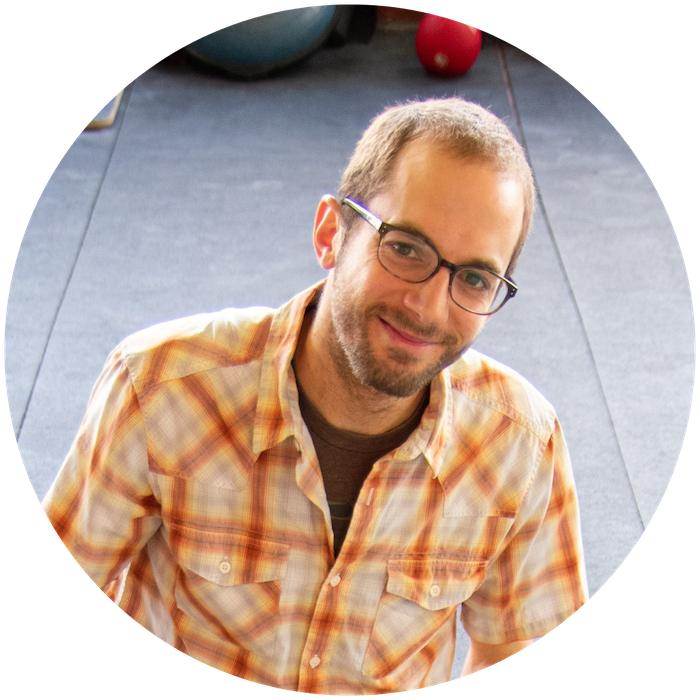 Todd McCormick is the sole owner and operator of Keystone Climbing Consultants, helping gyms become more efficient in their retail operations. Todd holds degrees in Industrial Engineering from the University of Pittsburgh and in Math Education from the University of Kentucky. He has been an avid climber for 17 years and has been managing gyms, guiding new climbers, and working in outdoor recreation ever since.