Better Together: Fundraising for Climbing Gym Staff
Date posted
April 17, 2020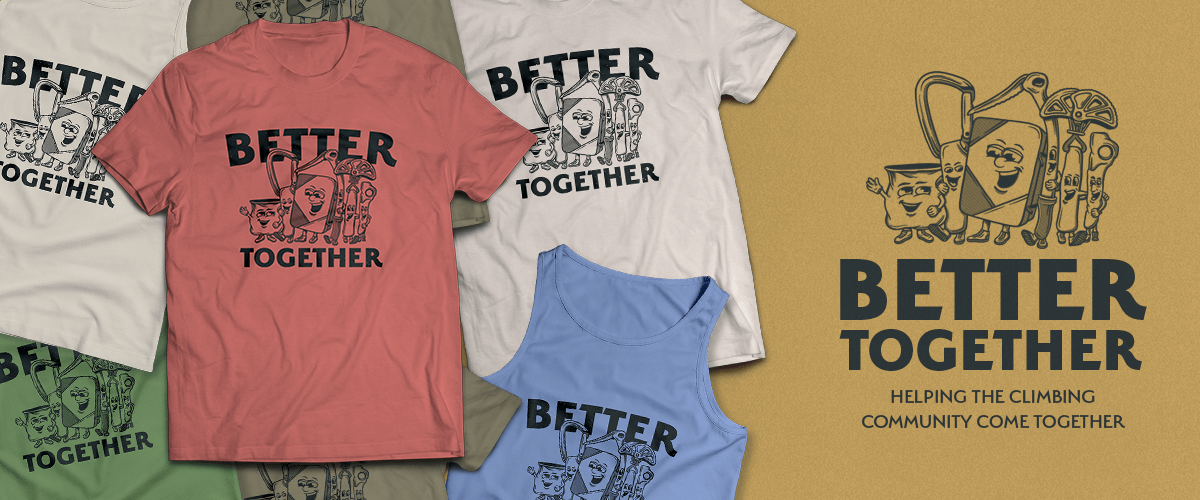 The Better Together Climbing campaign is a FREE fundraising opportunity intent on helping leaders in the climbing industry provide financial assistance to their staff members.
Simply stated, the campaign started by complete accident. I work at Movement Climbing + Fitness and I had recently finished my first ever attempt at fundraising. It was a GoFundMe page dedicated to assisting a dear friend and colleague of mine. I remember running around like a mad man trying to get as many people as possible to share the campaign link. I did not ask them to directly contribute - just sharing the idea to a broader community was all I could ask for.
It was then and still is a value I hold deeply – that many people, rather than a few, who come together to support one another in times of need as well as times of prosperity will always cultivate a stronger community. The goal of that campaign was to raise $4000.00 for my friend, who is also a great friend to many in our climbing community, at Movement. We managed exceed our goal in 3 days.
Following that conclusion of that campaign, almost immediately, I began to try and come up with ideas for a new campaign. My partner had recently bought me the Organic shirt where a slice of pie is punching a piece of cake. I love that shirt. But I wanted a shirt with characters getting past their differences and realizing that each one of them is unique, important, and that they were better together than fighting alone. So, I made a call to a friend who had stopped working at Movement to pursue their dream as an illustrator.
As our design began to really take shape, it came to me. This fundraiser may be able to help staff members of climbing gyms and other outdoor associations affiliated with climbing. Across social media I began to see so much confusion, frustration, sadness, and anger. But I also saw wonderful acts of grace, kindness, compassion, support, and community action. I truly wanted to help support that narrative. A narrative of empathy, understanding, support, and ultimately a message that binds our community together in a stronger and better way than it was before this challenging economic and health crisis began.
In many ways the "Better Together" message that TJ and I believe in was a part of the message all along. Way back to the battered and bruised pastries.
Which is why we hope that by offering this fundraising opportunity at no cost to climbing gyms and outdoor associations affiliated with climbing we can help each participating entity generate as much funding as possible for direct financial assistance to their staff while minimizing the financial risk to each and every business involved during these challenging times. We hope that the more you market this campaign/movement, the more money you can generate to assist your teams. You can sign up here to get a free digital marketing kit and to get your gym listed on the storefront. Whenever someone purchases a shirt and selects your gym during checkout you will get $10 for you to provide to your staff.
And most importantly we hope you believe in our message too. That we are a stronger community, a more inclusive community, a more resilient community – ultimately a community that is and will always be a community that is Better Together.
Sincerely,
TJ Norris & Shane Way