Member Engagement Series: Educational Content
Date posted
April 16, 2020
Posted By Hilary Harris, Thursday, April 16, 2020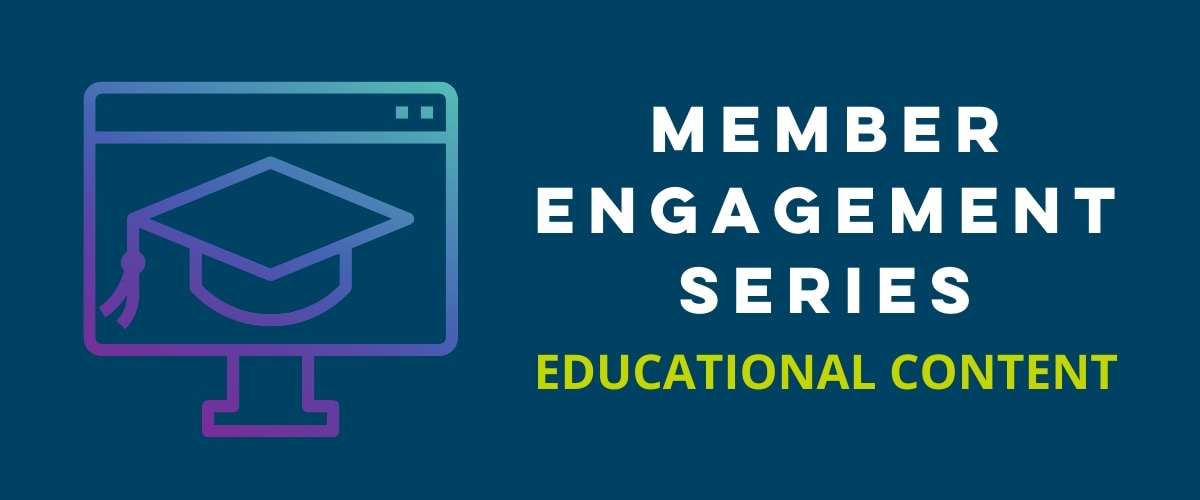 It's been five weeks since the first climbing gyms closed their doors to their communities. Since that time we have seen gyms around the world - in classic climber style - dive into the problem solving strategy that is at the core of what climbing is about. We have a giant route in front of us that has never been climbed and are not even sure where it goes. This is a true adventure, so we need to dig deep into our toolkits to optimize our chances of making it to the top.
As with all challenges, opportunities arise for those that are resourceful and innovative. Consider this time as an opportunity to strengthen your relationships with your customers by engaging them in new and meaningful ways.
Last week I wrote about how to keep your climbing gym community engaged during closure due to COVID-19. Let's take a closer look at creating educational content.
Content Curation
Most climbing gyms offer a variety of programs and classes. They range from kids programs and teams to yoga and fitness classes to technical clinics.
In thinking about creating online content, consider the enormous amount of resources available that you can share. Rather than always attempting to reinvent the wheel, think about how you could instead curate content - using your gym platform as a means to share other people's content.
It may seem counterintuitive that this would increase interest in your gym. Wouldn't that just direct people away from my channels? The answer is no! Sharing content shows that you are plugged into the industry and are providing additional value to your members.
If you do this enough then people will know that your gym provides them with valuable information, and that's what this game is all about: creating value.
Original Content
The advantage of producing original content is that it continues to connect people with your staff and your local community. If the content is done professionally with the right equipment (i.e. lighting, microphone, staging, etc.) then it could bring long term value to your gym in ways that curating content cannot.
The downside of it is that if whoever is recording the content does not have the equipment to make a video repurposable, their time may be better utilized by researching content they can add their own comments to and then reshare.
Every gym is different and has different resources, so I recommend that you assess your situation carefully before paying people to produce content. Make sure that your investment brings you value both in the short and the long run. It looks like it is going to be a while until things return to business as usual.
Live vs. Recorded
There are a variety of platforms available to share video content. Some are better suited for live streaming classes while others are best for uploading recorded content.
User experience is considerably different when participating in a live stream vs. a recorded video. Live stream gives people a sense of belonging together more so than watching a recorded video. It also allows for two-way communication.
One downside is that if someone cannot join, they miss the class - although it is possible to record the class and upload it as a video later.
Pre-recordings allow for editing and producing a more professional product that can bring you enhanced long-term value.
Below are some additional resources to look at when considering what platforms to use for what.
Kids Programs & Teams
Programming for youth offers a lot of opportunities, but I don't recommend attempting to keep kids engaged for multiple hours, multiple days per week online. It is probably a good idea to reduce the online time during practice and assign more homework that can be done on their own time in between official meeting time.
Use Zoom or Google Hangouts to run an online practice focused on body weight conditioning and presenting scholastic information such as analyzing videos. Both platforms allow for screen sharing and seeing multiple people at once.
Be sure to save time at the end of practice for the kids to just hang out together online. The social time is incredibly valuable for them.
Yoga
There are literally thousands of online yoga classes and apps available for people to choose from, so you may be thinking that there is no point in providing these through your gym. It may be a good idea to recommend some of these if you do not offer yoga, but if you do then your instructors likely have a following and this is a great time for them to build it.
I have heard stories of some instructors bringing in hundreds of folx into an online class and increasing their following across state lines. Not only does this bring value to your local gym, it also helps your instructors increase their supporters.
I recommend using Zoom or Google Hangouts to run your classes if you want to see your participants and be able to cue off of them. If not, Facebook Live is also a good option.
Fitness & Training Tips
Fitness is similar to yoga in that there are thousands of videos available. Again, if you have instructors at your gym that can create original content from home, great! Even if they can utilize the content curation strategy and post it through your social channels with a short commentary from a familiar face, your members will be grateful.
If they do create original content, have them upload a video and edit it if needed. It can then be uploaded to either IGTV, YouTube, or Vimeo to name a few.
Technical Classes
This is a perfect opportunity to share your technical expertise with your community. Use your platform (IGTV, YouTube, or Vimeo) to share valuable tech videos or have your instructors record videos from home.
While technical skill sets may be hard to teach without the gym as a resource, there are many basic things you could teach and/or reshare. Some examples include:
Knot tying
Terminology
Rope handling and coiling
Traditional gear - types, ways to use it
Gear reviews (shoes, harnesses, belay devices, etc.)
Stay tuned for more in-depth articles on member engagement strategies in the upcoming weeks!
---
About the Author
Hilary Harris is the Founder of EVO Rock + Fitness. A licensed architect, retired professional climber and coach, and experienced gym owner, Hilary has been involved with all stages of business planning, design, construction, operations and expansion of climbing gyms in various markets across the US. Hilary has overseen strategic brand and business development in varying capacities for EVO since 2010. She also holds a Leading in Finance Certificate from Harvard Business School.