How To Create Women-Specific Programming
Date posted
September 19, 2022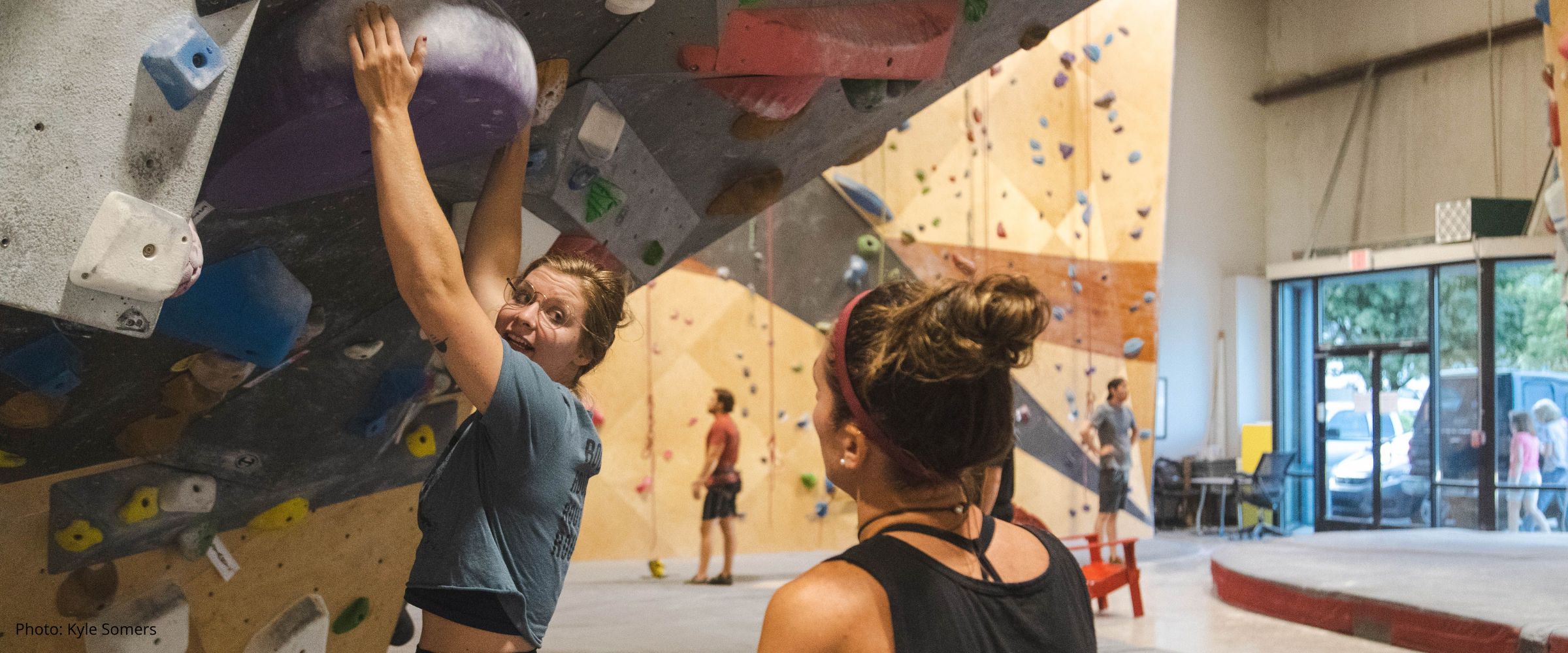 Last year, after seeing the success of Rana Accawi's Climb Like a Girl (CLAG) program at Brooklyn Boulders, I knew I wanted to trial a similar program at The Crag.
While I have very little coaching experience and no formal coaching training - five years of full-time routesetting and climber observation teaches you a lot about the various ways in which women struggle with movement, progression, and overall confidence in climbing. In addition to that, I've spent the better part of 2022 planning Siege the Southeast with co-founders Jiar Chiang and Hannah Barker - which focuses entirely on getting women and non-binary climbers into competitions and connecting with each other in a safe and supportive space.
For me, it was important to implement that same mission in my own gym by creating a program that would connect climbers of similar ability (in this case, V3) and have them progress together in a space that felt goal-oriented but still open to vulnerability.
With gym-membership-communities becoming more gender-diverse, I have seen a more meaningful effort of gender-based or inclusive programming. However, most of these efforts are informal meetups rather than structured training programs.
While meetups are critical in offering no-pressure, usually no-cost opportunities for climbers to connect - I have found that more seasoned climbers are looking for ways to improve their abilities but are unsure of how to self-guide their training. This is especially true for women who are often already outnumbered in the gym on the wall and in the training areas.
Planning
On the flyer, I advertised that I was looking for beginner to intermediate climbers with a goal to send V3. It is incredibly important to consider your language when advertising. While some would argue that V1-V3 is a "beginner" category, that can imply that your audience is newer to climbing. From my experience, that is simply not the case. Several of the women in my program had been climbing for years but were seeking advice on how to get through specific movements or fear of falling. I wanted it to be clear in my ad that I didn't care how long someone had been climbing - it was the goal to progress that was important.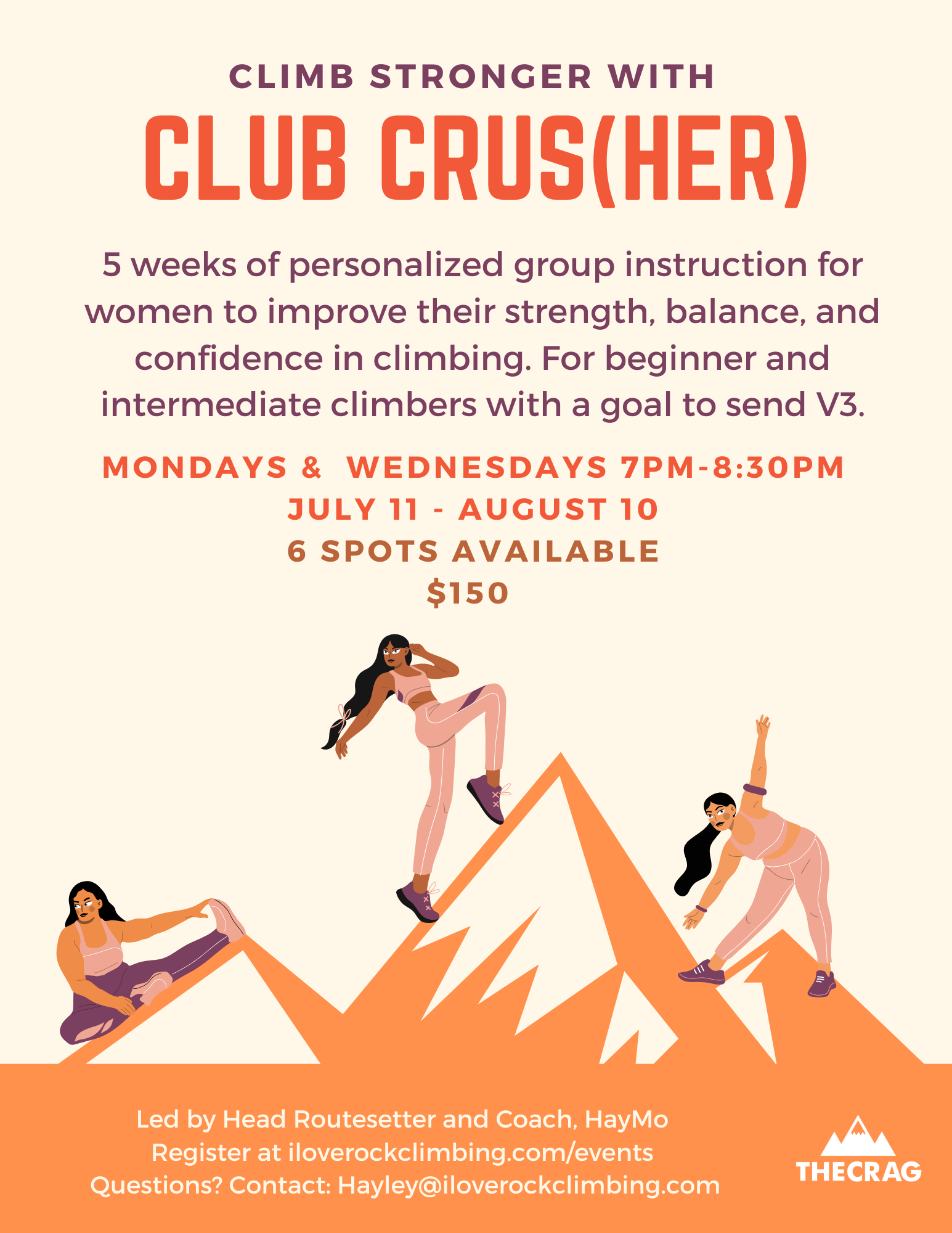 The flyer for Hayley Moran's course taught at The Crag
Since this was a trial program, I decided to limit the program to 6 participants. I knew I wanted to be able to provide personalized training for each climber and didn't want to overload my capacity by having too many participants, especially since my routesetting load would be the same. We were to meet twice per week for 1.5 hours in the evening for 5 weeks.
While I had initially decided to plan the entire curriculum of the 5 weeks beforehand, I realized I needed more information from the participants to better address their goals. For our first session, we spent the first half hour getting to know one another while I asked everyone the same set of questions regarding goals, fears, walls they gravitate toward, walls they avoid, and what they hope to gain in 5 weeks.
While you could easily get this information from a pre-session survey, it was important to me in facilitating a tight knit group to create a space where climbers felt they could be vulnerable about what they are struggling with and how we can work as a group to make individual goals a reality.
I recorded everyone's responses in a chart that I updated each week with everyone's respective progress.
Routesetting
Having control over what could be set specifically for my program was incredibly valuable. If you are a routesetter interested in trialing this program - take ownership of setting specific boulders that test what you're teaching. If you are not on your gym's setting team, try to stay in close contact with the Head Setter each week to make setting requests or be in the know of the styles that can be set that week.
I kept track of my own observations of everyone's climbing while also referencing the survey data from the first session.
Since everyone was uncomfortable with dynos, I made a note to plan for two dyno sessions instead of just one. Since most people actively avoid climbing in the overhang, I planned to start our second session there to give climbers several weeks to work the specific boulders I set for them (I wanted them to feel the progression of their core getting stronger). By telling my climbers, "here, this is what I set for you this week" there was more of a commitment to send.
---
READ ALSO: Build Empathy in Your Setting
---
Another consideration is having a roped-off area for your climbers to work in. Navigating a crowded gym is one of the most often cited struggles for women, especially in regard to why they feel anxious on the wall.
For some sessions, I used our experimental setting zone to teach concepts and was easily able to rope that off to the general public. However, on regular commercial sets, instead of shutting the area off, I would often stand and shuffle my climbers on the wall and act as a human barrier to ensure they got adequate time and space on the wall.
Big Takeaways
In my opinion, coming into the program, most of my climbers already had a strong physical foundation for sending V3 in my gym's circuit.
What they lacked was vocabulary, problem-solving strategies, and commitment to working weaknesses.
I learned this through observation of their climbing and asking several follow-up questions to test what their strategy for projecting looked like. Most of our work during sessions was centralized around identifying what the problem move was, options for working that move, knowing when to move on and work the other moves of the boulder, and most importantly working through fear of falling and fear of failure.
I frequently asked them to identify a win from each session to keep everyone focused on the ways they were progressing instead of getting caught up on the areas they were still struggling on.
By the end of the 5 weeks, every participant had sent V3 and had successfully completed several versions of a dyno. Week by week I could see them show more and more commitment higher on the wall and really trust their movements.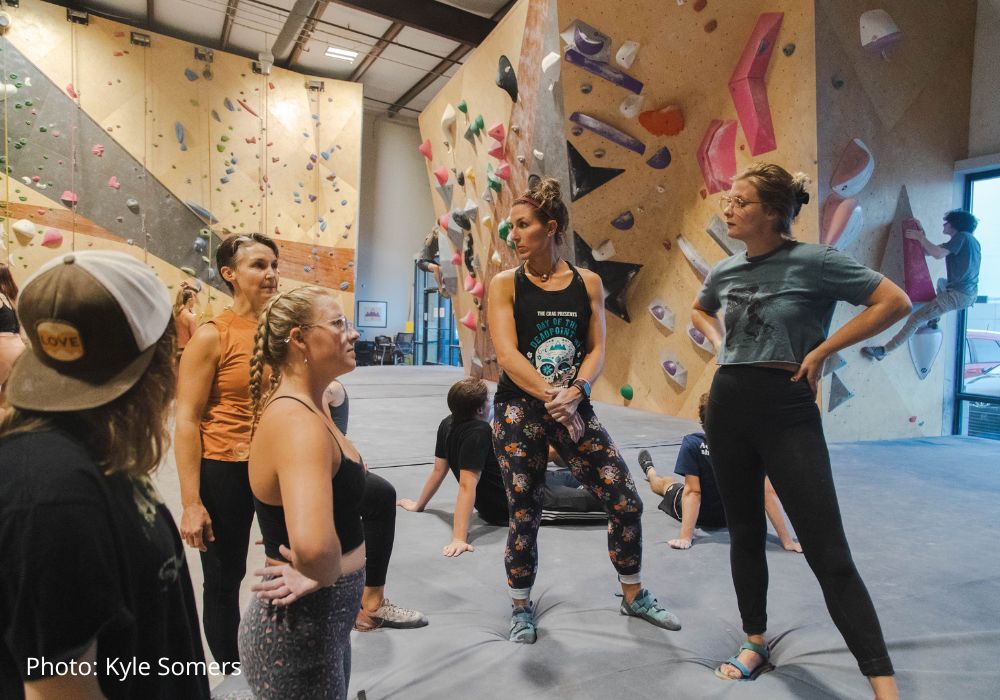 Hayley Moran, far right, (author) teaching the course described in this article.
I spent a lot of time on the ground very close to them reminding them to breathe, trust their feet, trust their judgment. At the end of the day, I felt the positive results were linked to 75% strong encouragement and 25% actual instruction. What this tells me is that by offering more opportunities for women to share a time and space to work boulders together - we offer much more than just sharing of beta. The collective camaraderie of feeling a part of a team, one that succeeds with someone else is successful, gives climbers a sense of belonging and willingness to push past their comfort zone.
My hope is for gyms to continue to reflect on what types of specific programming can be beneficial for their members, be open to trialing new programs, and collect enough data to understand the efficacy or impact a program possibly has.
Even More For Routesetters:
---
About the Author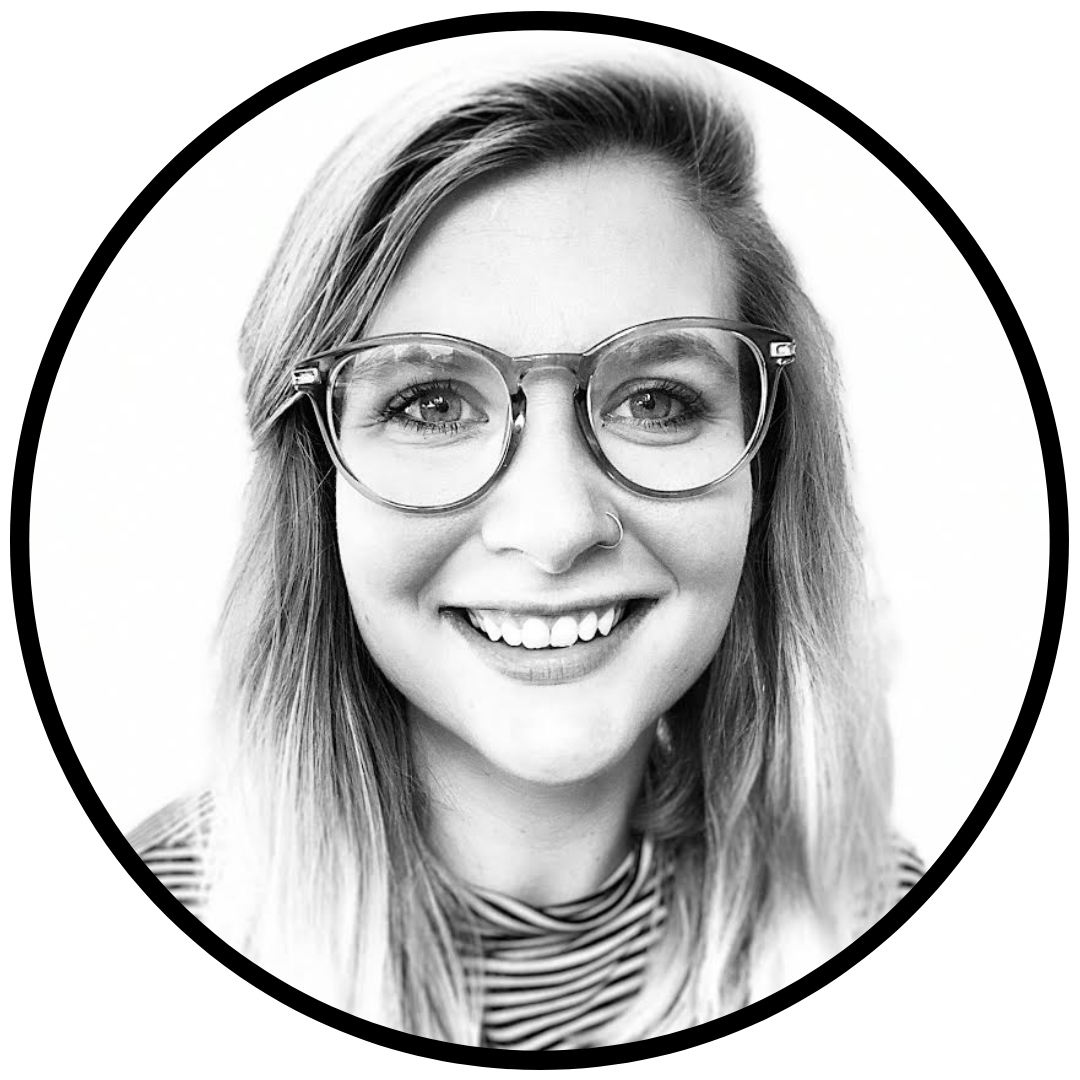 Hayley Moran is the Head Routesetter at The Crag in Nashville, Tennessee. She has a Master's Degree in Child and Family Studies and previously worked in the field of public health with a focus on health equity. She uses those experiences to help guide her work in the climbing industry by creating events and discussions that promote diversity, equity, and inclusion through the sport of rock climbing. When she is not on the wall, you can find Hayley baking in the kitchen, designing silly sweatshirts, or hanging out with her cat, Goblin.