Member Spotlight: North Carolina State University
Date posted
October 4, 2022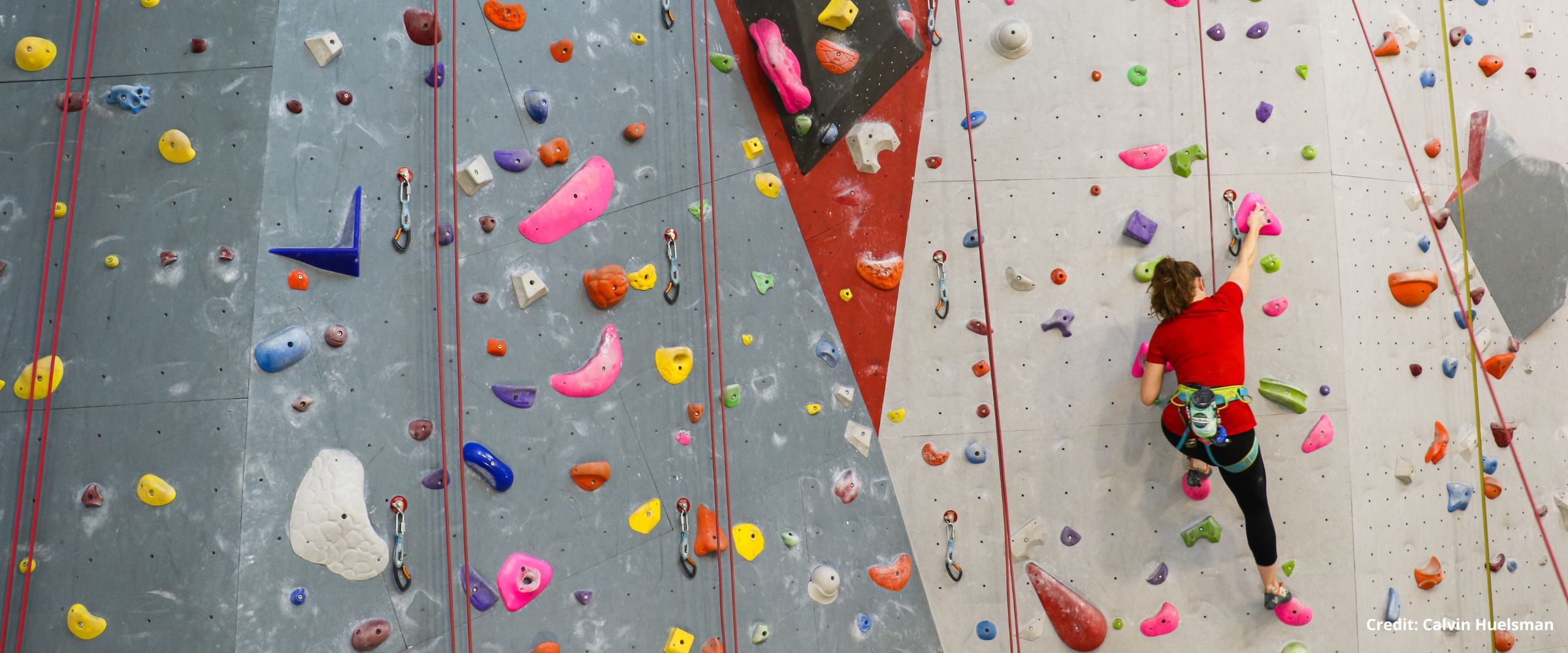 North Carolina State University, located in Raleigh, recently saw a fresh renovation to its on-campus climbing facilities. In this member spotlight, learn how Erin Heiser, NC State's Assistant Director of Outdoor Adventures, built administrative and community support for the project managed the climbing wall through the renovation process, and instituted programs that have grown annual check ins from 3,000 to 25,000.
This interview was edited for clarity and brevity.
---
Quinn Gordon
I was wondering if you could give a rundown of the operations of the climbing wall as it currently stands at NC State.
Erin Heiser:
We do have a robust indoor climbing program. Our center is about 5,000 square feet of climbing space. We have 3,000 square feet of rope space and then about 2,000 of bouldering space. We created half of our bouldering wall as an open bouldering area.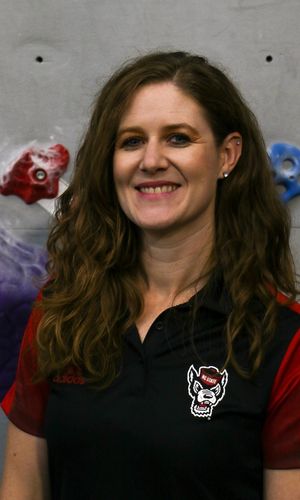 Erin Heiser/North Carolina State University.
So, it's about 10 feet tall and it's open whenever our facility is open. Then, we have another section of our wall that's called the access-controlled area which has an additional section of bouldering. That's a little bit higher, it goes up to 12 feet and has more interesting angles. And then, we have our roped wall that currently has 11 rope lanes, with three auto belays.
Quinn Gordon
What sort of programs do you offer to students through the climbing wall?
Erin Heiser:
We offer a bit for everything. Learn-to-belay clinics, learn-to-lead climb courses, and what we are calling a learn-to-climb clinic, which essentially is a movement clinic… Every so often, we'll run a gym-to-crag education piece. At the end of the day, the core of what we do is education. We want to give students the opportunity to get out and educate them on how you can do this activity safely… We want to be there with them and take them on that journey. So, we do everything.
We run outdoor climbing trips. We run a gym-to-crag training. And then we have the indoor climbing community, as well.
Quinn Gordon
You folks recently went through a renovation process in your campus facility. Can you describe what that process looked like in your role?
Erin Heiser:
In, I think it was 2017, or 2018, we started having conversations about potentially building a new facility and including a new climbing wall in that space. So we started having conversations about if students were interested. We reached out to students, stakeholders, and all different kinds of folks all over campus, and asked them, "Hey, is this something that you'd be willing to support?" Since we're a public university, we're publicly funded. We have to get public funding approval for that. We got huge interest from the students. I was asked to lead the charge in designing and building that climbing wall, and taking what the students were telling us, and translating it into what it would look like in its finished form.
It's been wild. When we were at our old facility, we saw about 3,500 participants a year and this past cycle, when we ran our numbers, we had over 25,000 participants. We're just so excited that the community jumped in and is supporting our new space.
Quinn Gordon:
Do you have any insights on how to work with university administration and build support in a recreation department?
Erin Heiser:
I will say right from the get-go our executive director was on board with the climbing wall. He saw that there was a really strong community and wanted to support that as much as possible. I will say, there was a lot of back and forth about the risk management side of things and making sure that we're on trends, but also like upholding all the university's requirements, rules, and stuff.
So, I think for me personally, one of the ways that I let my staff or my community know that this was something that the students wanted was to be really open and honest about the types of requests we were getting from the community.
Our university, like all universities, wanted to support the students first. And so, the students were able to make a really good argument for how this would enhance their like student experience.
I think colleges are definitely more risk-averse than other folks. As a climber and manager of a wall, I think it's so important to tell your administration or university the best practices for the climbing space.
Being open to those discussions and making sure that you're explaining what the climbing side of the operations is and how it relates to what the administration does. Bringing them into those conversations and teaching them about what you do is key.
Quinn Gordon
How have you benefited from membership with the CWA?
Erin Heiser:
I really started to get to know all the CWA had to offer when we started opening the wall after the renovation, and I was writing our manuals and our operation guides. We became a member of CWA and saw all of the resources available, and I was like, "Oh my gosh, this is such an amazing resource. If I had had all of this information, like three years ago, I wouldn't have had to do as much research or begging and pleading." Once I got those resources, I was able to really utilize that to come up with really good standards, operational procedures, and training on the management and safety aspects of running the wall
I hope more universities can see that the CWA has so much to offer, and if anyone wants to talk about it, send them my direction. I'm happy to help!
No matter if you're managing a climbing wall in a university or a community facility, there's a place for you in the CWA.
---
About the Author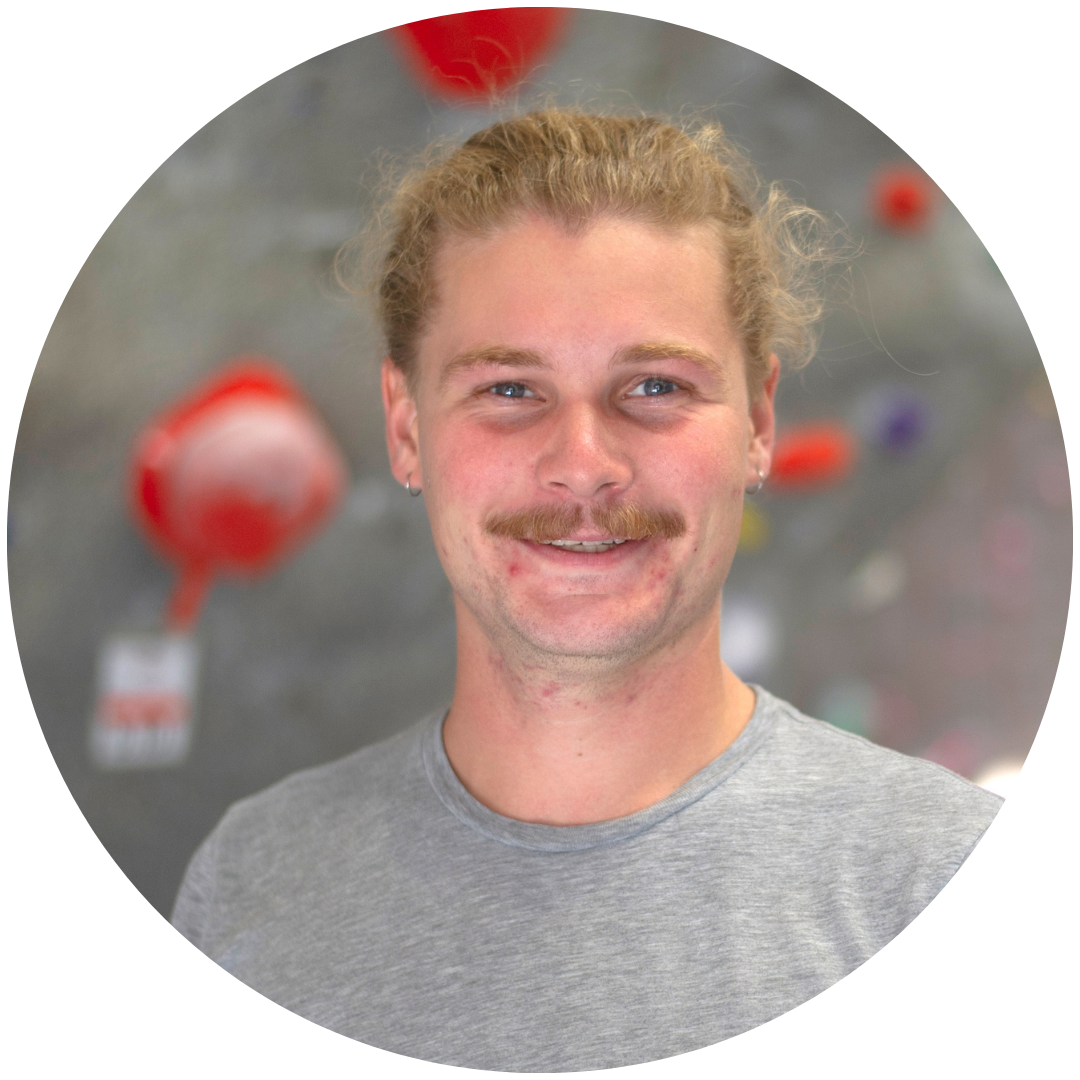 Quinn Gordon is the membership coordinator at the CWA. Quinn is an active member of the climbing community and continues to hone his skills inside and outside the gym. When not on the clock, he can be found climbing in the Flatirons, hiking in the Rockies, or reading above the tree line.