Member Spotlight: Triangle Rock Club
Date posted
February 4, 2019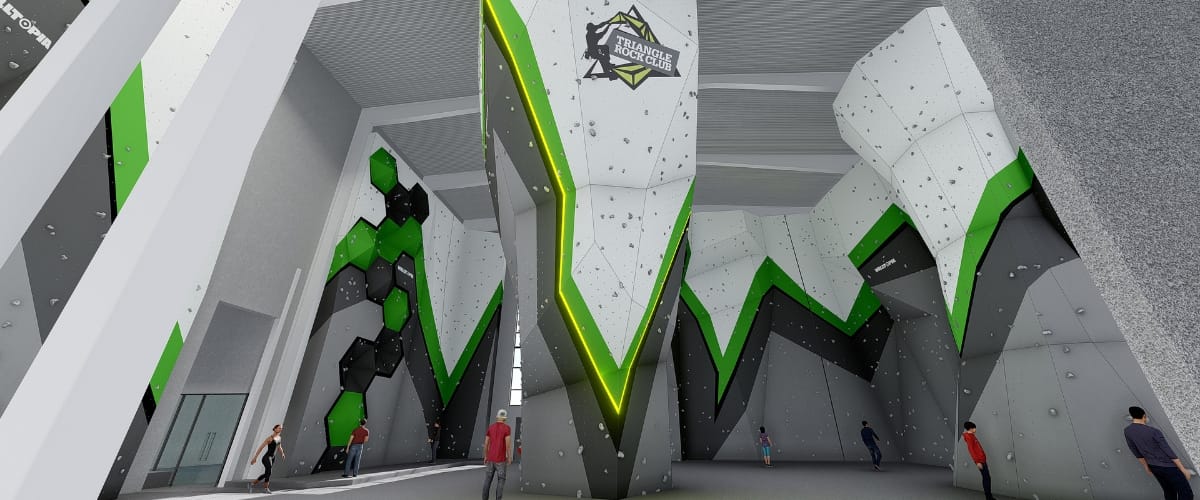 Climbing gym operators often bring a diverse set of experiences to running a gym, but few more so than Joel Graybeal, Managing Partner at Triangle Rock Club. After working as an aerospace engineer at the Pentagon, he worked as a banker for 14 years before joining the ownership team at TRC in 2011.
Triangle Rock Club opened its first location in Morrisville, NC in 2007. Founded by two former Marines, TRC now operates four locations in two states and has a fifth location slated to open in 2019. We reached out to Joel to find out what it takes to run gyms in the mid-Atlantic.
CWA: It was six years between the opening of the first Triangle Rock Club and opening your second location. Are there lessons that have carried forward from the early years into managing all five of your locations?
JG: There are certainly more than a few lessons that we've carried forward. Here are a few:
It's important that we earn our customers' business every day.
In order to grow, it's important to take daily steps moving your business forward.
We always need to be ready to take advantage of a good opportunity.
Where we focus our time, energy, and resources is where we'll get our results.
Hire great people who are aligned with your company's mission and give them the resources to move the company forward.
CWA: What has been the greatest challenge in expanding to new locations?
JG: Capital is always a challenge. Because of our desire to stay independent and to not dilute current ownership, we've had to continue tricking banks into buying into our vision. In addition to funding new locations, there's always a need to continue investing in current locations. As probably any climbing gym operator can attest, there are limitless ways to spend money when you own a climbing gym.
CWA: What sets Triangle Rock Club apart from other east-coast franchises?
JG: We have a singular mission statement that we think drives our company behavior and decisions: to enhance and transform the lives of others by enthusiastically sharing our passion for climbing and fitness. That mission statement is a great compass for our company. Something else that might be different is that we have phased four out of five of our gyms. It's allowed us to open earlier, start building the community, and then have a planned enhancement later. We've been able to "throttle" our growth and manage expenses by designing our projects to be phased.
Lastly, we've been a big user of SBA funding to grow our business. We've completed five rounds of funding and are in process for our sixth. While the paperwork is rather arduous, SBA has allowed us to keep our equity infusions lower plus give us fixed-rate financing for 20 years. That all translates to long-term fixed costs for our real estate, and it makes getting to cash-flow positive quicker.
CWA: What's the biggest challenge TRC is currently facing?
JG: Access to capital at good terms is always a top need and challenge for us. We're looking at future opportunities in the context of our current expansion commitments. With our business so capital intensive, getting loans at favorable terms is always important. I keep asking our bank partners for a $5M unsecured credit line at prime - 1% but haven't been able to talk anyone into lending to us on those terms!
CWA: What projects are you most excited about for the future?
JG: Triangle Rock Club Durham is going to be our best laid-out and most balanced gym yet. We had a lot of flexibility laying out the space, which is ironically in a previous Walmart (built in 2011). It's going to be a terrific gym. Plus, our Phase 2 ground-up addition to our Richmond gym will be a phenomenal enhancement to our Phase 1, which opened in April 2018.
CWA: What does it mean to Triangle Rock Club to be a CWA member?
JG: We've been proud to participate as an active member in CWA. For the last 12 years, Triangle Rock Club has been represented at the annual CWA Summit. Helping our industry grow and thrive has been important to us. Others before us have been gracious in helping us get started. We, in turn, have strived to be a good resource for new and aspiring gym owners. For every one person in the US that has a climbing gym membership, there are 100 people who have a monthly fitness or health club membership. If we as an industry convert just one out of a hundred regular gym members, we double the size of our industry. Growing and working together through an industry organization like the CWA is important for all of our futures.
BECOME A MEMBER