Nonprofit Member Spotlight: Adaptive Climbing Group
Date posted
March 30, 2023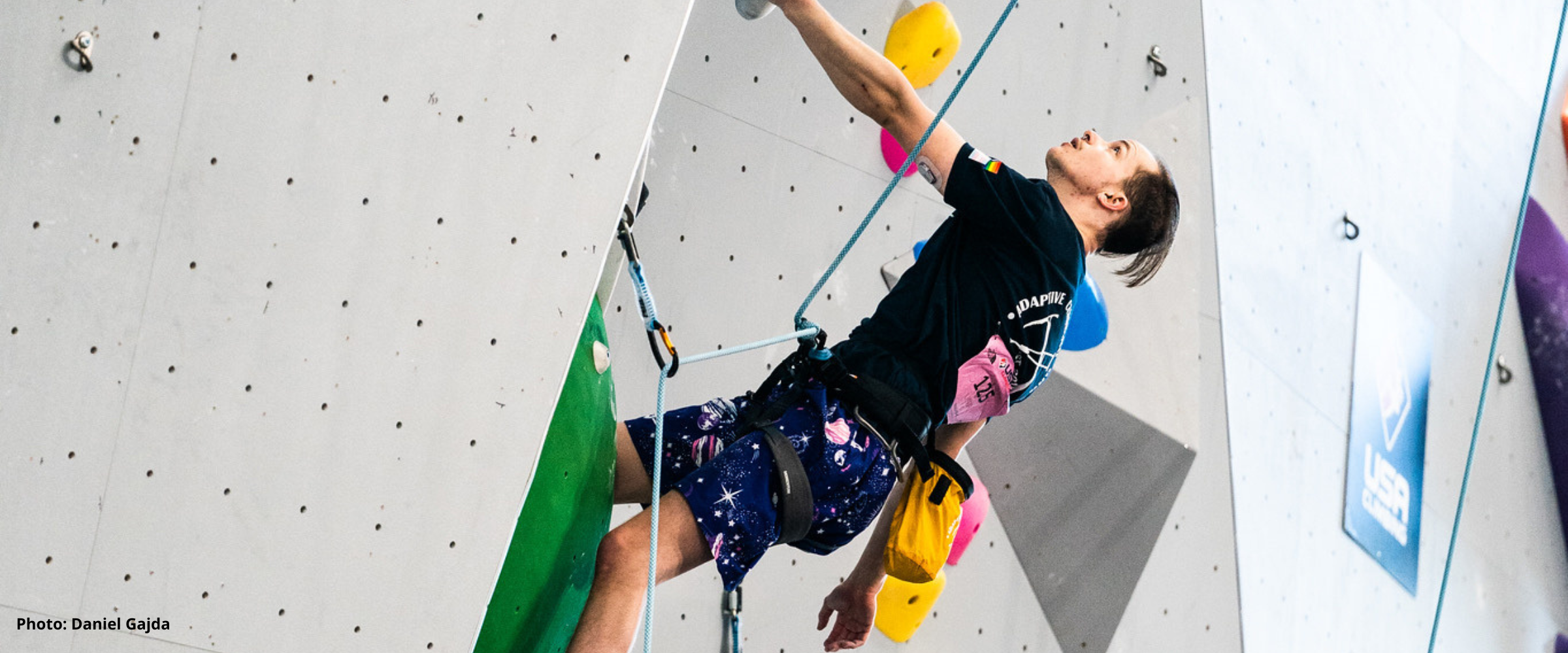 In this most recent non-profit member spotlight, I sat down with three folks involved with the Adaptive Climbing Group to discuss how the organization has been instrumental in expanding access to the sport of climbing to those with a wide range of adaptive needs.
With Kareemah Batts, our 2023 CWA Summit Keynote Speaker, at the organization's helm, and a network of dedicated staff and athletes, the ACG has made the climbing community more accessible through training clinics, competitive sponsorships, and expanding education to the broader climbing world since its founding in 2012.
Let's kick things off with Melissa Ruiz, a two-time world cup medalist, adaptive athlete, and former lead with the New York Chapter of the ACG.

Melissa is a competitive climber, winning U.S. National Championships in 2022 and 2023, and placing twice as a silver medalist in the World Cup in 2022.
Quinn Gordon (he/him), Membership Coordinator, CWA
Hey, Melissa! I was hoping you could speak to how you got interested in climbing.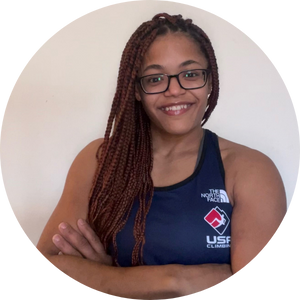 Melissa Ruiz
Melissa Ruiz (she/her), ACG Athlete and Former Lead of the NYC Chapter
ACG was actually the catalyst for that. I didn't even know climbing was a sport. I remember doing it on those little plastic walls that they brought around on trucks as a kid, but I didn't know that climbing was a sport. I live in New York and thought to myself, "let me look this up." The Cliffs at Long Island City popped up, and I walked in there and thankfully found other adaptive climbers, because if I hadn't found the adaptive climbers, I wouldn't have been able to climb. They introduced me to the world of competitive climbing and climbing in general.
Quinn
So, you started working with the ACG after that?
Melissa
I started initially as a volunteer and decided I wanted to get more involved, so I went on to become the administrative lead for the chapter. I would help lead training sessions with our climbing gym partners.
Quinn
How can interested climbing gyms become partners with the ACG?
Melissa
If a climbing gym wants to have an adaptive program, they tend to reach out to the ACG with what sort of programs they have in place and then the ACG will build off that or create something entirely new to get them started.
That is one of the big things that Kareemah does, is leading trainings around the country in different gyms to have these programs put in place. Right now, there are chapters in New York City, greater New York, Massachusetts, and Chicago, but we are always seeing the network expanding.
One of the other athletes I was able to speak to was Oliver Carnazzo, who recently medaled at the 2023 U.S. National Championships. Both Oliver and Melissa were able to share how the Group supported the competitive side of the adaptive community.
Oliver Carnazzo (they/them), ACG Athlete
This is my first year on the Adaptive Climbing Group's official team! I saw that they opened up applications at the end of 2022 and I said, "Hey, let's just try something new." So, I joined, and my connections with the adaptive climbing community have just exploded since then.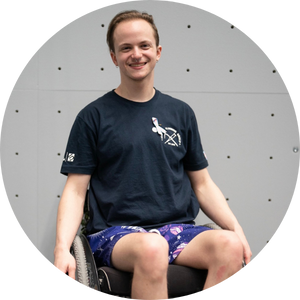 Oliver Carnazzo. Photo: David Gadja
Quinn
That's awesome to hear! What sort of training support has ACG been able to offer you as a competitive athlete?
Oliver
In terms of coaching, my first experience with that was at the training camp that we had about a month ago in preparation for the U.S. Paraclimbing National Championships. It was really my first time ever seeing somebody that could give me actual feedback on my climbing and on drills I could do. I felt like I was actually learning how to be a climber.
Quinn
Melissa, how have you been supported as a competitive athlete?
Melissa
I wouldn't be able to compete if it weren't for ACG. These competitions are expensive! Last year, ACG helped me do the entire circuit, where I went to the National Championships and then went to the World Cup in May, and then a second and third World Cup in Austria and Switzerland.
ACG helped me stay in Europe for literally a month, which would not have been financially or physically possible on my own. ACG allows for those opportunities to be present.
Oliver
For my sponsorship level with ACG, I get my USA Climbing and Paraclimbing membership paid for, as well as my registrations for Nationals and registrations at local competitions. All the housing and everything was covered, which was awesome.
I also spoke with Christopher Bode about how he has worked to expand adaptive climbing programming through his work in the Greater New York Chapter of the ACG.
Christoper Bode (he/him), Cornell Outdoor Education and ACG Lead
The real difference between ACG's indoor and outdoor programming is that indoor programming is going to be much more climbing-specific. The accommodation we have to make for each climber is specific to their needs.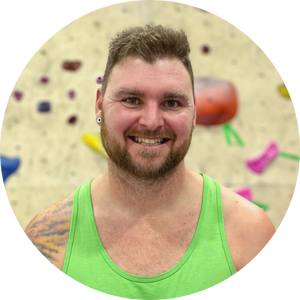 Christopher Bode
Once we have climbers coming back consistently, I usually try to set up volunteer teams that have worked with them in the past. Really, a lot of the climbers are coming, yes to climb, but they're also coming in to be climbing with people in that community. We try to integrate right into the gym. We don't block off a specific adaptive climbing wall. They climb anywhere they want in the gym. We want to integrate them into the gym community and create a fun environment for everyone.
Quinn
That's awesome! I think there is a ton of value in making sure everyone in the community knows that adaptive climbers are climbers, that they are not that different from able-bodied people, and that they are recognized as part of that holistic climbing community.
I also asked Oliver, Melissa, and Bode about the barriers that adaptive climbers still face.
Oliver
The first challenge that comes to mind is interest. I think a lot of people with disabilities don't realize that they can climb and that they can climb competitively, as well.
Combined with interest is also the expense. Climbing is just one of those sports that is expensive to get into. Among disabled athletes, a lot of us already have financial challenges just related to disabilities, work discrimination, and a whole number of multisystemic issues.
---
READ ALSO: Is Adaptive Climbing Part of Your Gym Culture?
---
Melissa
Representation is a huge challenge. I have cerebral palsy, which unless you see me do things, you wouldn't know. I feel like the people with neurological disabilities and people who are visually impaired get shoved into the shadows because we are not as "cool" as people who have other forms of disabilities.
I've also heard things in a climbing gym, for example, where someone will say, "Wow, well if she can climb that, I have no excuse!" People just need to be mindful of those experiences. Trust us to know our own limitations and don't assume what they are.
Bode
Equipment is a tough one. There's just not a lot of people that make it; it is hard to make it cheap. There is a lot of very specific training that goes into adaptive climbing because you have to understand the side of working with people with disabilities.
I'd also say that a lot of climbing gyms are built not looking at the accessibility of the space. If you think about even a bouldering mat being 18 inches off the ground, someone in a wheelchair can't get up on that easily. A lot of gyms have first and second levels and very few have elevators built in that allow access to that second level.
Book A Consult With the Adaptive Climbing Group
Adaptive Climbing Group runs operations in four states around the U.S., and does consultations for operations around the U.S. Learn more about their programs and how they work with your indoor climbing gyms.
One of the biggest barriers I've run into when reaching out to new organizations is that they didn't know adaptive climbing existed. The same thing comes up with every minority or excluded group from any activity. Without any sort of representation, people just don't know. It's not just about plastering disabled people in photos because that makes them look more inclusive, but creating a voice in the community.
Melissa, Bode, and Oliver discussed how they had grown from their experiences in the adaptive climbing community.
Melissa
In climbing, I'm forced to come up with creative solutions to get past things an able-bodied person could just do, and I think that has changed how I think about my entire world in general. As opposed to struggling through it this way, I can change it. Sometimes I also have to accept that I just cannot do certain things. Having that mindset come into my normal life has been huge.
Bode
The amount of community support that I find in the adaptive community is always amazing. I didn't see or recognize or really feel that in other outdoor communities in which I was involved.
Oliver
I think I've found a new aspect of my identity as an adaptive climber. Just being part of this community has strengthened my confidence going into the indoor climbing gym and being like, "I'm a climber. I'm going to Nationals. This is part of my community." Bringing what I've learned back to my home community is awesome. I like to tell myself that I started something!
Register for the 2023 CWA Summit to hear
Kareemah Batts' Keynote Address!
---
About the Author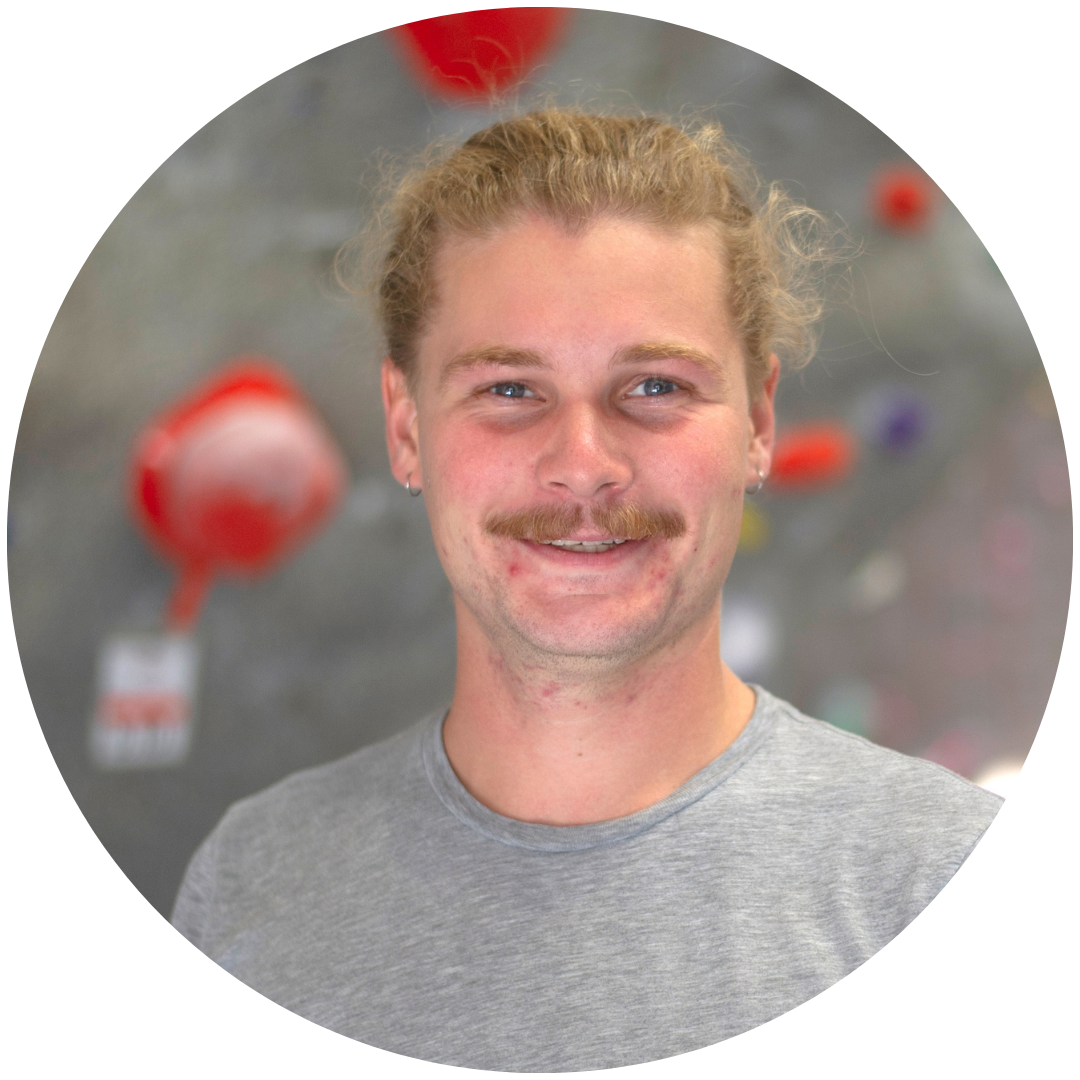 Quinn Gordon is the membership coordinator at the CWA. Quinn is an active member of the climbing community and continues to hone his skills inside and outside the gym. When not on the clock, he can be found climbing in the Flatirons, hiking in the Rockies, or reading above the tree line.