The Olympics Are Coming: So Might a Membership Bump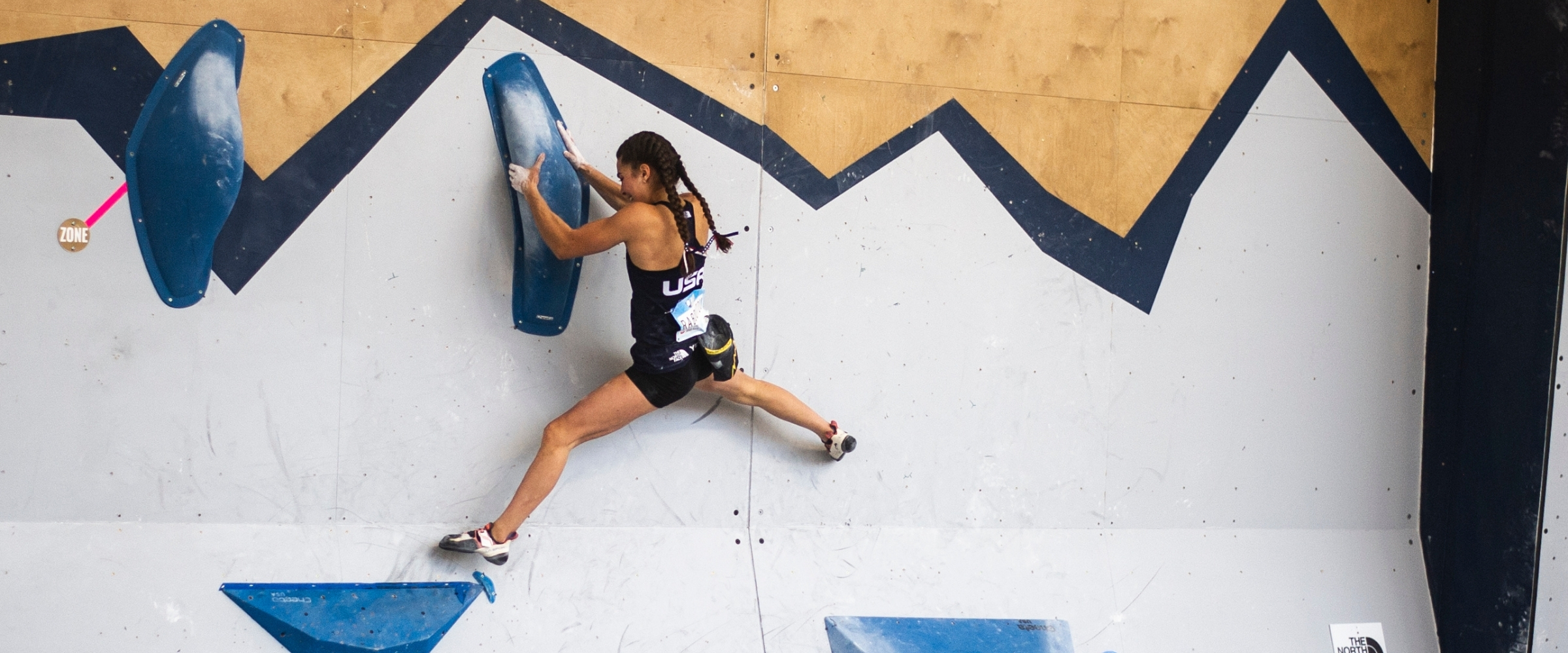 U.S. Olympic athlete Brooke Raboutou competes in the Semi-Final round of the IFSC World Cup Bouldering Competition in Salt Lake City. Photo by Jake Byk/CWA
It's undeniable – following the Olympics, people discover and try new sports. Called the 'Olympic Bump,' folks tend to flock to a new sport or pick an old hobby up again. According to Ski Area Management, that increased interest is "...because both the Winter and Summer Games command television audiences the size of professional football, and these Olympic audiences are more diverse and affluent. They are nearly as passionate as NASCAR fans and more passionate than the followers of college sports and the NBA."
From gymnastics to curling and many sports in-between, facility owners see a rise in new athletes following the games. The part where it gets a bit murkier is how long, and how much long-term impact the 'Olympic Bump' can have.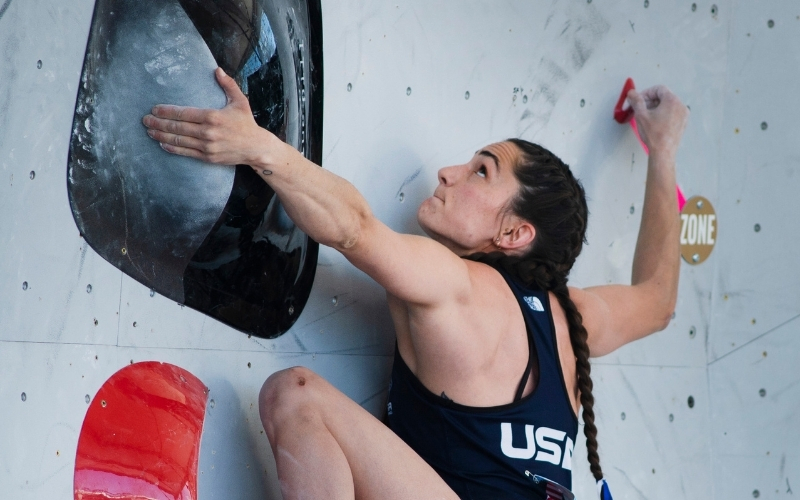 U.S. Olympic athlete Kyra Condie competes in the IFSC World Cup Bouldering Semi-Finals in Salt Lake City. Photo by Jake Byk/CWA
The one thing that's absolutely certain: every new person entering a climbing gym, inspired by watching athletes from around the world give their all, is a new potential member. We all know the power climbing can have, and millions of people are about to see it on the world stage for the first time.
The awareness of rock climbing in the United States specifically has made leaps and bounds in the last decade alone. From President Obama publicly congratulating Tommy Caldwell on his ascent of the Dawn Wall, to President Biden publicly marveling at climbers scaling walls at a gym in Virginia – the sport is continuing to enter the mainstream.
The main takeaways: the 'Olympic Bump' is what you make of it. Millions of eyes will be on indoor climbing for the first time. Taking advantage of it can be short-term and long-term: both for acquiring membership and for re-invigorating the members you already have. Below are some ideas - both big and small - to capitalize on the 'Olympic Bump'. Just be careful you don't inadvertently commit copyright infringement.
Do's and Don'ts: Copyright Infringement
The International Olympic Committee (IOC) has established Rule 40, which more or less blocks the fair use of the word 'Olympics' in virtually any context for a period before and during the games. The rule has been relaxed this year for companies that sponsor athletes, but those updated rules won't apply for most climbing gyms, so you'll still want to be careful.
For the upcoming games, the IOC Rule 40 period is July 13 - August 10, 2021. Unless it's for educational purposes like this article, or by a private citizen (such as your members), using almost any word associated with the Olympics in any way might earn a letter from the IOC.
Don't
Use the words: "Olympic(s), Olympian(s), Tokyo 2020, Olympians Made Here," or any derivative term of these on social media or tied to anything with your business. This is not an exhaustive list of terms that are copyrighted. See the Tokyo Organising Committee's Brand Guidelines for more.
Post pictures of any Olympian in any context.
Use any hashtags on social media related to the Olympics.
Do
Engage in the Olympics. This is a huge moment for our sport, and for the world!
Be creative. Given the copyright laws the IOC implements, it's not easy for businesses to participate in the public conversation. This requires us to be creative in how we talk about the Olympics. Here are some examples of creativity from years past.
Be service-oriented. The Olympics are all about unity and about showing what humans are capable of. For many members and potential future climbers, this is only the beginning and is potentially a very inspiring moment in history. Keep that in mind with anything you do.
Promote Climbing's Olympic Debut Digitally
Create an explainer graphic, video, or guide for watching the Olympics.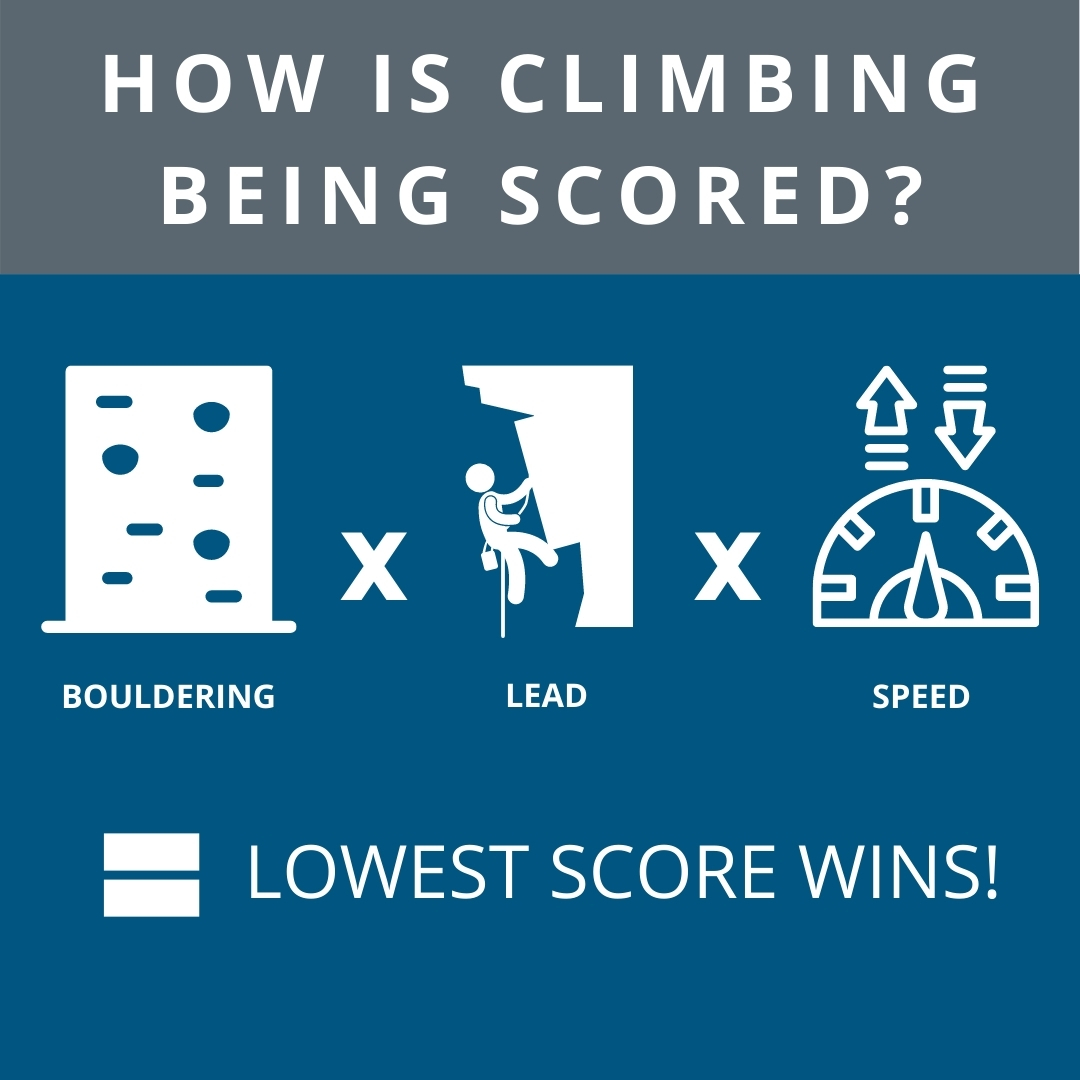 An example of a graphic explaining the Olympic scoring.
The 2021 Olympics may be the first time some of your members pay attention to competitive climbing. Plus, the format is different from what climbers may recognize for usual competitions. It has a combined format for speed, bouldering, and lead. Your members may appreciate learning more about how the event is scored, and how to watch it.
It doesn't have to (and shouldn't) end at social media. Include these informational graphics in your email communications with members and potentially on your website. You're providing a resource to your members, and you're offering them tools for inspiration. By being the source of that information and inspiration, members will continue to come back to you and see your gym as more than just a place to climb. The Olympics are bigger than indoor climbing – and your gym can be more, too.
For this section, reference Team USA's intellectual property guidance under social media, and absolutely avoid anything explicitly or implicitly trademarked.
Post (vague) encouragement to your country's athletes.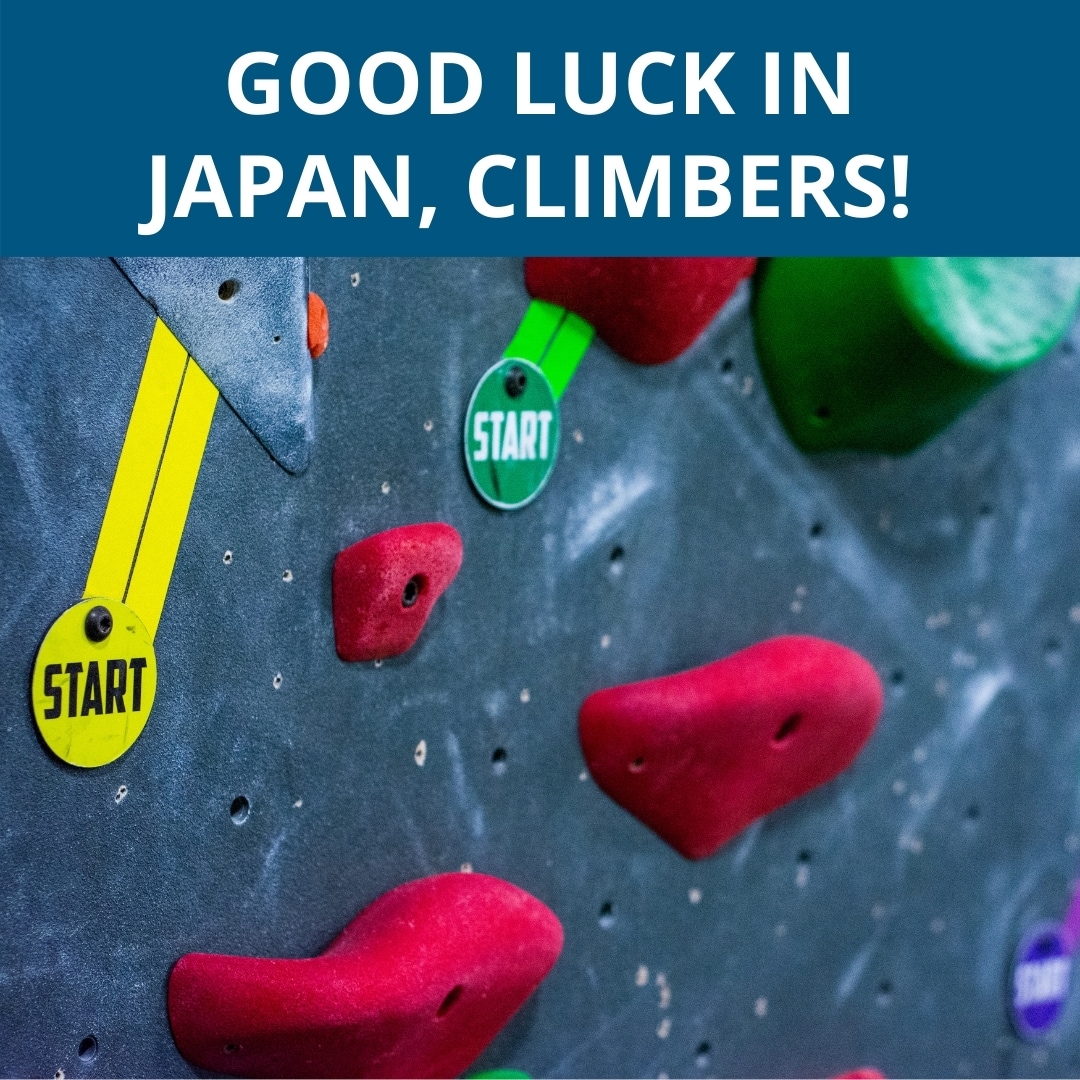 An example of a graphic safely wishing luck to competitors.
A really easy step would be to promote the Olympics while they're actually going on. Basic graphics encouraging the athletes from your country show your membership you're paying attention, and making them doesn't have to take too much time. Again, these should not end with social media. Including a reminder and a quick wish of luck in your newsletter shows your community you're aware of this historic moment for our sport. In this example, we avoided Rule 40 violations by saying 'Japan'.
Promote Sport Climbing In-Person
For those that are truly ambitious, hosting in-person events inspired by the Olympics is a great way to potentially take in more members, or re-energize current members.
Create a bracket competition with cool prizes for your members.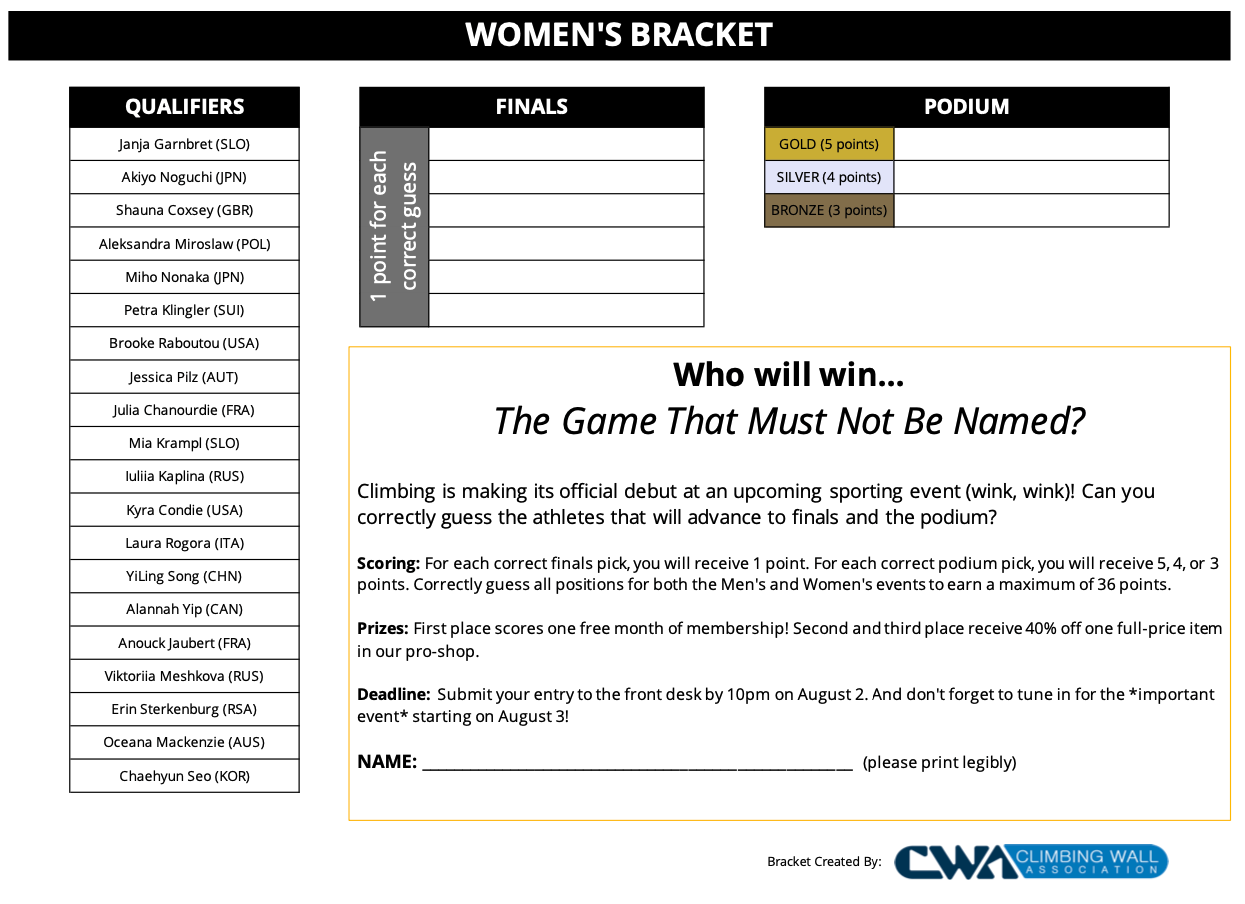 This example climbing 'bracket' has participants guess who will advance to finals and reach the podium.
Engage your members with a bracket-style competition, which gives them an extra reason to pay attention to climbing in the Olympics! For a handy place to start, check out this list of all 40 climbers from 20 countries.
For this example, we created a slot for each athlete from each country. Participants then guess who will make it to finals and who will reach the podium. Download the spreadsheet version of this bracket to make it your own! Update the colors, fonts, rules, and prizes so that the competition works for your business.
Host watch parties.
The most obvious option is to host a watch party. And even though the climbing competitions at the Olympics will be held in the early hours of August 3-6th (2 a.m. in mountain time), they'll get re-screened at more reasonable times. To follow these times, go here. Be careful how you market this and do not affiliate yourself with your country's team or the Olympics broadly.
Holding a competition inspired by the Olympics.
To really engage new and old members, host a competition modeling the camaraderie and pride of the Olympics within a month or two of the actual games. Use a similar combined grading system (see more on that here), set comp-style routes, fashion some affordable 'medals' – get creative with it!
Just keep in mind, it is against the law to use the intellectual property of the games to profit as a commercial business. In your promotion of any event, avoid all intellectual property including the word 'Olympics', or shortening the word 'lympics,' such as 'YourClimbingGymLympics'. The United States Olympic and Paralympic Committee forbids "use [of] USOPC IP to host a contest or team-building event for your employees or your organization's members." Find a reference to this section under "commercial" use.
Boost Your Media Presence & Get New Members
So, some new potential members saw climbing on TV and are intrigued. They go to your website, look around, and then what? This is a chance to put your gym front and center in local media and capture those new to the sport.
Offer to be a resource for local media.
It's no secret that climbing terminology can be tricky for local media, but thankfully they have experts like you to help! Reach out to your local media market and offer to be a resource on the nuances of the sport. Most local media outlets will have a contact form on their website, or you could look for the contact information for an Editor in Chief or Managing Editor. When the media accurately reports on rock climbing, everyone wins. It's also an opportunity to build a relationship, and pitch a story to get your gym in the news.
Create an 'intro package' to welcome new members.
Now is the time to think about how you can welcome new climbers to your gym. Create a package specifically geared toward climbers who may have no concept of the sport, or who may have just seen it on TV and want to try it out. Consider offering a discount on gear for new climbers coupled with 'intro to climbing' courses. Be sure to highlight this package prominently on your website. As always, avoid tying this in any explicit way to the Olympics.
---
About the Author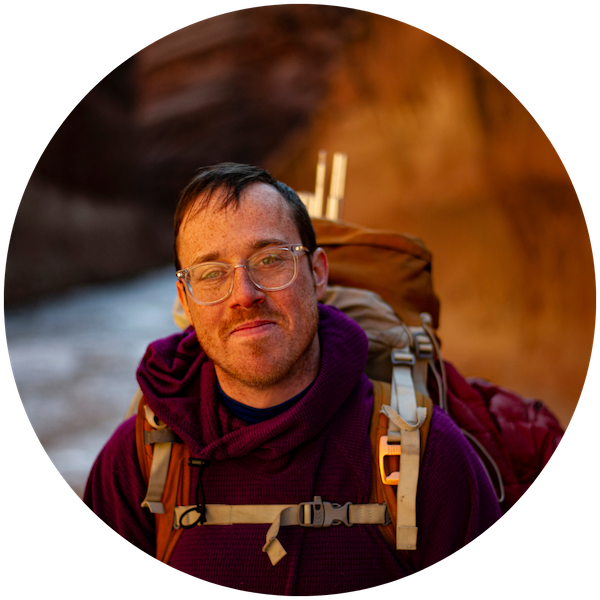 Jake Byk is the marketing coordinator for the Climbing Wall Association. He's an avid hiker, mountaineer, lover of hard-to-reach places and long drives. He's spent four years as a journalist, then a public lands advocate, documenting the Great Plains and Mountain West before joining the CWA.