Top Rope Risk and You
Date posted
October 27, 2022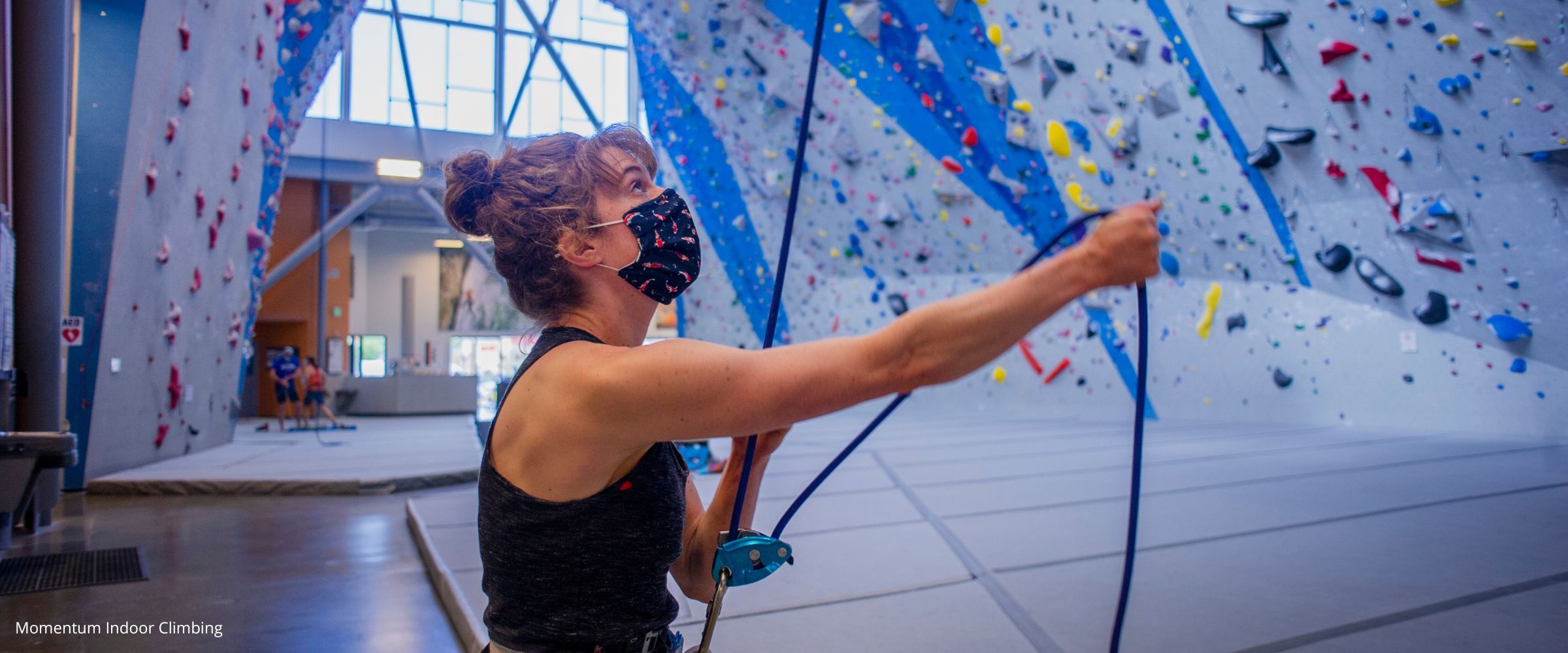 One of the most interesting sessions, for me at least, at the 2022 Climbing Wall Association Summit was the auto belay discussion between gym owners.
The session was billed as a discussion of the mitigation of risk, and I think most of us were expecting hard statistics and clear guidelines, but what the discussion truly evolved into was one of culture.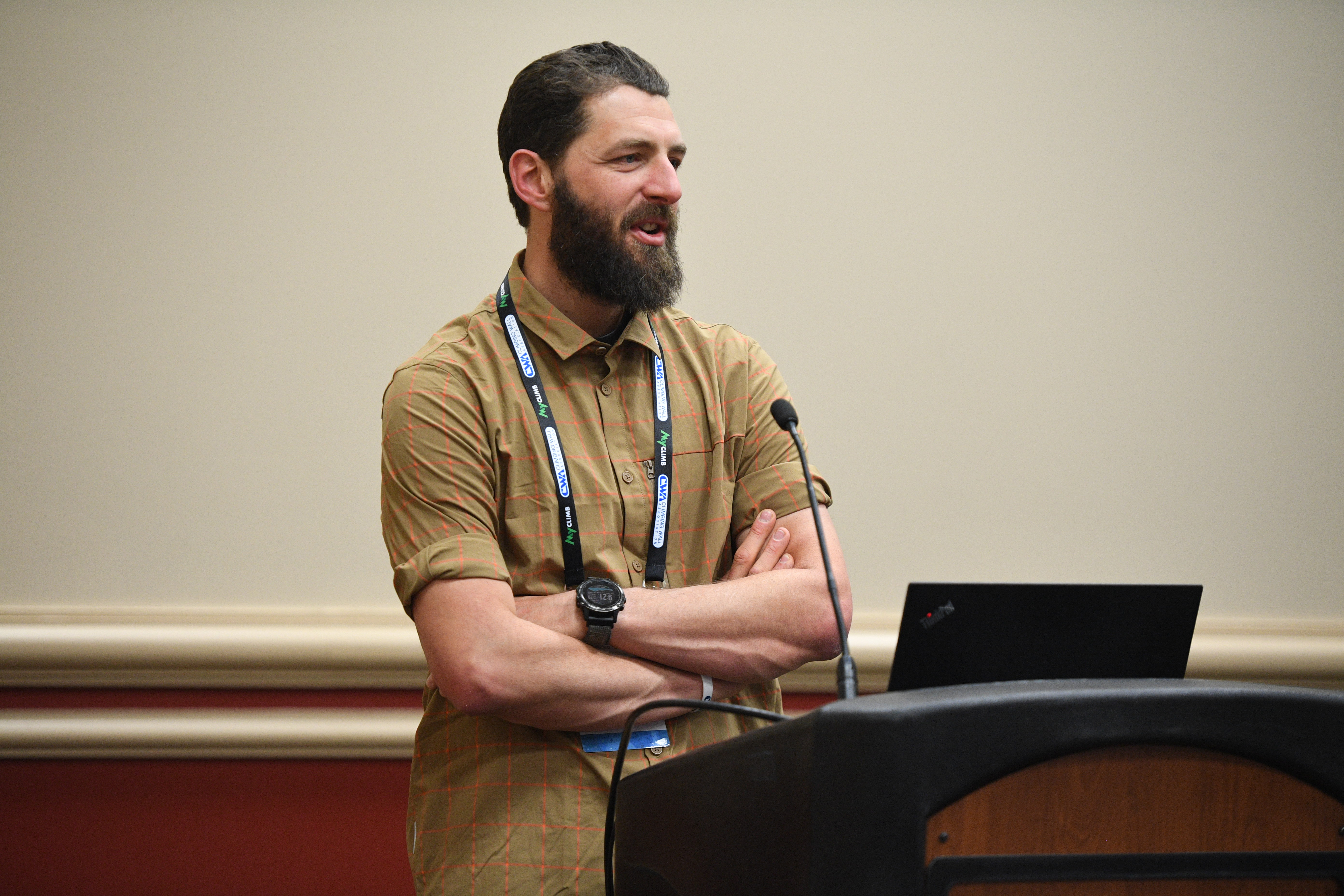 Garnet Moore, CWA Director of Standards and Affairs, presenting at the Auto Belay Roundtable at the 2022 CWA Summit.
The question, when addressing any kind of roped risk: what is the culture you wish to display in the gym?
I asked Jeffrey Bowling, Creative and Business Development Director of Touchstone (California), and Bryan Pletta, owner of Stone Age (New Mexico) to talk to me about their views based on the hearty compare and contrast they offered in the 2022 CWA Summit discussion.
To add to this conversation, Scott Sklar, owner of Gravity Vault Marin, which operates very differently from a typical gym intake and risk mitigation point of view.
First, let's talk about top ropes in the gym.
Bryan points out that top rope is a lovely way to introduce new people or those transitioning from bouldering: "Top roping presents a relatively controlled way to get into indoor climbing and may be less intimidating to new climbers."
"You always hit the ground at some speed after a bouldering or auto belay fall but it is easy to hold a top rope climber and give them a chance to rest or try a hard sequence again."
In general, there isn't an organized schedule for top rope certifications. It's either during the check-in process or whenever the front desk staff is free.
Most gyms these days have a prescribed process and procedure (including what belay devices are okay to use). Then, upon certification, they are issued a visual marker such as a tag and allowed on their way for the duration of their membership or visit. The climber will likely renew this certification at some recurring interval, up to each facility.

Jeffrey says the risk occurs after this process.
"The biggest cause of accidents we see is inattentiveness with experienced climbers."
"It is the experienced climber that has tied in 1000 times that is more likely to forget to finish their knot than the beginner who is double checking everything. We have a safety staff member who walks the floor during busy hours and reminds people to check each other before leaving the ground. Obviously, this is not perfect, but it continues to build a culture of personal responsibility for both you and your partner."
Bryan concurs.
"We rarely have incidents happen with top roping, so compared to bouldering, auto belays, and lead climbing, it seems to be one of the safer forms of indoor climbing. Most top rope accidents that we do see are lowering accidents."
Gravity Vault's process is a very different experience as I discovered during a visit in 2021, and it's very intentional with respect to the experiences of normal gym operators.
"Every customer at a Gravity Vault must check in at the front desk on every visit. We have them sign a day waiver, check their belay status in the system, and check in with the customer on what they are going to do at the gym on this visit and check their certifications at that time," says Scott.
And when he says every visit, he means it.
"That allows for a personal interaction every time they come and allows us to check to see if their intended activities match their certifications. For example, if they want a rental harness, we make sure at that time they are belay certified or are with someone who will be belaying them. If they want a lead rope, we make sure they are lead belay certified (all lead ropes/belay devices are supplied by us). We do not issue belay cards but instead focus on staff monitoring the floor and observing the belayers."
In the same vein, both Bryan and Jeffrey see our rope initiation process as an opportunity to support the community and find touch points to have them interact with staff and gym culture.
What stuck out to me at their session at the 2022 CWA Summit was that there wasn't an ongoing process there for most of us.
Psst: Get your ticket to the 2023 CWA Summit before the prices increase. The CWA Summit will be held in Pittsburgh, Pa., this year!
"We feel our belay certification and check process all leads to a better relationship with the customers," Scott shares.
"As our staff has a brief personal conversation with them on every visit, they get to know our staff, we get to know them, and we make sure up front that they are qualified and certified for what they are planning to do at the gym."
I asked Scott if he had concerns about it being time-consuming or inconvenient to the members and visitors there and he stated.
"Our belay checks are conversational and personable and give us the ability to understand the climbers' previous experience. For example, maybe they have been climbing for years but have never used a Gri Gri device. That is good to know as we require Gri Gri devices to be used exclusively in our facilities."
The ongoing certification process is important at Gravity Vault as well - you do not just pass and move on.
"Our checks are also detailed, and we have a three-check system," Scott describes.
"Effectively, if you take our belay class that is your first 'check' then you will perform two follow-up 'checks' on two different days to be considered fully certified in our facility and we will note that in our software system."
"Alternatively, if you come to us with experience you can test and either get a 'full pass' or a 'first check' if there are areas we want to review again with you as our system may be different than that which you are accustomed to. Finally, if we test you and find you do not yet have the skill set to belay safely in our facility, we would recommend you take our belay class." Many organizations require a cooling down period after a failed belay check as well.
And what can we do mechanically to reduce risk?
Bryan states: "We use a double wrap belay bar which I believe cuts down on the frequency and severity of lowering accidents."
The double wrap technique is a game-changer. My husband and I can let our six-year-old daughters belay us and each other on top rope because of the increased friction and control.
Did you gasp when you read this?
Well... Your choices all come back down to culture, within constraints - how much of our indoor climbing experience should be controlled in the name of safety and consistency, and how much should be based on the personal responsibility of the climber, belayer, and all associated?
---
READ ALSO: Control Risk in Your Climbing Gym
---
If you start there, you'll be able to let it shape your entire risk mitigation plan. The Pad Climbing has a policy regarding where our lines on personal responsibility lay.
We've found the creep toward risk mitigation and away from freedom of choice and personal responsibility become a problem for us as we grew, so we codified it to stop ourselves from changing our vision.
Deciding, at your core, who you are and who you wish to serve should be your first step in designing a risk mitigation strategy.
Then, inform yourself of what others do, and why, and then make decisions accordingly. Each gym will be a little different because of its individual vision - but all of us should be safe.
Want to be a part of the ongoing safety discussion
about top rope, auto belays and more?
Get your Early Bird tickets to the 2023 CWA Summit now,
before ticket prices increase after Oct. 31.
---
About the Author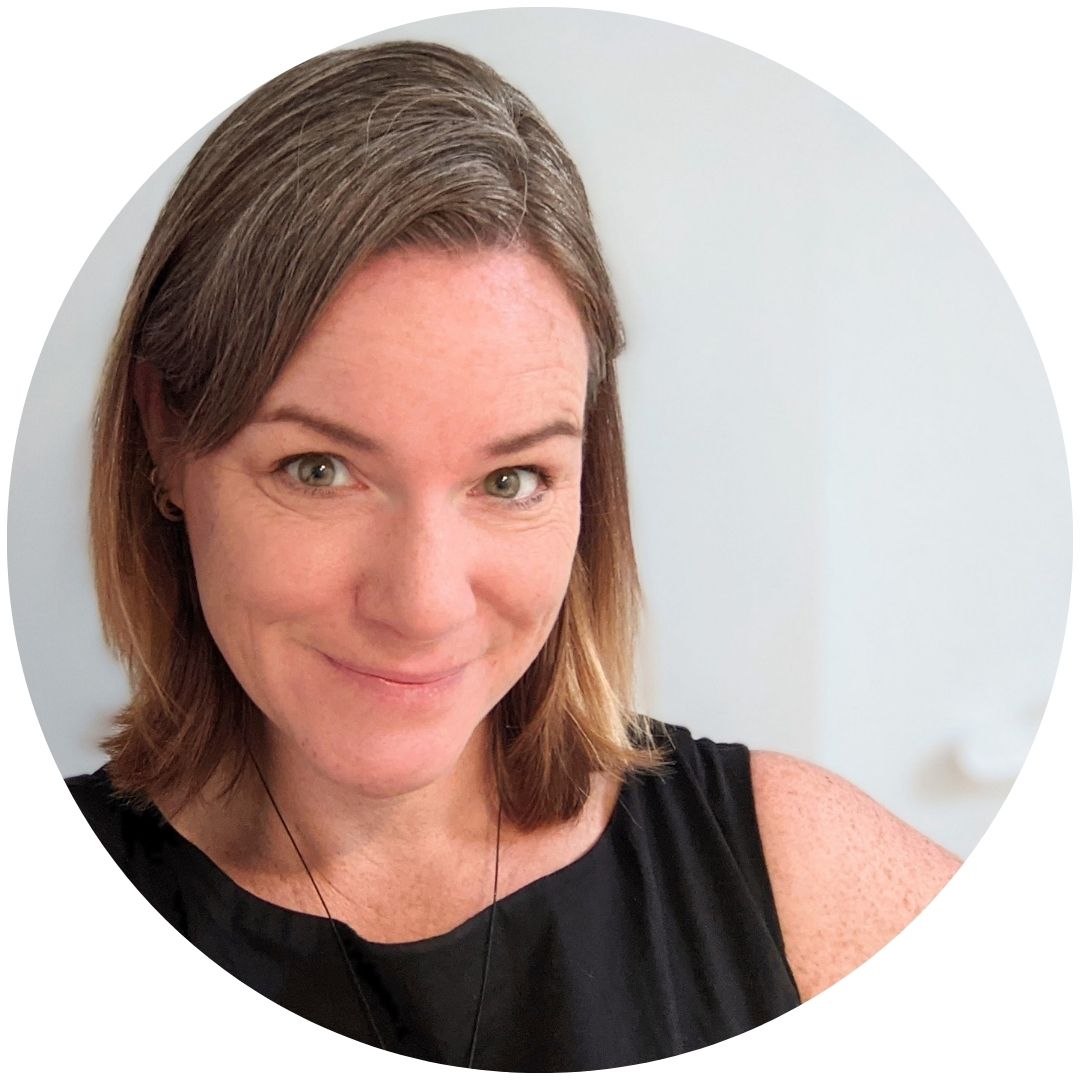 Kristin Tara Horowitz is CEO of The Pad Climbing. Formerly SLO Op, the country's first nonprofit climbing gym, it's now a multiple-location intra-state venture. She built the first gyms with her bare hands alongside friends and crowdfunded them before it was cool. Eating roadblocks for breakfast, she works smarter, not harder in order to change lives through climbing.