An Interview with Jesse Williams, Work-at-Height Trainer
Date posted
October 8, 2018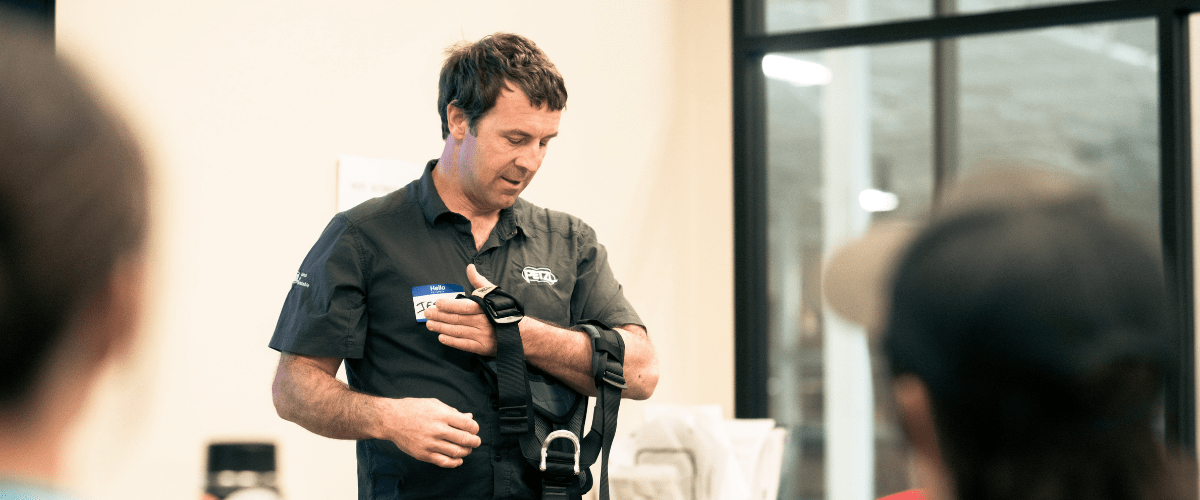 With our annual Certification Summit coming up next month, we wanted to answer some of the most frequently asked questions we get about the Work-at-Height program, and there's nobody better to ask than Jesse Williams, one of our top Work-at-Height trainers! Read on to learn about the background of the program, what the various levels cover, and the future of the Work-at-Height standard.
---
Climbing Wall Association (CWA): Jesse, can you tell us about your professional background and what got you connected with the Work-at-Height program?
Jesse Williams (JW): In college I climbed regularly on an early 90's generation plywood & plastic climbing wall, before graduating into a 23+ year outdoor climbing career. I started as a local rock & ice climbing instructor in the Adirondacks, and eventually became a fully certified AMGA Rock, Alpine, and Ski Guide (IFMGA Mountain Guide).
In 2015 I moved to Salt Lake City to work for Petzl America, which opened the door to training in the industrial safety, rope access, and fall protection industries. Salt Lake City is also on the leading edge of the indoor climbing industry, with both the Front and Momentum climbing gyms in town.
At that time, the CWA began to recognize a need for industry-specific training in Work-at-Height for climbing wall workers, because rope-access training and certification was thought to be too onerous. CWA partnered with the Petzl Technical Institute to provide 'awareness'-level instruction and developmental workshops for the climbing gym industry.
I've stayed involved through the adoption of the standard and development of curriculum because I like the combination of sport and work environments, and I support the career professionalization of ALL climbing workers, indoors and out.
CWA: From your perspective, what is the purpose of the Work-at-Height program? What is it intended to accomplish for the indoor climbing industry, and why is it needed?
JW: Climbing wall workers have often relied on an informal mix of techniques for access and work positioning, mostly based on simple recreational climbing systems and a recreational climbing perspective on assumed risk. But this is work, not play, and as facilities have gotten bigger and taller, and more workers are employed in the industry, several factors are apparent:
Workers exposed to a fall hazard are required by federal law to be protected from the hazard. Compliance with this is not optional. The Work-at-Height standard is intended to assist and support climbing gyms by making their duties clear, by defining terms, by defining a recognized set of industry standard practices, and worker training processes.
Work practices in climbing gyms may not be immediately recognizable to regulators or inspectors from conventional industries, route forerunning might be an example, but if we can define what climbing workers do in the context of similar applications that have been standardized in professional climbing, industrial rope access, and fall protection programs, then we (as opposed to external regulators) can determine the best practices for our work, and thereby demonstrate our compliance.
Climbing Wall Workers can benefit from learning to use and apply industrial access and work positioning systems like work seats, full body suspension harnesses, and mechanical advantage rope systems. These systems not only provide a higher degree of security, but are purposefully designed for work at height, allowing workers to work smarter and more efficiently, with less injury, over a long-term career.
Commercial climbing gyms have changed the traditional path of climber development in terms of progressive technical skills and movement abilities. Many gyms already have their own culture of skill mentorship, and the Work-at-Height program defines common technical skills for climbing wall workers everywhere, and provides a structure and path for a worker to develop deeper technical proficiency beyond simple sport climbing skills.
CWA: Who should take a Work-at-Height certification course?
JW: Any climbing facility workers who are assigned job tasks that include 'working at height' (basically higher than 6 ft off the ground as defined by OSHA), such as routesetters, inspectors or maintenance workers, will benefit from the practical training with explicit instruction in the tools and techniques recognized in the standard, and insight into how other industries access and position for work and rescue.
Managers, owners, and operators benefit from an orientation to the regulatory environment, and instruction in the administration and management of a Written Fall Protection Program.
CWA: What are the applications of the Work-at-Height training for indoor climbing professionals? Why is it relevant to a climbing facility?
JW: The courses are taught in progressive steps – Competent Person and then Qualified Person.
After reviewing workplace safety regulations and relevant industrial and equipment standards, participants in the Competent course get into practical skill sessions, including:
Conducting a job hazard analysis
How fall protection controls are used to protect workers
Personal Protective Equipment (PPE) for work at height – selection and care
Comparison of sport and industrial fall protection systems
Improvised anchor construction
Belay management and load transfers
Rope ascending and descending systems
Selection of standardized access and work positioning methods
Tool & material hauling and positioning systems
Worker/Partner rescue
After mastering the practical skills, participants in the Qualified Person course also review the primary components of a Written Fall Protection Plan, Rescue Plan, and Worker Training Program and work with fellow participants to develop a template for their own operations.
CWA: What is the difference between Work-at-Height for Competent Persons vs. Work-at-Height for Qualified Persons?
JW: In industrial safety, the terms 'Authorized', 'Competent', and 'Qualified Person' are often used to define workers and their respective roles in a managed safety program.
Authorized Workers are those currently trained by their employer in the specific methods to be used for work at height within their facility/operation. Competent Workers are trained and assessed in standardized methods to access all of the potential work zones in a facility and to perform rescues of other workers (or participants) from those work zones. This course focuses primarily on those practical and applied aspects.
Qualified Workers are supervisory level - they should already be Competent Workers (or have the equivalent experience & abilities) and have taken on additional responsibilities for the management of a Written Fall Protection Program for their facility. This course focuses more on those administrative aspects.
CWA: What are the pre-requisites for Competent?
JW: Participants in these courses are often commercial and competition routesetters, Climbing Wall Instructors, and 'hands-on' operations managers in smaller facilities.
Adult (18+) Climbing Wall Workers taking the Competent Person course should:
have good modern belay technique on lead and top-rope (and it will be required by the host gym/training facility)
be able to comfortably lead 5.9 on artificial terrain, and to comfortably perform physically strenuous work at height
be familiar with the Personal Protective Equipment (PPE) they use and the manufacturer's guidelines on how to properly use, inspect, and care for it
be able to ascend and descend a rope
know how to construct an improvised two-person anchor on a climbing wall
CWA: What skills do students learn in Competent?
JW: Participants learn how to use a selection of recognized access methods, from belayed lead & aid climbing to industrial dual rope systems, for work on the front of a climbing wall.
On the back of the climbing wall, participants learn how to properly use industrial fall arrest systems for access and positioning, and the real challenges presented by confined spaces.
Participants also learn how to use rope systems to safely position larger tools and materials, and methods to rescue someone from an elevated work zone.
CWA: What are the pre-requisites for Qualified?
JW: Participants in these courses are often head routesetters, operations managers & directors, or very hands-on owner/operators.
Adult (18+) Climbing Wall Workers taking the Qualified Person course should meet ALL of the Competent Person course prerequisites, in addition to:
two-years work-at-height experience routesetting, or equivalent experience
"Work at Height for Competent Persons" certification or equivalent training and experience
knowledge/experience with the industrial fall protection hierarchy of controls
the technical ability to tie commonly used knots & hitches
the ability to 'tie off' a belay device for hands-free operation
the ability to haul material using a drop-proof rope system
CWA: What skills do students learn in Qualified?
JW: Participants first review the Competent Person technical skills and access methods, as the Qualified Person's role is to perform a hazard assessment and then prescribe appropriate equipment, methods and training for their Competent Workers. They need to have already applied those skills at some point in their career.
The second half of the course is more classroom-based and focuses on the formal process of Job Hazard Analysis for various common work-at-height tasks in climbing facilities. The participants work together in a workshop format to develop a common template for their own Written Fall Protection Program.
CWA: Does the course provide equipment? What equipment do I need to provide for myself?
JW: The course provider will provide appropriate equipment for the course from an inspected and managed PPE inventory. Participants may use their own equipment, provided they have documentation that it has been inspected, is fit for service and is compatible with the application. Closed-toe shoes are required. Participants should bring their own gloves and eye protection and can use their own helmet if appropriate.
CWA: What does a facility need to be able to host a Work-at-Height course?
JW: A suitable host facility has:
a private 'classroom' or meeting space with tables and digital AV capabilities (projector or display screen) and guest WiFi access
an isolated training area on the front of the climbing wall with access to both top-rope and lead terrain, and (preferably) access to floor or ground level anchors
access to an open, well-lit, and clean teaching and practical training space behind the wall with exposed structure
a large volume climbing hold, pre-equipped with anchor hangers
an A-frame ladder, less than 20 feet in height, with stabilizing boards on the feet, moveable plywood or removable padding
CWA: What would you say is the future of the Work-at-Height program? Do you see it evolving?
JW: We have to embrace the idea of continuous improvement. I think training in these work practices can become part of the career progression for routesetters and operations managers in this industry that are eager to make it a long-term profession, and they will add demonstrable value to any operation with their expertise.
I am also eager to see how the professional routesetting community evolves and refines this too. Work-at-Height covers all work tasks in a facility, but I was encouraged at the 2018 CWA Summit to hear discussion of complimentary routesetting-specific programs that will use and reference the standardized Work-at-Height methods for their access and work positioning but will focus more specifically on the practical art and science of commercial routesetting. Continued input from the routesetting community is key, as they are typically the most skilled technicians in a facility.
My own role in this project is transitional, as a liaison between the worlds of industrial and professional climbing. We've had some very talented and experienced routesetters, managers, and climbers through the Work-at-Height program so far, and once they are oriented to the industrial safety tools, techniques, and requirements and have some time to develop them, I think we'll see even more creative, effective (and compliant!) solutions specific to Work-at-Height in the climbing gym environment. Those trained and certified workers will be very valuable within the industry: to manage risk for workers and keep businesses protected.