Creating Safe Spaces in Indoor Climbing Coaching
Date posted
October 17, 2022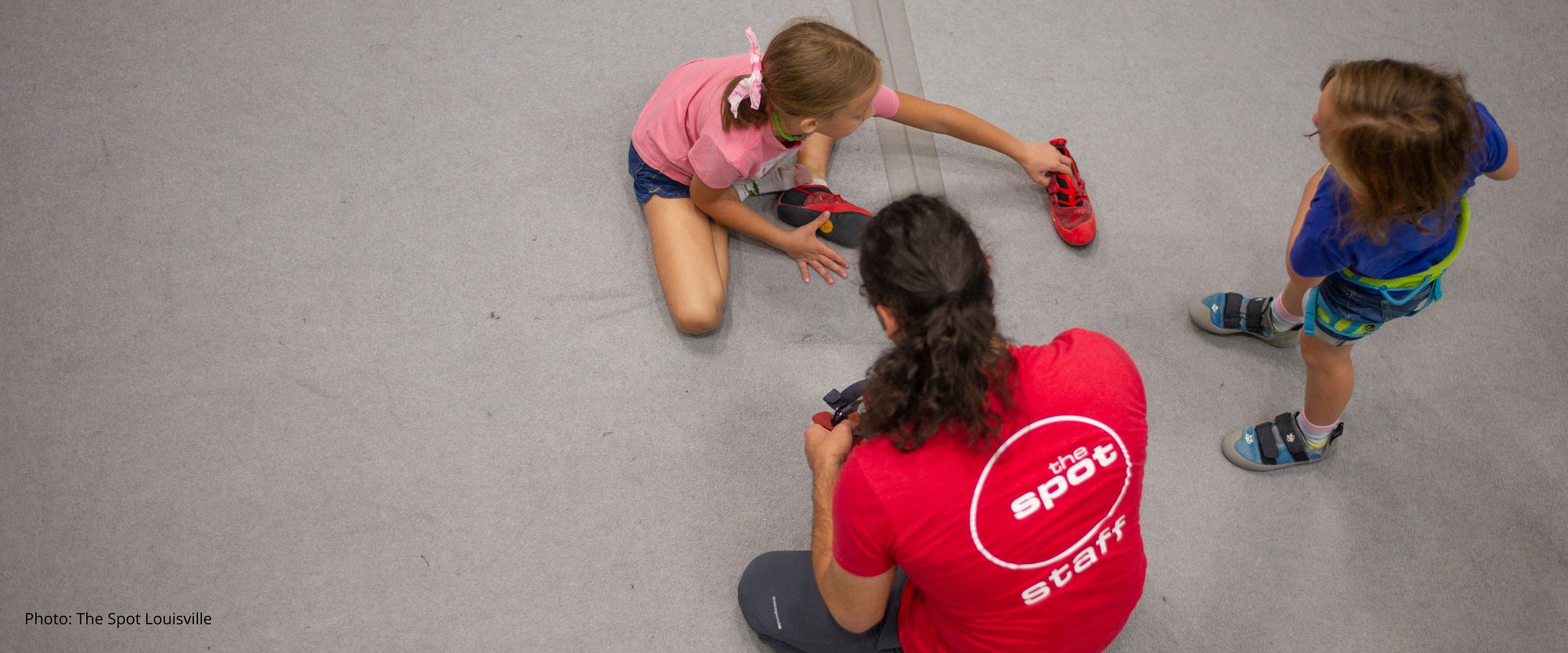 "Why do you throw up sometimes?" I asked my sister on our way home from school.
Silence hung in the air. "I don't know." She breathed. In my freshman year, there was often tension between us. I needed her to know that I cared about her and that I was a safe person to talk to. I didn't know how to talk to her. I just stayed silent.
Our aunt raised my sister and me until I was ten years old. She is a tiny inspiring woman with a huge heart. She worked with special needs kids and encouraged me to volunteer with "challenger" sports, likely leading to my involvement with adaptive climbing. She grew up in a time when women were told to be thin and charming, and a man would take care of them. I remember getting ready to go out and my aunt telling me, "Pain is beauty and beauty is pain" as I squeezed into uncomfortably tight jeans. I can't help but think she heard it from her mother, and my sister got the same message.
We all have let little comments slip into the back of our minds and play on repeat until it's something we believe. I am now the same age as my aunt when she told me that adage and have a daughter of my own. I wonder, "What am I teaching her about body image, beauty, and health?
I have heard my co-workers talk about their struggles with food. I have heard climbers share their rules around nutrition, trying to become lighter and leaner. I heard many of you speak about the issues your climbers are facing in the mental health session at the CWA Summit. This is a good thing; the conversation is happening.
When I interviewed Olympian Kyra Condie, she said, "I think not a lot of people are talking about it, and I think it's important to talk about - to emphasize those who are successful without having to compromise their bodies." If you have found a positive relationship with food in your life, talk about that too. If our climbers can see it, they can be it. Climb with your team, eat with them, and celebrate their successes with them.
Now I'm calling on you as influencers in the climbing community. Continue to facilitate the open dialog about nutrition. Talk about it at the front desk, at youth practice, at meetings, and at the USAC level. We must openly talk about the issues we have faced. Showing your vulnerability will build trust and more importantly, it will show those who struggle that there is no shame in asking for guidance. My sister eventually reached out for the professional help she needed and has been in recovery for over 17 years.
Truly, I was nervous to approach the topic of nutrition. However, when the leadership team suspected disordered eating habits amongst one of our own, I reached out to "Nutrition for Climbers - Fuel for The Send" by Marisa Michael. It is a quick read and one of the only resources specifically for climbers about nutrition. The book reads like a magazine and is broken into easy-to-find topics like nutrition for competitions, women, teens, multi-day sends, and more. It emphasizes building strength through nutrition and debunks several fad diets.
---
READ ALSO: Shining Light on Eating Disorders
---
I gave my coworker the book and admitted it helped me change how I had been thinking about nutrition. Admittedly, I had a nightly mutual of adding up my calories from the day. I always aimed to be at a calorie deficit and felt guilty if I went over 2000 calories, no matter how much activity I stacked in the day. I was hoping to create a safe space for this conversation. It has been 20 years since I had the confronting question with my sister and I wanted to try again with a little more tact. My coworker returned it to me today and said they really enjoyed it, and asked if they could pass it along to one of our USAC competitors.
While researching, I found the climber's online training course on Marisa's website; it provides tips for coaches on how to talk to parents and athletes and has exercises for taking climbers through the training. I highly recommend taking a look.
The Do's and Don'ts of Coaching
Coaching requires empathy for athletes and an understanding of the pressure that they face. Understanding struggles athletes face, like eating or pressure to perform, can be triggered by words. Comments about someone's body, as opposed to focusing on nutrition, can be painful.
Download a Copy of This Checklist For Free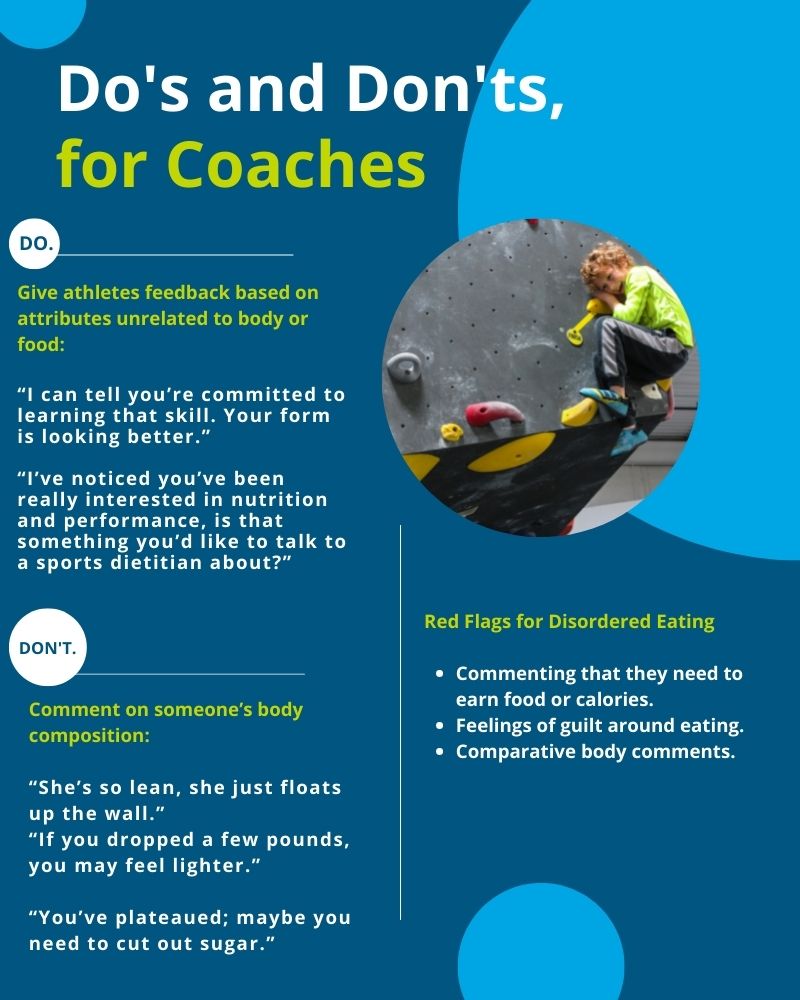 If you suspect a climber is experiencing difficulty, have an open conversation where you mirror the facts and express curiosity.
"You've mentioned dieting several times, and often complain you're hungry at practice. Would you want me to arrange a sports dietician as a guest speaker for practice?" If they are feeling weak and alone, refocus their attention on the community and friends who surround them.
"You are such a joy to coach!" Let them know there are many factors that contribute to sports performance including sleep, hydration, recovery, hormones, cold, humidity, anxiety, and many more.
Changes You Can Make in the Gym
Invite a sports nutritionist to talk with our climbers each preseason. They may be up for trading day passes, classes, or a month of membership.
Provide training for your coaching staff around what kind of language does and does not support your athletes.
Have a policy in place if someone may be in need; Consider requiring a sports physical preseason so a doctor can screen each athlete.
Provide the contact information of a sports nutritionist who specializes in disordered eating listed in a "Parent's Packet" of youth program information at the beginning of each season.
It's tremendous to think about the influence we have as coaches on the next generation of climbers. If one little comment about someone's body can be damaging for a lifetime, let's make sure they are hearing " you are strong and you belong" again and again. Our bodies are a celebration of movement, strength, and power. We high-five, hug, and comfort each other like cells in an organism. As we climb together, eat together, and celebrate together we ask and give each other what we need. Our bodies are tools for creating and celebrating our community. If we look around and see strength and health, and know that we can always talk about the challenges we face, "we are strong and we belong" will become the message we give to the kids we coach and the community we grow.
Interested in learning more? Enter the following coupon code for Marisa Michael's book on nutrition in climbing: MARISA20 through Fixed Pin Publishing
---
About the Author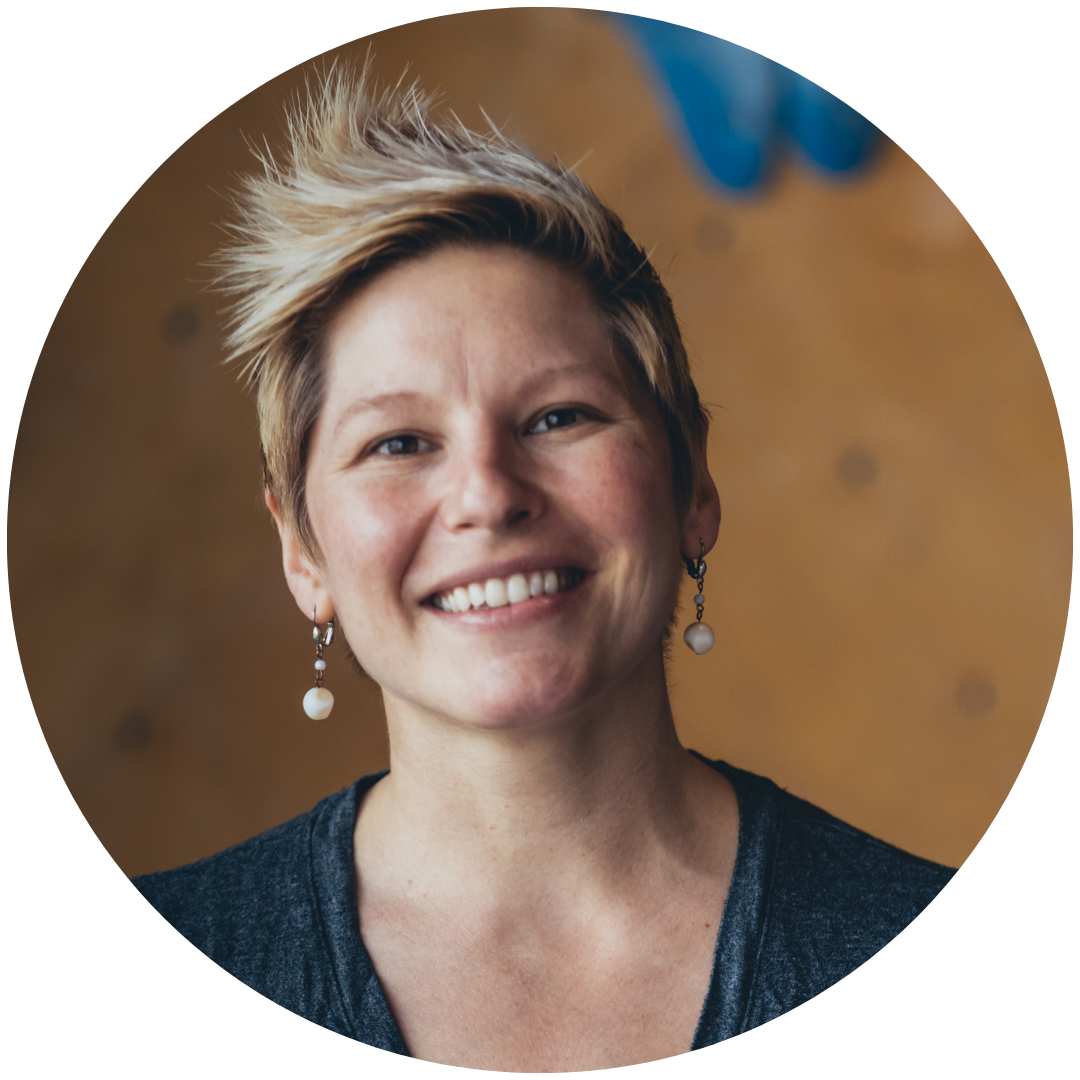 Hailey Caissie is the Programs Manager at The Crag climbing gym in Nashville, Tennessee. Hailey has been a climbing instructor since 2006 and loves seeing new climbers discover their abilities. She finds it especially fulfilling to coach young athletes toward discovering their potential. She works to inspire generations of climbers to become more intentional, influential, and inclusive.