How Do You Decide What Colors To Set Your Walls?
Date posted
August 12, 2022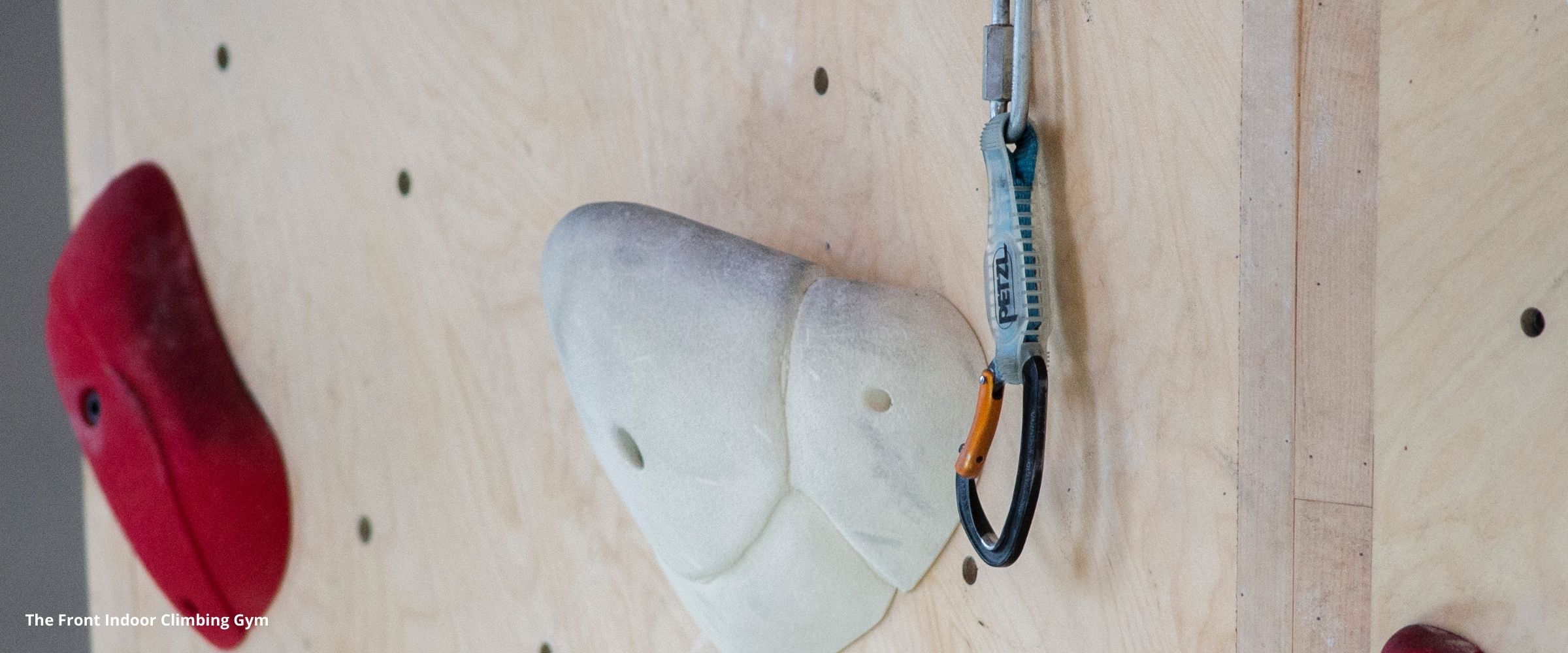 Routesetting is the product that ultimately pays most of the bills in the indoor climbing industry. Regardless of your title or role, it almost all comes back to how Johnny Boulder and Jane Team Kid grab those grips.
Boulders or rope. Competition style vs. replicating outdoor boulders.
Each time a routesetter puts a screwdriver to bolt to plastic to the wall, there are 1,000 decision points. I am here to tell you, as a routesetter for maybe six days total, that there is definitively a right way and a wrong way. Routesetting is a highly technical and professional field, which involves both specialized skill and creativity. And like many fields involving creativity, positive feedback can (and should) occasionally come from the outside.
I am not here to tell you what it is or that the indoor climbing industry is ready to define it, but it is out there, and the industry is actively or passively finding its way.
As an operations leader with more than 10 years of experience across several industries, I can say that standardizing things that can be standardized makes everyone's lives easier. If you've ever gone skiing, you likely know the progression below. Like climbing grades, difficulty on a ski slope is hard to pinpoint, but regardless of the operation, the scale is consistent.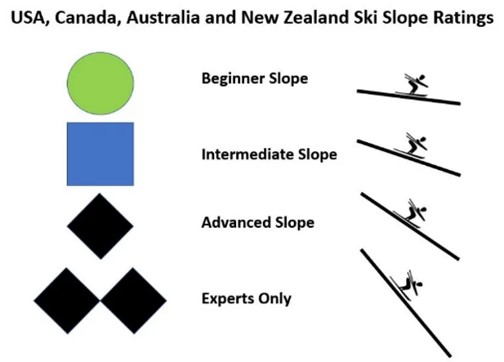 So why not climbing?
A double black diamond in New England is different than Utah. At the same time, when you approach the slope, you know it's the hardest the resort has. Indoor climbing currently does not do this. A green start hold could signify a V0 or a V10, depending on what gym you're in. It could signify neither and not be tied to the grade at all. This lack of consistency can negatively impact the indoor climbing industry's professionalism and overall appearance to those new to, or deep into, the sport.
Modern climbing grading tends to fall into one of four categories, each with distinct benefits and setbacks. Taped, monochromatic, hybrid monochromatic, and hyper monochromatic.
Of the four options presented below, the hybrid-monochromatic setting option presents a unique option to cater to both user categories. For this reason, I believe that it is the future of commercial setting!
To my knowledge, Summit Climbing, Yoga & Fitness was the first gym to utilize this style when we reopened the post-COVID shutdown in 2020.
Using the shutdown as a chance to mix things up in a big way, the initial response was mixed but ongoing feedback trends positive. Initially, the first three circuits (VB through V3) remained locked, meaning hold color strictly matched difficulty. Then in 2022, Summit leaned further into the style with only the VB/V0 circuit remaining locked. Although I was involved in the initial change, at the time of the newest update, I was no longer affiliated with Summit.
The list is not meant to be exhaustive, instead focusing on three of the most common historical styles and one new style that I believe is the future of climbing! Setting and climbing on what is set is a deeply personal experience. There is currently no right or wrong way to do it.
The future of the industry is dependent on many factors. The ability to bring in new climbers with a user-friendly first touch while simultaneously offering maximum flexibility for the core climber base is one of the most important.
Here is my best take on a summary of these categories, in order of appearance within the climbing industry.
Taped
Description:
Tape indicates the start, the holds along the route, and the finish. The tape and holds along a given route may or may not match. The difficulty of the route is not tied to the tape or hold color. Difficulty is often noted in marker on the start tape or with a gym-specific scale, colors, and/or numbers. The Spot Climbing Gym's routesetting blog has several great articles by Jackie Hueftle (COO/Co-Founder-Kilter, Co-Founder- CWA Routesetting Board, USAC L4 Setter) that explain one version of this system.
Pros & Cons:
For gyms on a budget, whether they are for-profit or your personal home-woody, the taped methodology is the best short-term bang for your budget, hands down. The ability to set multiple routes through a single hold and to use any combination of holds for each route is infinitely cheaper than the more commonly used monochromatic variants to follow. Over time, the cost of tape adds up and leaves more residue on the walls, your most valuable asset in the gym. The visual appeal of taped setting in the modern era has fallen out of fashion, for several reasons. To a new climber or even veteran climbers first experiencing this style, it can be difficult to identify the route to choose and particularly challenging to keep track of your next hold when you are pumped out and cruxing. Like all things, reading taped lines is a skill that can be learned and the monetary savings in the hold budget are undeniable. When competing with the big names, this old-school option may not be the differentiating factor you want, but maybe it is!
Summary:
For many climbers, their earliest memories include climbing walls that looked more like modern spray walls. To the untrained eye, holds might appear random, with routes weaving through the same holds and routes indicated with various colors of tape. Animal print was in fashion in my first climbing gym. Tape is closely connected to the origin of the indoor climbing industry and is still a mainstay, particularly outside the United States. It offers near-unlimited flexibility and can stretch a hold budget further than other systems. Many gyms have gone away from taped routes, preferring the cleaner lines and easier-to-identify chromatic setting styles.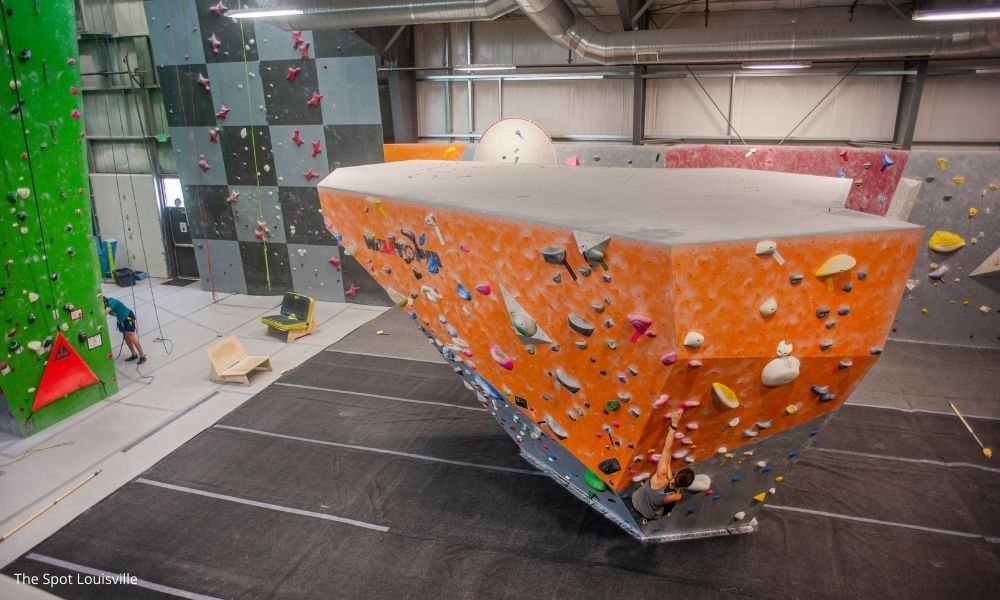 ---
Monochromatic
Description:
Tape or markers indicates the start and the finish. The tape and holds along a given route may or may not match. The hold color along the problem is uniform. The difficulty of the route is tied to the tape or starting indicator. Difficulty is generally tied to a scale or circuit by color.
Pros & Cons:
With the visual benefits of single colors per line but the budgetary benefits of not locking a color to a grade or circuit, it is easy to see why monochromatic became the gold standard that it has unofficially become. Climbing became increasingly user friendly, specifically mid-climb, when you only had to look ahead for the next color and not a small piece of cheetah print tape. With the flexibility to match any hold set with any difficulty, the use of placards, tape or even unique branded identifiers for start holds and difficultly, this was a logical and intelligent step forward for the industry. Looking clean and adding options for setters and climbers alike are a huge win, but the ease of use for a beginner has some challenges that parallel taped climbing, where new users must search an expansive wall for tiny pieces of tape or similar to understand what climb was next on their list to crush.
Summary:
Potentially the most widely used system in the United States, monochromatic combines some of the aesthetic appeal of a hyper-monochromatic setting with the flexibility of taped climbing. Identifying tags or tape at the start of each route includes a learning curve but it allows a given hold set to be used in the difficulty range.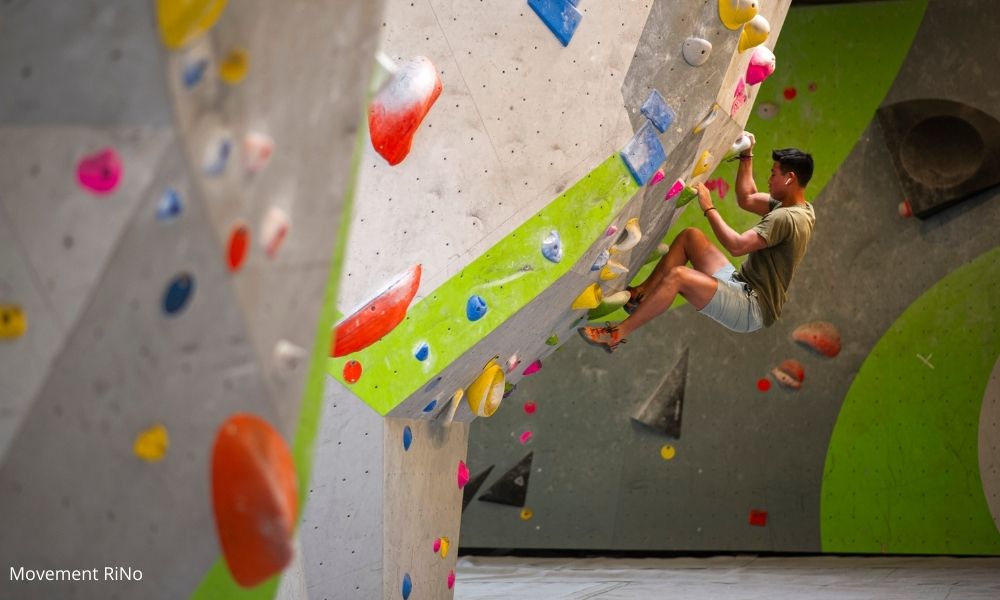 ---
Hyper-Monochromatic
Description:
Tape or marker indicates the start and the finish. The tape or markers and holds along a given route all match. The hold color along the problem is uniform. The difficulty of the route is tied to the tape and starting indicator. Difficulty is generally tied to a scale or circuit by color.
Pros & Cons:
Finally solving the new user experience, the hyper-monochromatic setting trend has been more and more common in high end and/or high budget facilities who want the cleanest aesthetic, the greatest ease of use and do not mind paying for it. In the hyper-monochromatic setting, you can tell a new user the combination of one or two colors they need to get started and they can immediately identify every climb in their wheelhouse in the gym. Chase color X until you are bored or complete them all, then move to color Y, it is just that easy! The downside is that when line of holds becomes restricted to a single color, whether that is a grade or more commonly a circuit, that means you have to buy it once for every grade you want to use it in. Anyone who has made or overseen a hold budget knows that this is an expensive option to stomach.
Summary:
The most expensive of the options, the hyper-chromatic style presents clean lines and the easiest-to-understand system. Holds along the route match each other, those holds match the tag and the tag tells the story regarding difficulty. Many modern gyms, such as Movement Gyms in Dallas, follow this style citing user experience and visual aesthetic as primary drivers. Think of hyper-chromatic as the "paint-by-number" of setting styles.
With holds only being usable for one grade or circuit, this means it is very limiting for both setters and climbers alike. To effectively spread the love, hold budgets balloon as the same hold lines must be purchased in multiple colors. With the age of super-macros and XXL sets upon us, this is costly to say the least.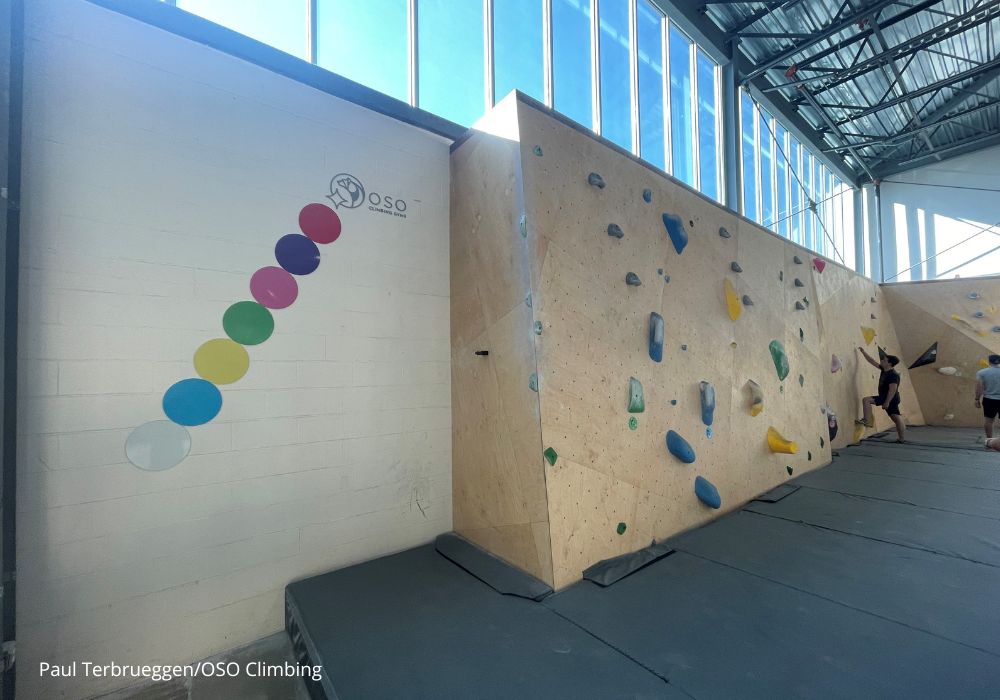 ---
Hybrid-Monochromatic
Description:
Tape or marker indicates the start and the finish. The tape and holds along a given route match but only for the lower difficulty climbs. The hold color along the problem is uniform. The difficulty of the route is tied to the tape and starting indicator for those lower difficult climbs but is "jailbroken" for more difficult grades. Difficulty is generally tied to a scale or circuit by color.
Pros & Cons:
When you want to have your cake and eat it to, my personal pick for balancing cost, aesthetics, professionalism and ease of use if the hybrid-chromatic setting style. By only locking in the first several grades/circuits, say VB through V2 in a bouldering gym, you can capitalize on new user experience then jailbreak the remaining difficulties and colors to maximize your budget and the options for your more experienced clientele. While a smidge less sleek than a hyper-chromatic style, in terms of uniformity, it still maintains a single color per climb and the overall aesthetic of the gym is not noticeably different, but the user experience it notably better for your newest future member.
Summary:
Nathan Yokum (Rock Candy, Rockmill Climbing) was the first person I heard hypothesizing an evolution to the previously mentioned chromatic options. The best of all worlds, where beginners have the easiest possible introduction to the sport, but setters and more advanced climbers have as many options as possible. The lowest grades or circuits get locked into the hyper-chromatic style while the intermediate and advanced are "jailbroken" into a monochromatic style.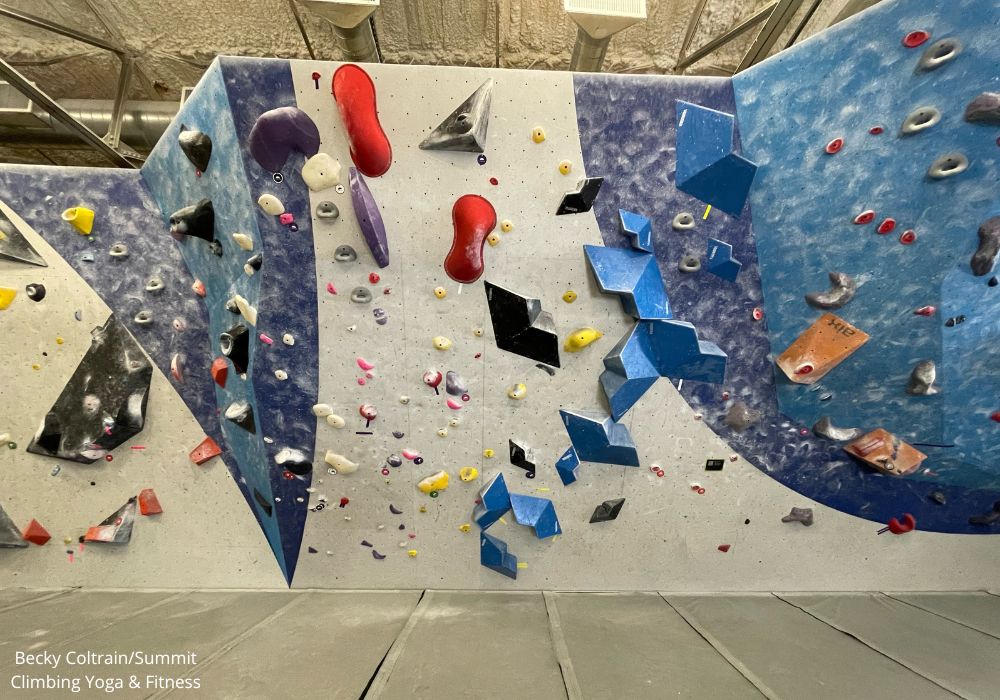 Recall the climbing gyms you have been to and think about how they engaged you, the climber, through their setting. What worked? What rubbed you wrong? I think hybrid-chromatic is the future, what do you, the climber, think?!?
*Editor's Note: Color blindness affects 1 in 12 men, according to the National Institute of Health's National Eye Institute. There is no cure. A member of our climbing community recommends setting in opposite colors so as to increase accessibility. The CWA will continue to research and question ways to make setting more accessible to the community.
---
---
About the Author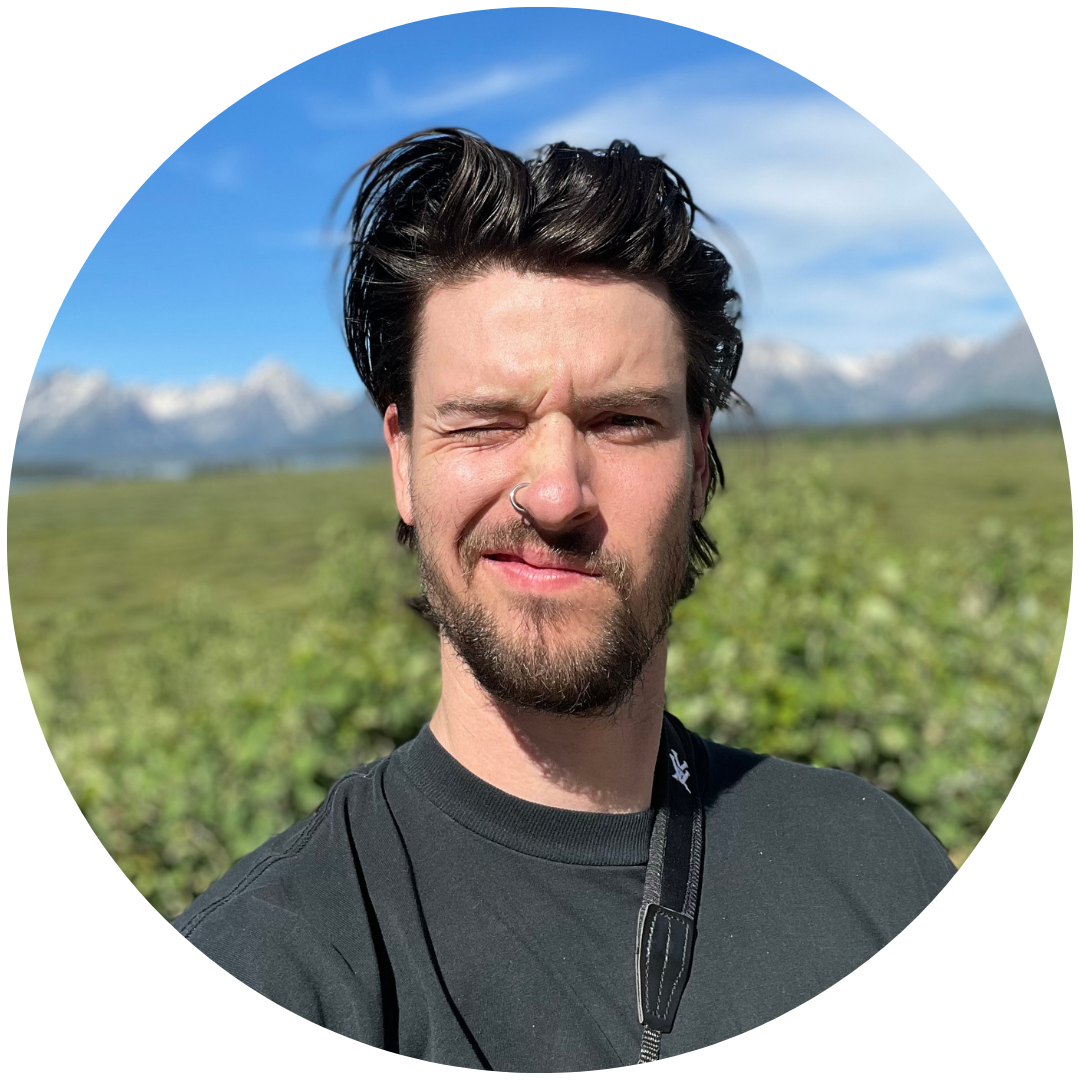 Paul Terbrueggen, aka Tall Paul, is an operations leader with 10+ years of experience. Working with Summit Climbing, Yoga & Fitness he served as the Retail Director and then Chief Operating Officer for their eight locations in Dallas/Fort Worth, Texas where he currently resides. Prior to that, he led teams of 25-4,500 for Amazon Fulfillment. An avid boulderer, he can often be heard claiming to be "more tall than talented" at 6'6". Paul enjoys all manner of activities, indoor or outdoor, especially when shared with his fiancée Becky and two puppies Penny Lane and Lil McGill (but everyone knows her as Nancy). In addition to writing for the CWA, Paul is an analyst for End 2 End Outdoor, representing La Sportiva, Petzl, and Big Agnes.