One Small Step (or how a close call changed my routesetting life)
Date posted
March 24, 2019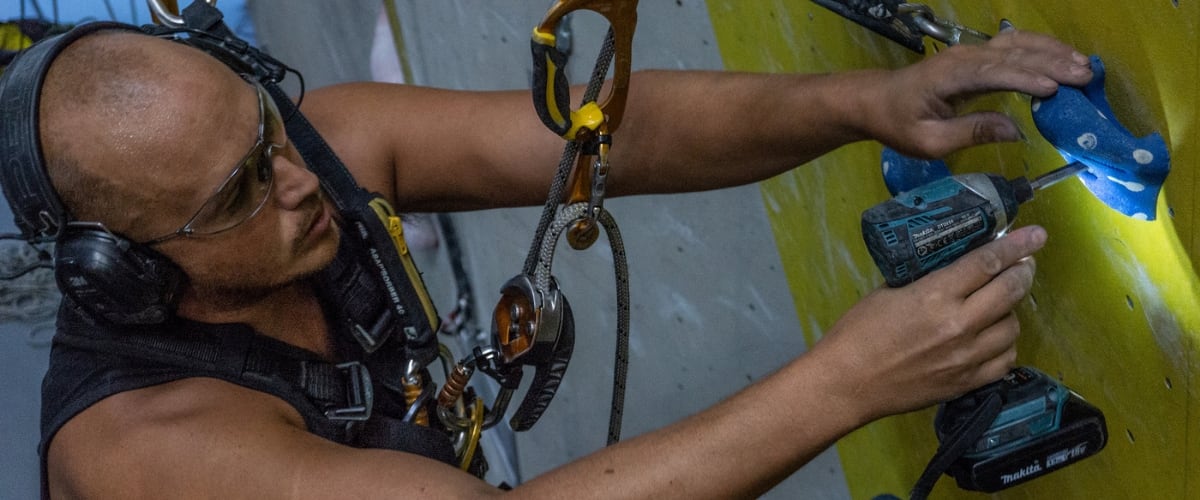 When I started climbing about 28 years ago, there were no climbing gyms around, so our dad built us our own little steep woody where my love for routesetting and climbing holds was born. Today I'm a routesetting nerd, a gear freak, and a hold-aficionado. I'm passionate about every aspect of routesetting, except maybe cleaning holds… I love the workout and feeling exhausted after a day on the rope. I love watching the members enjoy the routes my team and I set and seeing their happy faces (or the challenged, angry ones). As long as our members are happy, we are happy.
I also like to teach routesetting, which I've been doing for almost 8 years now. As our industry is growing, this is becoming progressively more important. More gyms mean more routes and boulders have to be set more often, and people need to know the fundamentals on all aspects of routesetting in order to be able to create a great experience for the customers. We want them to come back, don't we?
As for Germany, it's only in the last 15 years that the growth in climbing gyms really started picking up pace, and through that growth routesetting has become more and more important. My first contact with routesetting was at the 1991 World Cup in Nürnberg where a certain Wolfgang Güllich was setting the routes together with Kurt Albert and others. When these guys were routesetting from ropes back then, what did it look like? Maybe a bit like this: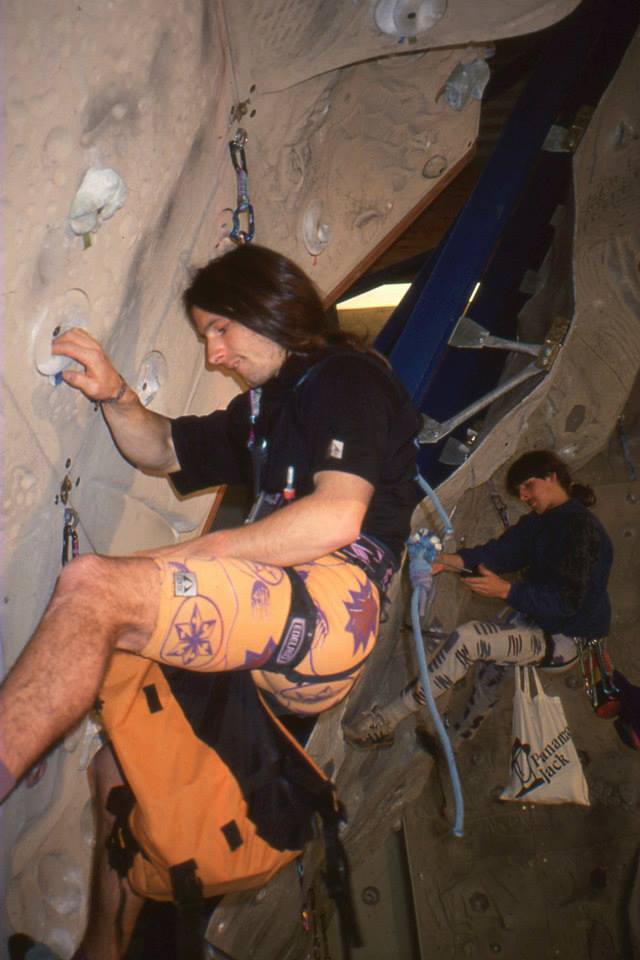 Some of us might have used techniques similar to this at a certain stage or actually still do.
When I started routesetting, everyone was using standard sport climbing practices. We thought, "Yeah man, climbing gym, cool, all good! No sharp edges, no cutting tools! We climb all the time with one rope, why would we need more than one rope for routesetting? We're comfortable with height as climbers, no problem!" We felt invincible. We were teaching routesetters this way, we were routesetting this way ourselves, and we probably would still be routesetting this way if not for the wake-up call we got one day. A rope almost ruptured on a coworker of mine due to a sharp edge on the wall and luckily, we didn't have to learn the hard way.
"Once in a lifetime" you say? Nope, this was not a singular event when it comes to damaged ropes. My team started to notice this happening with some regularity, and we determined that the hazards of a cut rope weren't preventable. So, what do we do? Similarly to the CWA's Work-at-Height standard, we apply techniques that are already used in other fields. We switched to a redundant way of routesetting and began teaching it this way from then on. Not only in Germany but also in other European Countries like the UK, Austria, Denmark, Italy, Switzerland, and France. The community is rethinking safety standards for the industry on a larger scale.
Routesetting has evolved along with the sport of climbing, the climbing community, as well as overall industry growth. You all know this! A climbing film winning an Academy Award, combined sport climbing being part of the Olympic family next year, and the level of awareness of climbing and the gym industry is growing faster than ever. We have to meet this awareness with a certain level of professionalism.
What does this mean for routesetting? We have to be aware of what we are doing and the bottom line for this is: we are not climbing when we are routesetting, we are working, and we have to act accordingly! I will not dig into the hazard analysis and the legalities – this has been done here before.
My point is the necessary shift in our mindset as routesetters – be it the Operations Manager, the Head Routesetter, or the routesetters on the team. It doesn't take much to embrace this way of thinking and if you value your life, this is the best way. I am not only talking cut ropes but also human error, injuries, and medical issues. Do we really want to wait for an even bigger accident to finally see the obvious?*
I'm on a mission. And my mission is to make the routesetting profession safer on a global scale. With the industry getting bigger, more gyms popping up everywhere, and more demand for awesome routes, new routesetters need to know what they are doing. We want to give them the tools to pursue a professional curriculum and keep customers from getting hurt.
In order for our industry to keep growing, we need to reduce risk in routesetting. What I personally want most is to have routesetting stay as much fun as it is right now, and that involves safety: not third, not second, FIRST! The foundation of routesetting is all about safety. Creating movement and climbing come after that.
*Editor's note: As this post was being prepared, an accident occurred in Germany resulting in the death of a climbing wall worker named Gerhard Haug. Mr. Haug was conducting an inspection on the wall and fell from 16 meters (over 50 feet). It is not clear what kind of rope system was in use, but it was not redundant. There was apparently no rope attached to his harness. We will share further information if it becomes available.
---
From Climber to Worker: A Panel Discussion on Work-at-Height
Join Peter Zeidelhack and other routesetting leaders for a panel discussion of the Work-at-Height standard and the future of the routesetting profession during the 2019 CWA Summit conference. Register here.
---
About The Author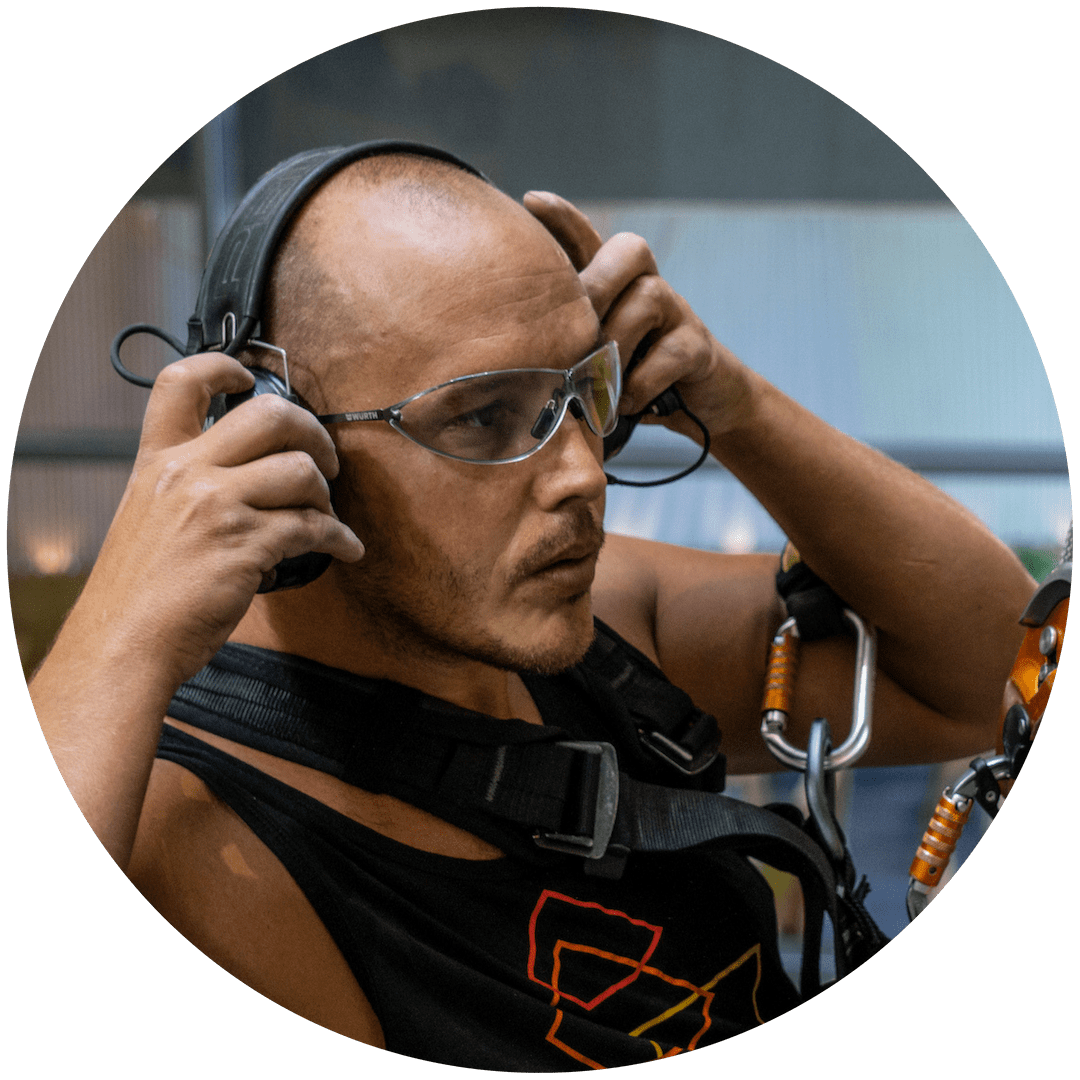 Peter Zeidelhack has been a routesetter for 16 years, specializing in commercial routesetting and routesetting safety. He is Head of Routesetting Training for DAV (German Alpine Club), manager of two gyms, and responsible for routesetting in 4 gyms with a total climbing surface of 16.000 square meters..