Recap: CWA Meetings Hoboken
Date posted
September 20, 2019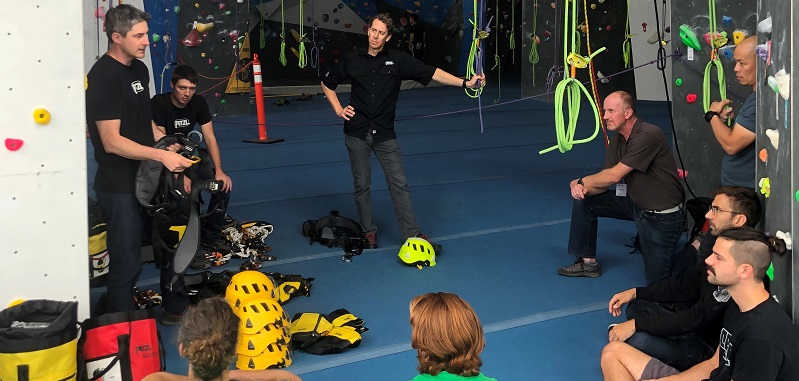 Last week, the CWA continued its regional events tour with the latest stop at the Gravity Vault Hoboken. The conference was hosted out of the 25,000 sq. ft. facility and welcomed climbing industry professionals from fourteen different gyms between Quebec and Tennessee.
The management/operations attendees dug deep into optimizing customer experience with Chris Stevenson's long-form workshop and problem-solved common issues in a series of gym manager roundtables. The routesetter attendees focused on forerunning communication skills, setting for customer progression, and technical product knowledge for working at height.
Roundtables are one of our industry's most effective development resources. According to one attendee, "It was a great experience to see where others are in the industry and how they handle difficulties or opportunities." These programs will continue to facilitate peer-to-peer dialogue among facility managers, routesetters, coaches, and other staff.
The CWA thanks The Gravity Vault for their support as a host facility. The CWA also thanks our program sponsors, PETZL, MyClimb, and Sterling for helping make these events possible.
Are you unfamiliar with the CWA Meetings program? Read on to learn about this exciting new initiative for our industry.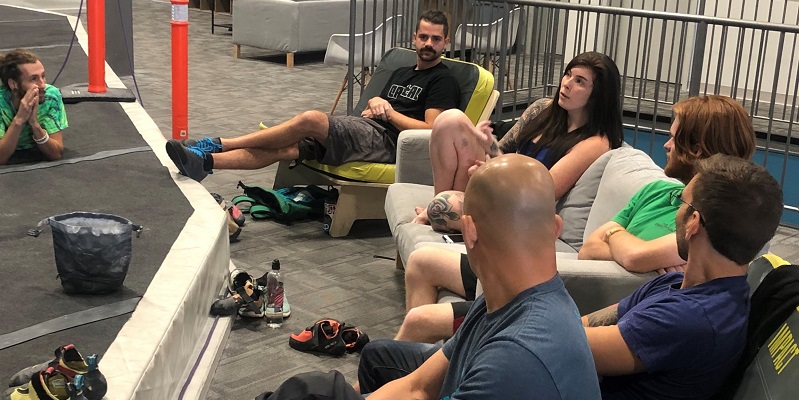 What Are CWA Meetings?
CWA Meetings are professional development events. A ticket to a CWA Meetings event gives you access to:
One full day of workshops, for hands-on skills training
One full conference day, for discussion and lecture-based training
When you sign up for the event, you select a content track that best aligns with your role in a climbing gym. CWA Meetings offers training for:
Routesetters (routesetting staff or head routesetters)
Management/Operations Staff (front desk managers, gym managers, and gym frontline staff)
Adult/Youth Instructors (program coordinators, trainers, and commercial coaching staff)
Community Building
As regional events, CWA Meetings call in attendees from gyms in the surrounding area to connect and learn from each other. Building these relationships is an opportunity to strengthen our industry, broaden professional networks, and keep dialogue open among different climbing facilities.
Aside from the conference curriculum, CWA Meetings offers a Member Meetup, which invites gym staff from the region (not just attendees) to socialize and make new connections.
How Do CWA Meetings Differ from the CWA Summit?
Unlike the CWA Summit, which offers a broad set of content tracks and a full-blown trade show, CWA Meetings are highly focused on small group learning and building community.
CWA Meetings offer a unique opportunity to spend several days collaborating with industry peers in similar job functions. Upon registration for a Meeting, you select a track and then remain with that track from start-to-finish. The three tracks contain their own workshops, lectures, and roundtables in a highly engaged learning environment. The CWA selected top workshop facilitators and presenters who can offer a meaningful experience and help hone important skills for each attendee.
Additionally, the curriculum goals of CWA Meetings are largely suited towards early- and mid-career professionals. While upper-level management are best-served by the Summit, CWA Meetings are built for growth-oriented professionals who are seeking to increase their professional responsibilities through training, discussion, and certification.
Get Involved
The strength of CWA Meetings is based on a diverse representation of facilities and attendees at each event. Don't miss out on taking part in year one of CWA Meetings!
Check out our CWA Meetings San Francisco event coming up October 21 - 25.
Register yourself or your staff today for CWA Meetings! If you have questions, you can email Emily Moore at emily@climbingwallindustry.org.
REGISTER